Bomag BW151 AC-4 road roller
---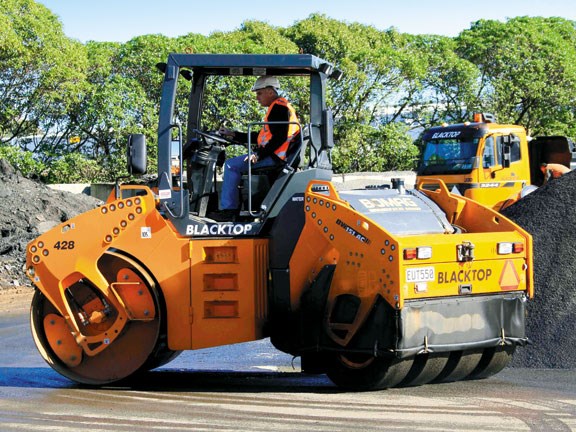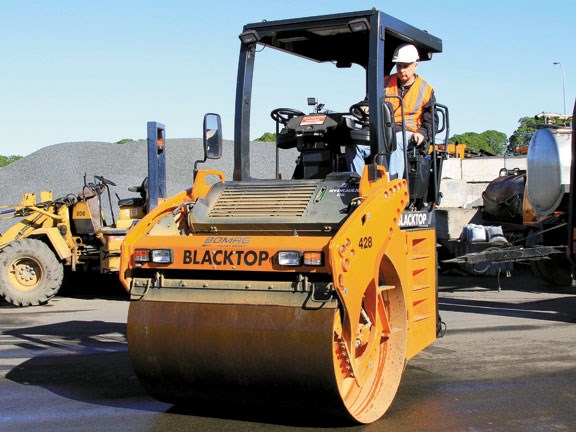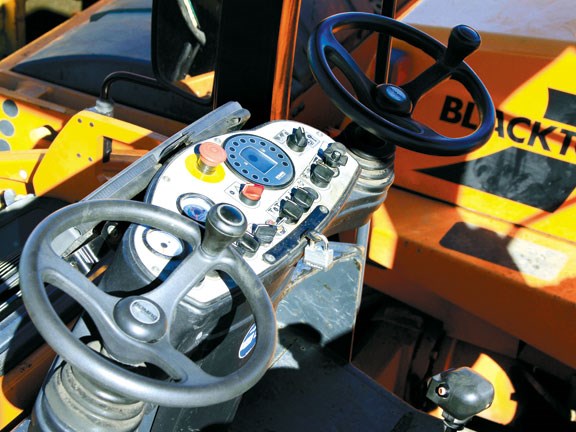 Blacktop Construction Ltd has a good number of rollers its road construction fleet. Its newest Bomag is the 8300kg BW151 AC-4 combination roller.
Steel roller at front
Four pneumatic tyres at rear
Two steering wheels for greater visibility
Heavy pivot area for roller
Reliable
BW151 AC-4s are specialised combination asphalt rollers, and the model is used by Blacktop Construction for dense graded asphalt as there is no need to have two rollers on site.
Performance and handling
A modern roller has two steering wheels but just one seat, so the operator can see what is going on when working the very edge of a road. The operator can slide their seat to the left or right, depending on the side they are rolling. The seat can also be swivelled, with the outside safety bars able to swing out via a locking handle.
To avoid edge deformities from the rubber tyres, the operator can press one of the two left joystick buttons to hydraulically move the rear of the machine over, including rubber wheels, away from the roadside edge. This side-shift feature prevents the outside tyre from pushing the edge asphalt over, and is a standard feature on the Bomag BW151 AC-4.
When the machine is idle, the left joystick is pushed into the left detent to activate the Park brake. As well as the side-shift, this joystick also houses the vibration on/off button.
After warming up the engine and turbocharger, to move forward or reverse, take it out of Park and move the lever in the direction you want to go. Move it more to increase speed, although an operator must keep within an approximate two to 6kph travel speed (depending on vibration frequency used) in order to roll material properly.
The comprehensive analogue/digital dash includes a simple speedometer with a "green" zone to show the operator when they are rolling in the right speed band.
Operator Dante Cerino uses the water timer all the time, setting the left-seat timer dial to the distance he's rolling. He only uses the diesel sprayer when asphalt occasionally sticks to the rubber.
Engine and power
Powering this articulated combination roller and ancillary equipment is a 3.6-litre Deutz TD 2011 L04w engine with individual injectors to produce 63kW of power. The turbocharged motor is measured to Tier 3 emissions levels. The front of the roller has a basic hydraulic oil level gauge.
Reliability sells
Blacktop Construction owns three BW151s; the first AC-2 model was bought in 1995. Group director Ben Everett says, "The main reason we like them is we had a really great run out of the first Bomag. That vibrating roller is still going 15 years later at 11,800 hours. I could comfortably send that out on any job and know it's not going to break down. That says something."
Everett also likes Bomag because the rollers have a very heavy pivot area.
"It's more than just the machine, you've got to have the back-up and parts. Bomag agent Loadlift has been very good when it comes to warranty claims. I like dealing with them, they're quite good people."
Blacktop Construction uses outside contractors for all machinery maintenance work.
For more information contact Bomag's new agent Porter Group, www.portergroup.co.nz and see their range of equipment for sale here.
Specifications
Engine/Number of cylinders Four-cylinder turbo Deutz TD 2011 L04w diesel engine
Capacity 3.6L
Max power 63kW (84hp) at 2500rpm
Fuel tank 160L
Water tank 800L
Transmission Variable speed hydrostatic, forward/reverse, 0-9.9km/h
Length 4610mm
Width 1840mm, tyres
Height 2320mm
Wheelbase 3300mm
Steering Pivot steer
Roller width 1680mm, steel roller
Roller diameter 1220mm
Roller thickness 17mm
Roller vibration frequencies Hydrostatic, 40/55Hz
Number of tyres Four
Operating weight 8300kg
Gross weight 9700kg
Keep up to date in the industry by signing up to Deals on Wheels' free newsletter or liking us on Facebook.