Airman Mini Excavators
---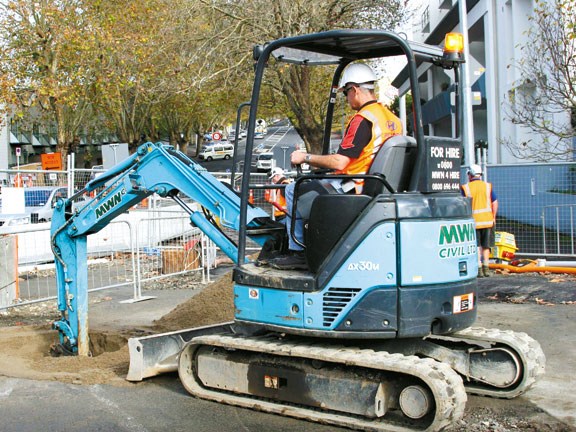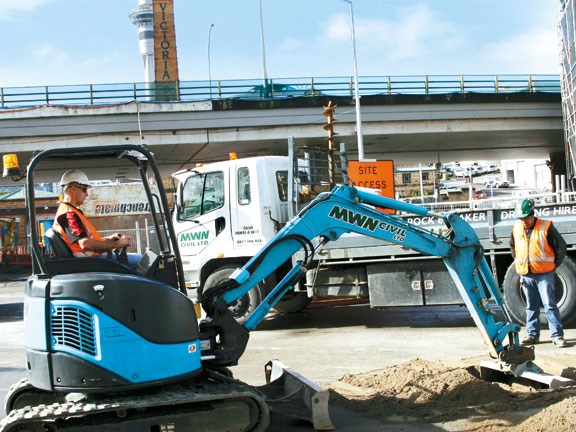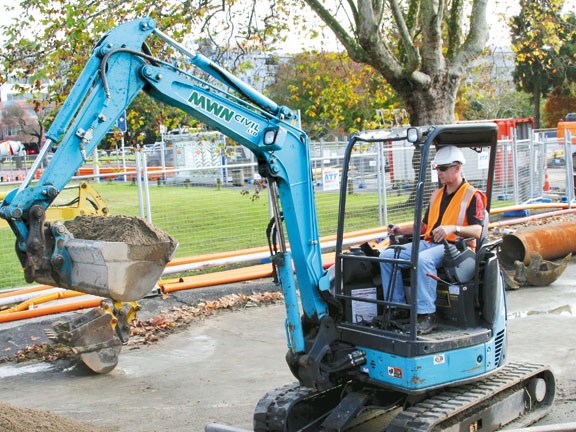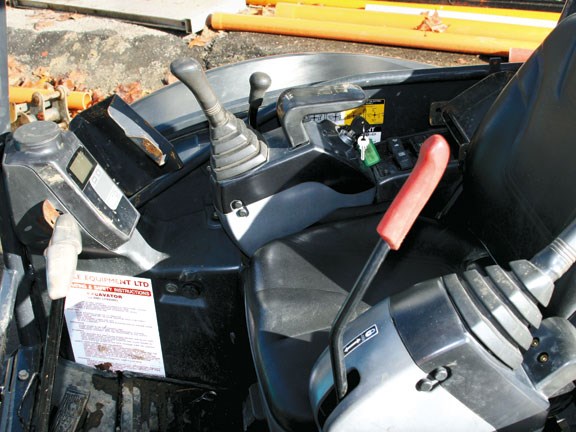 On sites where space is a premium, a small zero swing mini excavator from Airman could be just the ticket
A compact zero-swing excavator
Relatively quiet running for an open cab machine
LCD info display
Good visibility
Silky smooth actions
MWN Civil Ltd is in the middle of a sub-contract doing preparation work on Auckland's 2.2km Victoria Park motorway bypass tunnel, due to be completed in mid-2012. There's little room to manoeuvre on site, so a small zero swing mini excavator is ideal for the type of work they perform.
MWN Civil runs four Mitsubishi trucks and three Airman zero swing mini excavators: a three-year-old short-arm AX50U-4 (does the rock breaking), a two-year-old long dipper-arm AX50U-4, and a one-year-old AX30U-4. All three are set up to do auger work.
Under the canopy
On both Airmans I felt exposed, yet I could see what was going on around me considerably better than in even a modern high visibility cab. Perhaps more importantly, I could hear everything.
Which is exactly why MWN Civil Ltd director Mark Neilson shunned cosy cabs for the Airman's ROPS/FOPS four pillar canopy.
"I like the canopy because 90 percent of the time we're working around people, so we need good visibility; we're more in touch with what's going on, and from the first Airman I haven't had any trouble. I like the zero swing to get into tight jobs; our guys comment on their smoothness, they are comfortable and feel nice." 
Performance and handling
Digging a small hole in the road not much larger than the bucket size is considerably more difficult than you can imagine. I quickly discovered that the bucket disappeared into the hole - leaving me to scoop a bucket that I couldn't see. MWN Civil digger operators always work in pairs, one on the Airman and one on the ground beside the hole to give hand signals.
Operating the older five-tonne AX50U-4, my hands and arms rested in the right positions on the handrests and stick controls for ease of use. Up front is a basic LCD display that shows engine temperature, fuel level, and hours.
The company's first Airman has just over 4000 hours on the clock, so I wasn't surprised when I could feel a bit of play in the arm joints. Due to the delicate nature of the work, power wasn't a problem from the 29.8Kw (39.9hp) four cylinder Yanmar 2190cc watercooled diesel engine.
While the five-tonne Airmans are called on most, the AX30U-4 may be held back for residential work because it can get onto smaller sections.
A key advantage of the Airman range is the tungsten coated, single pin front pivot joint bush, designed to reduce jerkiness, wear, and service intervals.
A handy feature is the bevelled top design of the track frame steel beams and supports, to allow dirt to fall away better than a square rail would.
Engine and power
The three-tonne AX30-U-4 has a three-cylinder watercooled Yanmar 3TNV88 diesel engine that produces 22.3kW (29.9hp), at 3000rpm. This naturally aspirated and direct injection 1642cc powerplant meets Euro Stage 3A emissions regulations. 
Both Airman mini diggers are quiet when not in use (engine running) and use less fuel because of the auto-idle system - the motor drops its revs back to idle after four seconds of non-use.
From the manufacturer…
Eagle Equipment North Auckland territory manager Paul Gorrie is having success in the building sector. One builder purchased an Airman because they were tired of waiting days for landscaping contractors to arrive. Now the same builder is finding he is typically adding more value to his total contract by doing more landscaping type work because the owner asks him to do extra, such as the driveway.
Gorrie says, "Drainlayers and contractors buy these. I also sell a lot to builders, especially larger builders who might have a crew of three or four guys. They can then do their own footings and clean-up. It's a proven product, it's a good machine to operate and with Eagle Equipment you have the whole Porter Group parts and service back-up."
Keep up to date in the industry by signing up to Deals on Wheels' free newsletter or liking us on Facebook.