Review: Vermeer S800TX Skidsteer Loader
---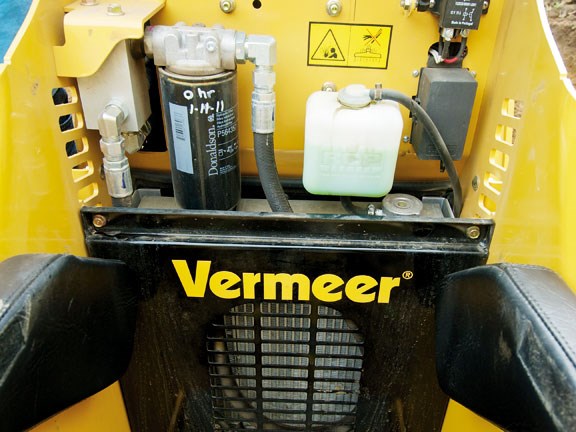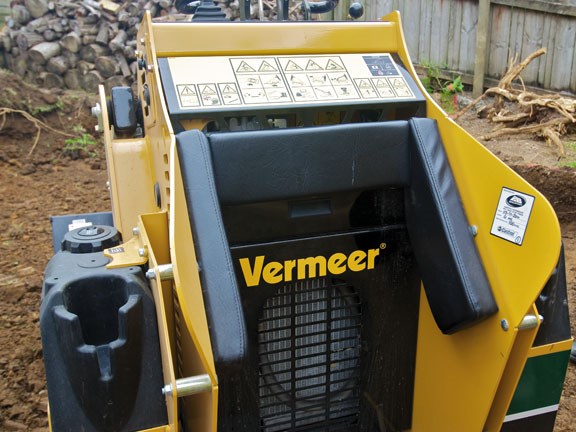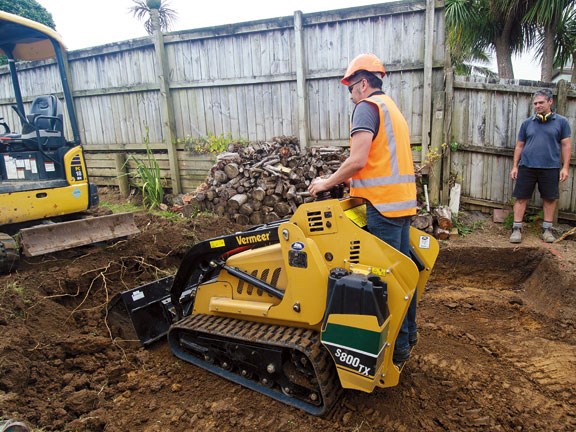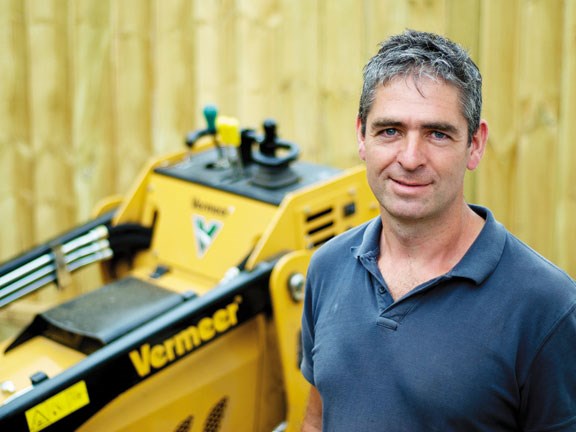 When I was given the road address of the test site as 666, it was hard not to think back to my early years sitting in mass while the priest explained the "mark of the beast" and then later checking myself from head to toe just in case I was the "devil child".
Fortunately, I never found any telltale marks, which is probably lucky as my career path would have been quite different and I would never have caught up with David Manson from Manson Machinery to test out his Vermeer mini skid steer.
Recently needing to upgrade, Manson opted to purchase the Vermeer S800TX, which is sold in New Zealand by AB Equipment. The primary reason he chose this particular model is because it is a tracked machine. He was getting a good run out of his wheeled machine of a different brand but was finding it limited his ability to complete jobs, especially when the weather got the better of him. Of course, he finds that the weather can still put a stop to some jobs but now he is able to get going faster, thanks to the tracked machine.
First glance
Weighing in at 1340kg, at first glance the S800TX is quite a cute-looking little beast, with the operator standing on a platform at the rear. It is not the narrowest of mini skid steers available on the market: with its side-mounted twin fuel tanks, the machine (with bucket) is 1070mm wide and is wider than its Dingo brand competitor. While there is not much difference in width, there has been a job that Manson had to borrow a smaller machine for, to get better access.
With a similar bucket hitch system to other mini skid steers, there are a variety of attachments that this machine can use.
The operator station
One of the things I instantly liked about this machine was the controls - or lack of them to be precise. Similar to some large modern bulldozers, this little beast has only two main levers: a four-way lever to operate the bucket and a four-way lever to control movement of the machine. There are also two auxiliary levers. I liked this as it meant that it was easy (really easy, actually) to transfer my skills from other machines to this one, being productive almost instantly - something that would be likely to take some time with other brands, due to their control set-ups. Something else I liked was that the platform de-activates the machine once the operator steps off it. The foam padding also met with my approval, affording a good degree of comfort for the operator.
Engine and power
The S800TX is powered by a 1500cc Kubota V1505 diesel engine, which pumps out 35hp. The twin hydrostatic hydraulic pumps provide a flow of 57 litres per minute to the outer extremities at 206.8bar (3000psi). Access for usual daily checks and the oil filter is via a handy flip-up cover by the operator's station. If more extreme mechanical work is necessary then, like all machines in this category, be prepared to find a mechanic with small hands, although the removable covers can help reduce bruised knuckles.
Performance and handling
As mentioned earlier, I found the controls very easy to get accustomed to. Being pointed in the direction of the area that was being excavated, I set the revs to a little over half speed and drove into the bank. Luckily for me, we weren't shooting any video of the test so no one could see me stall the machine when trying to pull out the first bucket.
After firing the machine up again, I cranked the revs up to almost full noise and successfully tore into the clay bank. Manson had swapped the usual four-in-one bucket with the larger loader bucket, as he had the convenience of having his small digger on site to break out the topsoil and clay mix. I'm not sure how often the digger was being used, as the Vermeer was doing a fine job of breaking out the bank all on its own - although I must concede that this was not some of the hardest digging material the machine is likely to encounter.
As far as operating the machine goes, I was more than happy with the way it handled. The controls, I felt, could be enhanced with something like a reduction switch on one of the levers, where some low-down power could be used for fine trimming manoeuvres or tearing something like a tree stump out. This would remove the need to take your hands from the control levers to adjust the revs.
Manson added that this machine does not have any jerky control movements like his old brand, which makes operating a lot smoother.
Summary
I was very impressed with the capabilities of this machine. Manson tells me that he may do a couple of modifications to the bucket, which will enable him to load a six-wheeler tipper. This would make the S800TX even more versatile than it currently is. Another addition that would be good to see would be a small alternative fuel tank so that the main twin tanks can be removed to narrow the unit up a bit more. Other than that, it's a devil of a good machine.
Who is this machine suited for?
Versatile and easy to operate, the S800TX would be great for an owner-operator.
For more information contact David Manson, mobile 021 587 139 or email dmanson@xtra.co.nz.
For the latest reviews, subscribe to our Deals On Wheels magazine here .
Keep up to date in the industry by signing up to Deals on Wheels' free newsletter or liking us on Facebook.