Wood Weta
---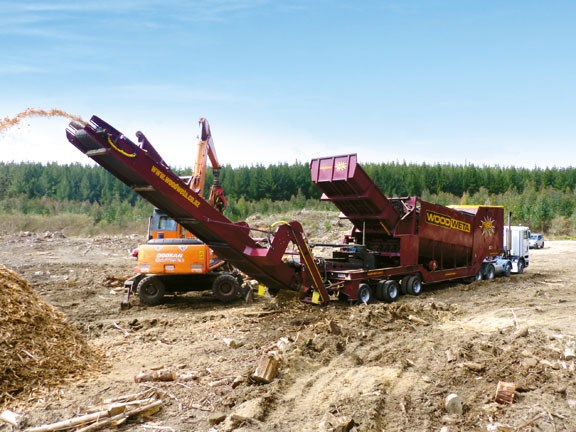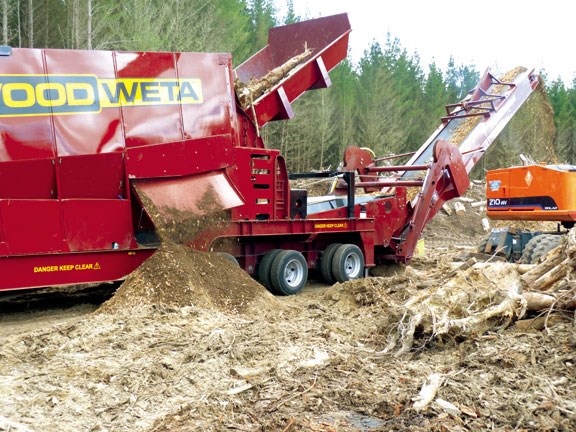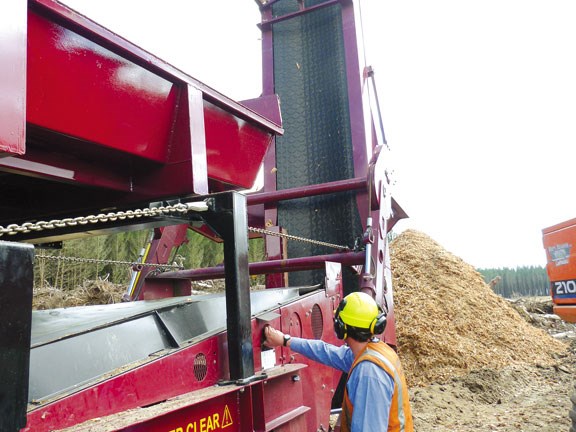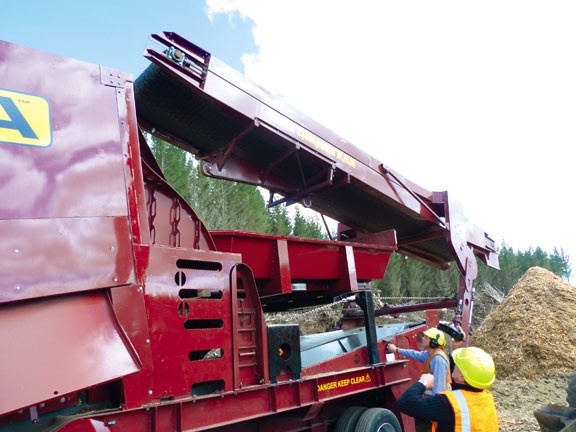 With an iconic-sounding name like Wood Weta, there are no prizes for guessing that this machine is built in "Godzone". Having said that, a few offshore entrepreneurs have tried to imitate Kiwiana to increase their products' marketability. But rest assured this behemoth is, in my opinion, Kiwi engineering at its best.
To be honest, I actually think New Zealanders are a little full of themselves when it comes to innovation, and I reckon the No 8 wire mentality faded at least two decades ago. This may be going out on a limb, but if you take a good look around, the No 8'ers of today are actually the immigrant communities who spend time fixing the things that good ol' Kiwis throw in the rubbish.
So when a really good idea from New Zealand does come along, it stands out from the crowd. The Wood Weta is a prime example. Spotting this exceptional looking machine at a Forestry Expo, I instantly knew I had to see it in action.
The unit
Primarily designed to produce hog fuel, the machine is used to provide the heat needed for biomass energy plants. Although energy plants such as these are fairly commonplace overseas, New Zealand has not been very quick on the uptake, especially as machines like the Wood Weta are quite rare. With a fairly small window of sales opportunity in the forestry sector, it has also been designed to take advantage of the asphalt recycling, soft aggregate and limestone markets as well.
As far as making hog fuel from forestry waste goes, this machine is a champ. Speaking to its designer and builder Rodney Sharp, I would have to say that one would be hard-pressed to find a person with more knowledge in this field. As he described the various problems encountered with traditional wood hoggers and the solutions he has found, I was more than impressed, and his ability is clear to see. Indeed, it is understandable as to how the Wood Weta has such great advantages on other traditional designs.
Engine and power
The Wood Weta runs a 560hp QSX15 Cummins engine. This drives (via heavy vee-belts) the cutting drum and, along with closed loop hydraulics for the trommel screen, stacking conveyor and feed-in bed. Access to the engine area is easily gained by a stairway, and the whole front cover can be removed to extract the complete engineif needed.
Performance
Within a few minutes of arriving on-site, the whole plant can be folded out via a hydraulic system and, once fired up, the operator has full control of the machine using the remote control.
Simply explained, producing hog fuel involves placing logs and stumps on a bed. This is then raised, tipping the raw product into the revolving trommel screen, removing dirt and other contaminants, before the wood is then chipped into hog fuel.
Now, while that sounds like a very straightforward and easy process, there are a number of factors that should make the machine a purchaser's first pick. Primarily, all the nasty work is contained within the machine, thus eliminating the risk of dangerous projectiles firing out, as can happen occasionally. Second, unlike traditional hoggers that chew the wood on a 90-degree angle, the Wood Weta chews it on a 30-degree angle, something that means that it tears the wood at the same time, leading to less energy (diesel fuel) expenditure. The "torn" wood is then re-fed to the cutting drum until it is small enough to pass through the trommel screen apertures, and then out into the stockpile.
This whole process occurs very smoothly, and the large stumps and logs handled are no match for the Cummins power plant, which hums along without missing a beat.
For a machine of this size, noise levels are quite low. However, ear protection in close vicinity is recommended.
Production wise, it was a little difficult to gauge, but I would have thought the machine was making around 100 cubic metres per hour - perhaps more.
Who is it suitable for?
It is a shame that there aren't more biomass fuel buyers in the New Zealand market, and I'm sure this machine would be snapped up quickly if it was based overseas. If someone with a pocketful of cash or a good contract wanted to get into making hog fuel or processing soft aggregate, then this would certainly be a hard machine to look past. the latest reviews, subscribe to our Deals On Wheels magazine here .
Keep up to date in the industry by signing up to Deals on Wheels' free newsletter or liking us on Facebook.