Caterpillar 305.5 E-Series mini excavator
---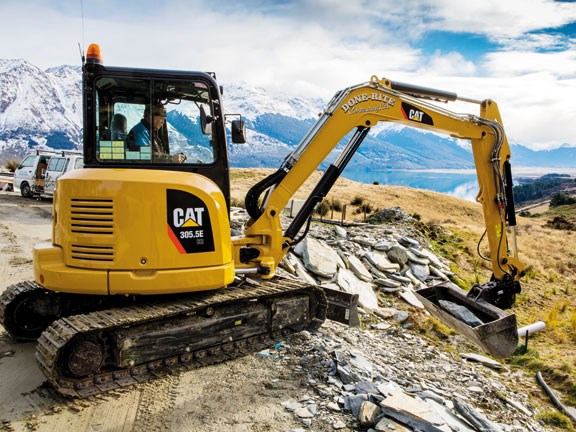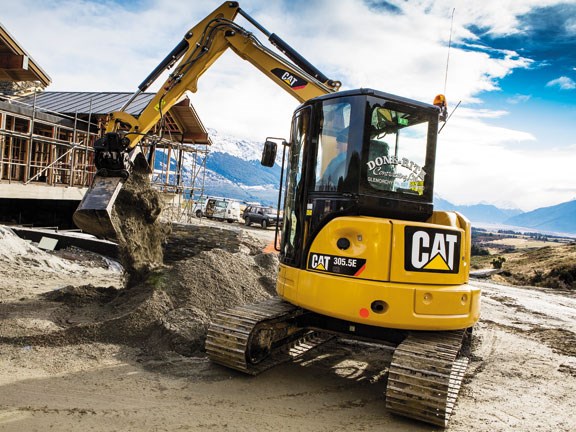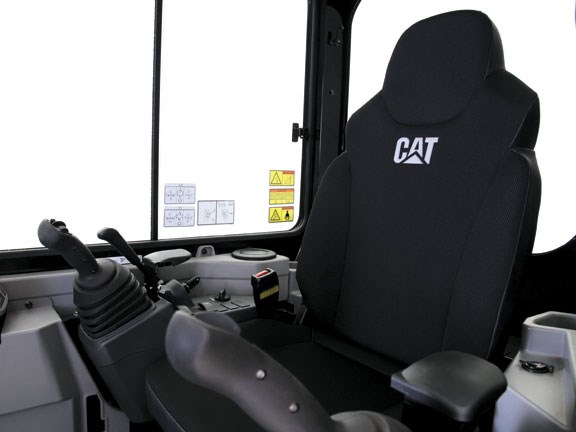 This Caterpillar 305.5 E-Series mini excavator punches well above its weight at Done-Rite Contracting out of Glenorchy in Central Otago.
Fresh on the New Zealand market is the new Cat E-Series mini hydraulic excavator range. Done-Rite Contracting of Glenorchy in Central Otago is among the first contractors to take delivery of one of these machines and for a mini excavator, there are big possibilities.
Cat-E among the pigeons
Glenorchy weather in July can be unpredictable to say the least. Tucked away at the northern end of Lake Wakatipu, and in the midst of arguably the most breathtaking scenery in New Zealand, each day can bring a mix of ice, rain, snow, inversions, glorious sunshine and just about anything else you can think of. But this is the norm and born-and-bred locals, like Rod Wright, take it all head on.
It is this same attitude that Wright uses to run his business, Done-Rite Contracting. Wright, co-owner with his partner, Toni, takes all the job opportunities possible to serve the small community and views it as an advantage, in terms of growing the business and expanding the variety of services they can offer.
"For the business to prosper in Glenorchy, we have to be versatile," Wright says. "[Done-Rite] tries to take on everything and anything, from housing site and fence line excavation to road maintenance and flood damage repairs."
Adding a considerable boost to the business and that versatility is Done-Rite's new Cat 305.5 E-Series mini excavator, purchased from Goughs in Invercargill and delivered in June. The compact-radius Cat machine performs at a consistently high rate in multiple applications and is a real joy to operate.
"The machine is as smooth as a baby's bottom [to run], whether it's breaking out rock or excavating at the sub-division," he says. "And I'm so impressed with it that I've been doing all the operating so far.
"This is the third Cat mini excavator we've run during the last four years and we had good experiences with all of them, but the new E-Series is definitely the pick of the bunch," he adds.
Done-Rite Contracting has a number of jobs on the go at any one time and currently one of the bigger projects on its list is the Wyuna development and preserve. Wyuna is on the southern outskirts of Glenorchy township and overlooks the exclusive Blanket Bay Lodge. In this stunning location we were lucky enough to get photographs of the Cat 305.5. Due for completion during 2013, Wyuna will boast a new subdivision and health retreat.
Done-Rite's Cat 305.5E is making a large contribution to the earthmoving work at Wyuna, but Wright employs it wherever it is required are and will often switch the location by the week.
"One of the things we were really sold on initially was how easy and cheap the machine is to transport," he says. "Rather than paying for a transporter for the excavator, we were able to do our own pick-up in Invercargill, and the fact it can ride on the back of our trucks means we can take on extra work we may not have otherwise been able to and it is still cost-effective for us.
"We're now on call 24/7 for road maintenance in extreme weather conditions. The 305.5 can be brought in quickly for the initial work to clear the road and our larger Cat diggers can clean up behind it," Wright continues.
Given the demands of their own workload, Wright and his staff appreciate the level of business support they receive from Goughs field service team in Cromwell, another team that prides itself on being available night and day.
"Stu Moore [Goughs resident field service technician in Cromwell] is always very helpful, whether it's talking us through a repair over the phone or making the drive through to Glenorchy," he says.
The Cat E-Series mini excavator range also includes a variety of new features to improve operator comfort and efficiency and boost productivity levels. Designed specifically by Caterpillar for compact excavators is the 'COMPASS' control panel, a new standard feature across the range of E-Series models. Now the operator has the convenience of combined control over the machine's operational, maintenance, performance and security functions, all at their fingertips.
Wright is very impressed by the new electronics and after receiving training, he can make the best use of the features to optimise the Cat machine's performance.
"When we drove down to Invercargill to pick the digger up, we had one of the young mechanics do the demo and show us how to use the controls," he says. "Now that I've got my head around it, I can really see the value in what it can do.
"One of the best features is the adjustable flow control. Gone are the days of having the mechanic hook a computer up to the machine and manually adjust the flow between the different tools," he continues.
Setting the required auxiliary oil flow on the E-Series mini excavator is as straight forward as dialling the number through a few buttons on the control panel - up to increase or down to lower where needed. This way it can be easily matched to whatever tools are being used.
The 'COMPASS' control also includes other useful functions, such as economy mode and continuous flow. Economy mode allows the Cat excavator to maintain excellent performance levels, while saving up to 20 percent fuel through a slightly lower engine setting. Continuous flow, once enabled, maintains hydraulic flow to the work tool at a set rate until switched off by the operator.
For powerful digging with precise control, the Cat E-Series has an industry-leading bucket rotation of over 200 degrees. At Done-Rite Contracting, this means greater material retention during truck loading.
"On site at the Wyuna preserve, the 305[.5] shifts a lot of earth into our trucks and even at a height, the bucket curls around tighter than I've seen on other units. This, together with good operating skills, can get it all loaded more efficiently and cut down on our overall work time," Wright says.
Glenorchy may be a small community but Wright and the team don't shy away from different types of projects: "We can take the 305[.5] to cut stock tracks. The Cat is narrow and stable to take around the side of hills, so that application is a given in a rural area like Glenorchy," Wright comments.
Done-Rite even has a claim to fame. Wright says, "We've used our previous Cat mini excavators to lay tracks down on location at Paradise for the Lord of the Rings set and more recently for The Hobbit. It's something different for us and our aim has always been to deliver a full service to our customer base. I think with the new Cat 305.5 on board, we're on the right track to achieving that."
Feel free to ask a question about this story or leave a comment on the Deals On Wheels
page.
For the latest reviews, subscribe to Deals On Wheels magazine here.
Keep up to date in the industry by signing up to Deals on Wheels' free newsletter or liking us on Facebook.