Kobelco SK350LC excavator
---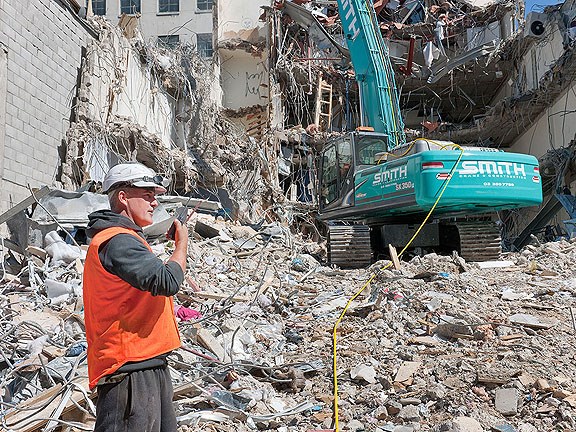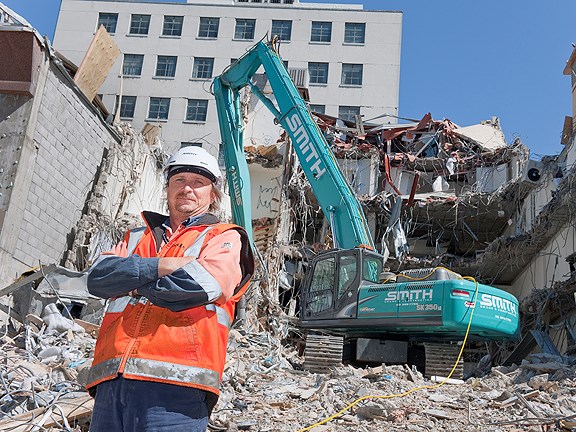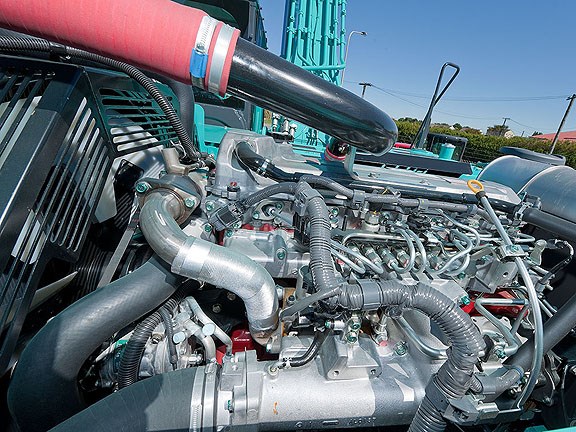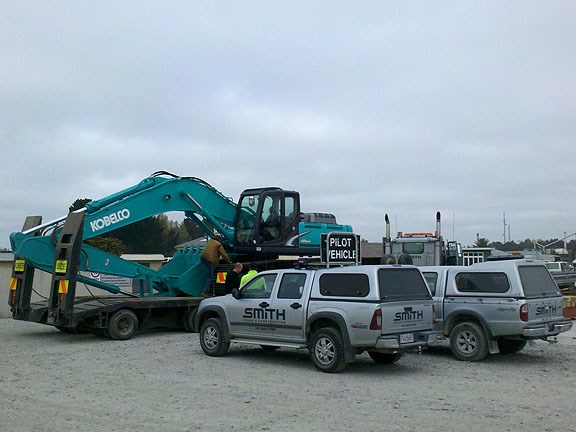 This Kobelco SK350LC excavator has certainly turned a few heads in Christchurch.
Fitted with long reach demolition boom, ROPS cab and multi-processor, the machine has been busy taking care of business in the red zone.
New Zealand agents, Mimico, have been getting good reports back from Kobelco operators since taking over the agency earlier this year: "We have really got our feet under the table now," says Mimico sales and marketing coordinator Stefan de Silva, adding that Kiwi uptake for the second biggest selling brand in Japan has been excellent, with Mimico recently ordering another 40 machines to help boost stock numbers.
"A strong selling point of Kobelco is the fuel savings the machines offer. The latest model, SK200-8, is 20 percent more fuel efficient than the previous model, which equates to over four litres per hour when operating," he continues.
The larger SK350LC (long carriage) model weighs in at an admirable 34,700kg, and runs a Hino J08E 209kW engine with common-rail injection, featuring a water-cooled EGR (exhaust gas recirculation) device. This is part of the package that helps the machine meet the latest exhaust emission standards.
Helping to reduce fuel usage is the auto-idle-stop function that sounds an alarm 55 seconds after the safety lever is pulled up, shutting the machine down 12 seconds later. This function also stops the hour meter, thereby reducing idling, hours and depreciation.
According to Kobelco, stats for the SK350LC, with its large 580-litre tank and fuel efficiency gains, offer a 22 percent increase in continuous operation hours. While another great feature found on the machine is the emergency acceleration system, allowing continued use of the machine in the event of a computer malfunction.
Comfort levels for operators are aided with wide cab entry and such creature comforts that many would expect from a machine like this. As with all Kobelcos in the Mimico range, it has a redesigned information display monitor, which shows only the specific information that the operator is required to know about.
However, returning to the specialised application of the SK350LC being used by Smith Crane and Construction (SCC), the company was established in 1964, now employing over 160 staff and running the largest fleet of mobile cranes in the South Island. With strongholds in crane hire, heavy haulage, pre-cast and civil work, its fleet of excavators come from a variety of suppliers.
Deals on Wheels sat down with SCC's civil contracts manager, Clive Baddeley, to get his opinion on Kobelco.
How many excavators does your company have? SCC has 12 excavators in the fleet, ranging from 3 to 200 tonnes.
What is the main brand of excavator in the fleet?
We have no main brand, but operate Hitachi, Kobelco, Hyundai, Sumitomo and Caterpillar.
When did you buy the Kobleco?
We purchased the Kobelco in October 2011 and spent three weeks converting it to a high reach machine for demolition work in the Christchurch CBD.
Have you any other Kobelco's in your fleet?

This is the first excavator in the fleet, but we operate six crawler cranes ranging from 50 to 250 tonnes.
What made you choose Kobelco? We have a long association with Kobelco as a brand through our crane fleet, plus a lot of confidence in Mimico as the new agents for Kobelco, having had a long relationship with the Managing director, Rex Davies.
The latest Kobelcos have increased fuel economy. Was this a big factor when choosing one?
Not a major factor, but certainly one that influenced our decision.
What other factors were influential when deciding to buy a Kobelco? Certainly the face that the machine was available immediately, and its value for money.
Has Mimico been good to deal with?
Very good to deal with - as ever.
Have there been any issues with the machine?
No, only some minor issues fitting the long reach boom, which had nothing to do with Kobelco or Mimico.
Are you likely to purchase more Kobelcos? Yes. We have some older machines in the fleet which we would like to upgrade.
What comments have your operators made about the new machine?
All very positive to date.
Your Kobelco is a specialised demolition machine. What changes have been made to it for this role?
We have replaced the factory boom with a specialised three-piece long reach and added additional counterweight for stability and safety. This has all been done under the supervision of Mimico staff. We also asked the operator, Terry Middleton, for his opinion on the SK350LC.
How long have you been driving excavators?I have been operating excavators for almost 30 years, predominantly in civil and mining operations.
Have you driven the Kobelco brand before?
Yes, but about 20 years ago.
What other brands have you driven?
Hitachi, Komatsu, CAT, Liebherr, Terex, Hyundai, Doosan - most brands, both good and bad.
How many hours have you clocked up on the Kobelco since getting it?
Approximately 120 hours now.
Did it take long to get used to the machine?
No. About a day.
What are some of the features that you like about the SK350LC?
All round it is a very good machine.
The auto-idle stop function shuts the machine down 60 seconds after lifting the safety lock lever. How do you find this function works for you?

It is something that is standard on most new excavators now, and it seems well designed for the work.
How well does the air-conditioning and radio work?
Very good, overall it's a good environment for the operator.
The SK350LC has a 540-litre fuel tank. How often do you refuel the machine?
I like to keep it topped up every two days.
Have there been any issues with the machine?
Not as yet.
Have the other excavator operators made any comments to you about the Kobelco?

They definitely like the look of it, and everyone wants a play!
Are there any other comments you would like to make?

As a standard excavator, it is a great machine, working on its limit as a long reach. Overall, I am very happy with it.
What is EGR? (exhaust gas recirculation)
Exhause gas recirculation is an emissions reduction technique that recirculates some of an engine's exhaust back to the engine after mixing it with intake air to cool the combustion temperature, keeping the oxygen concentration down. This reduces the amount of nitrogen oxide the engine produces. A water-cooled EGR (as is the case with Kobelco machines) further reduces the intake temperature for more efficient burning.
Mimico have Kobelco excavators ranging from 0.9 to 81 tonnes. Short rear swing excavators also feature in the line-up. All machines come fitted with breaker piping as standard. Machine servicing is available through the Mimico network nationwide, and the Auckland region will soon be home to the company's newest branch, including a 2000m2 workshop, is due to be opened in the early new year.
Feel free to ask a question about this story or leave a comment on the Deals On Wheels
page.
For the latest reviews, subscribe to Deals On Wheels magazine here.
Keep up to date in the industry by signing up to Deals on Wheels' free newsletter or liking us on Facebook.