Review: Hitachi Zaxis ZX-120 excavator
---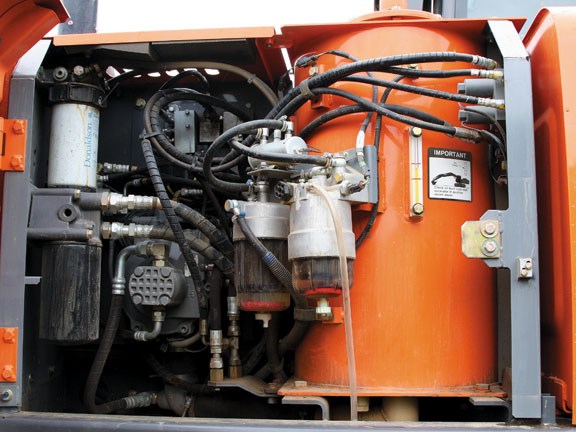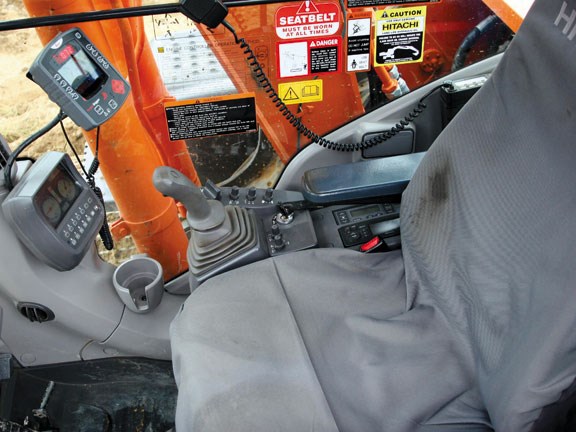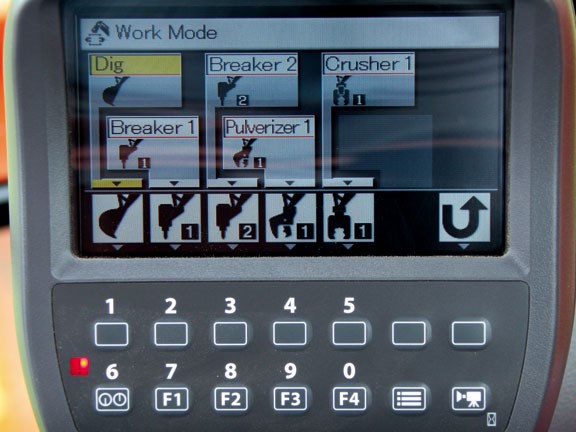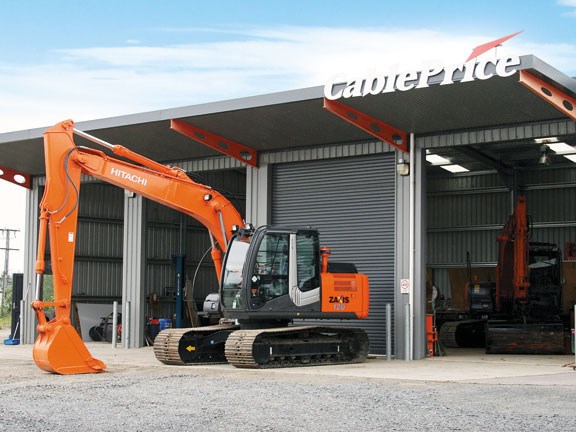 The 12-tonne Hitachi Zaxis ZX-120-3 is a significant development from its predecessor.
Runs well on biofuel
Sturdy, well-designed and protected ROPS cab
Great feel from the controls
Two-pump hydraulic system
Connected to Hitachi satellite by GPS
Holden Earthmoving Ltd in Waitomo took the keys to two new Zaxis ZX-120-3 excavators a couple of years ago. Both Hitachis use Environ Fuels B10 bio-fuel mix. B10 means the bio-fuel component is 10 percent, B20 means 20 percent, and so on. The machines are said to be able to run on much higher "B" ratings however the manufacturers are still limiting bio-fuel use to low figures in order to satisfy their warranties.
Holden Earthmoving owner Lawrence Holden reports his Zaxis ZX-120-3 runs better and makes more power, even just using the relatively low B10 mix.
"It's a lot gruntier than the last one [ZX-120-1], especially in the track mode," he says. "The Hitachis are also good at finish work - they have $20,000 lasers in them."
Using several sensors in the arm and an in-cab screen, the laser device allows the operator to achieve pinpoint site angle accuracy.
Engine and power
The four cylinder Isuzu AJ-4JJ1X Tier 3 engine features four valves per cylinder with an intercooled turbocharger. Output is rated at ISO 69kW (93hp) at 2000rpm, and it produces 372Nm of torque from its three-litre capacity. The radiators are now stepped sideways, as opposed to stacked in front of each other, to ensure a potential blockage in between them doesn't interfere with the engine cooling system.
The engine has three working positions: economy, power and high power.
Inside the cab
I had no trouble learning any of the control actions. I found their placement very ergonomic and simple to follow.
I felt all of the controls offered great "feel" in every direction, with no mechanical free-play anywhere, so I was always confident of placing the bucket in the right place.
There's plenty of space to put things behind the seat, including a drink bottle holder. The roof has an internal skylight, which Holden uses to ensure the arm doesn't foul anything, and CablePrice installed a small 24V compressor unit inside the machine to enable Holden to keep the cab clean.
It's pretty quiet inside, much of it from using a larger diameter radiator fan with curved blades.
The two-pump hydraulic system has been upgraded and is controlled by the on-board electronic package. Each pump operates a drive track. One pump becomes dedicated when the upper structure is used, with the real difference coming from the computer control. This works out where to send the correct hydraulic pressure and flow rates to the right places. It's coupled with the engine, so if you hit a harder piece of ground with your bucket, the computer will automatically pick up the revs to give less flow but more pressure, to suit. Hitachi calls this HIOS3. On the Zaxis ZX-120-3, this means the operator can work more efficiently. Then, to save fuel when the power isn't required, the sensors will tell the computer to cut back the revs again.
In addition, it has a regenerative hydraulic system. When raising or lowering the boom the outgoing hydraulic fluid is used to drive another function, making use of available mechanical force without using the hydraulic pumps.
Main controller
The colour controller displays all the usual items such as hours, time, engine temp, fuel level and litres used per hour on the front page of the eight pages.
One page is dedicated to the different attachments, where you can pre-set the right hydraulics for up to five separate attachments. On delivery the CablePrice technician will programme these for you. They can also link up with the digital controller via laptop to handle diagnostics and conduct repairs. The display also doubles as a reversing camera screen.
Holden's Hitachis are connected by a transmitting GPS system to a Hitachi satellite then relayed to the CablePrice workshop. Every night it sends a message advising location, hours done that day, fuel level, any alarms encountered, etc. Also, if the digger is taken outside a 5km range with the key turned off, an email message is automatically sent to the owner.
The Hitachi Zaxis ZX-120-3 has a third service for alternative attachments or, in Holden's case, a tilt bucket. This is controlled by a button on each lever for fast action work or can be transferred to a fine-action foot lever.
The up-spec Zaxis ZX-130-3 is available with more options.
Roll Over Protection Structure
Outside visibility wasn't a problem with the additional ROPS protection. Active Engineering Solutions in Rotorua was recommended to build the Active Hi-viz external ROPS unit and were specifically asked to include a hinged front grill so that Holden could more easily clean front window.
All Hitachi diggers from six to 20-tonne now have an integral ROPS protection system as a standard feature, including this model.
Feel free to ask a question about this story or leave a comment on the Deals On Wheels
page.
For the latest reviews, subscribe to Deals On Wheels magazine here
Keep up to date in the industry by signing up to Deals on Wheels' free newsletter or liking us on Facebook.