Hyundai HL760-9 and Hyundai HL770-9 loaders
---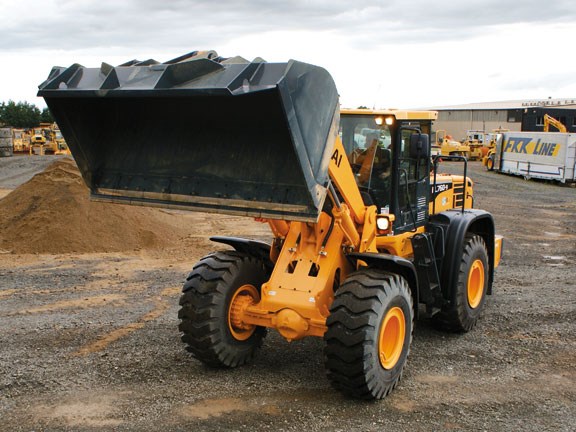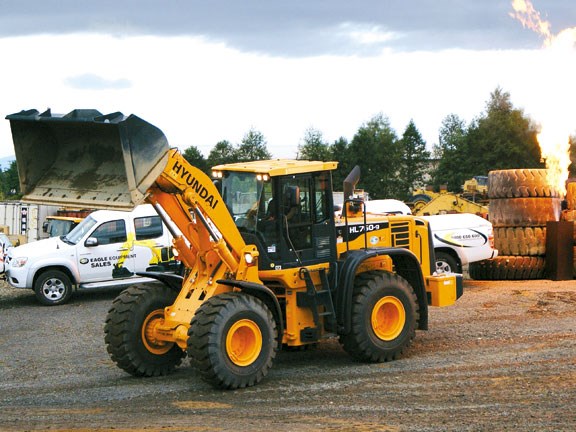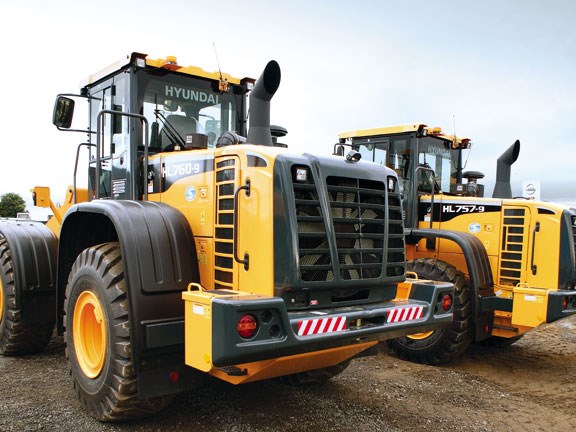 Hyundai has improved on its wheel loader range with the latest Dash 9 range sporting a load of enhancements.
Superior operator comfort
Tier III compliant engines
Extended service intervals
Cutting edge remote management system
Enhanced axle design and self-adjusting brakes
Porter Group unveiled the latest Hyundai machines with a live demonstration earlier this year, which gave customers an up close look at the new HL760-9 and HL770-9 models in action.
The Hyundai Dash 9 is one of New Zealand's most popular wheel loader ranges, and Porter Group is expecting the latest impressive machines to be in great demand.
In fact, Darren Ralph, sales and marketing manager for Porter Group, says the first 20 Dash 9 loaders arriving in the country have been presold or sold already.
"The reported size of the market was 102 loaders in 2010 and we managed a total of 25 units in the entire year. To date this year we have already presold 20, which really puts things into context," he says.
Superior operator comfort
The newly designed Dash 9 cabin was conceived for more space, a wider field of view and operator comfort.
The combination of cab ergonomics, a comfortable seat and convenient instrumentation put the operator in the perfect position to work safely and securely. The steering column and wrist rest can be adjusted to suit individual's preferences, and the pilot-operated joystick controls are easy and comfortable to use. An FNR (Forward/Neutral/Reverse) switch on either joystick makes selection of travel direction simple, and optional joystick steering is available for all models.
The Dash 9 range has a new monitor with 5.7-inch wide colour LCD screen that allows the operator to easily and efficiently control the machine. The boom kick-out and bucket position can be adjusted via switches overhead while the adjustment settings can be monitored from the cab. An integrated load weight system, self-diagnostics, a color rear-view camera, maintenance check lists and start-up machine security can all be viewed through the in-cab monitor, as well as error messages and transmission fault history, which are recorded and accessible through the system. The cab also features an advanced audio system with AM/FM stereo, MP3 interface and USB input, plus remotely located controls.
The front windshield is rounded and 17 percent wider than its predecessor, giving operators plenty of visibility. Roller-style sun screens on the front window and rear window allow the operator to reduce glare and further improve visibility.
In addition, the Dash 9 cab's fully automatic climate control system features 11 air vents and increased cooling and heating capacity. The defroster vents located on the front and rear windows and a PTC (electric pre-heater) make working in cold weather more hospitable. Optional heated side mirrors feature built-in hot wires for quick defrosting.
Tier III compliant engines
The Cummins QSL electronic control engine combines full authority electronic controls with reliable performance. The high pressure common rail system and advanced in-cylinder combustion technology results in increased power, improved transient response and reduced fuel consumption. And the QSL uses advanced electronics controls to meet the emission standards (EPA Tier3, EU Stage III-A).
The Dash 9 loaders have a fully automatic transmission designed for maximum durability, minimum power loss, improved travel speed and low noise. The clutch control has been improved and shifting shock has been minimised during travel, both contributing to a smoother ride.
Dash 9 wheel loaders are designed to allow the operator to customise the machine's engine power, automatic transmission shift timing and clutch cut-off activation based on the job condition and personal operator preference - versatility that contributes to improved productivity, enhanced operator comfort and reduced fuel consumption. Additionally, if equipped with the optional ride control system, the operator has the option to turn the system on or off with an overhead switch. This system has a shock-absorbing accumulator that cushions the boom, improves operator comfort and reduces material loss.
The remote mounted, hydraulically powered cooling fan regulates fan speed according to working temperatures for coolant, intake air, transmission oil and hydraulic oil. It features a new design that contributes to reduced fuel consumption and machine noise, and it is programmed to auto reverse periodically or manually reverse to keep debris from accumulating on the coolers. The fan is integrated into the rear door, which swings open to over 45 degrees for easy access.
An enhanced axle design improves driving over variable ground conditions, while the new load sensing hydraulic system, with a variable volume piston pump and closed center main control valve, provide efficient hydraulic power and additional energy savings.
The Dash 9 also features self-adjusting brakes that automatically regulate disc clearance, thus reducing service time and improving brake reliability and performance.
Extended service intervals
Ground-line access to fuel and oil filters grease fittings, fuses, machine computer components and wide-open compartments makes servicing the Dash 9 range simple. In addition, coolant and transmission oil site gauges are conveniently located to make checking fluid levels fast and efficient.
As well as an automatic greasing system, which is a standard feature of all the Dash 9s above and including the HL760-9 and an optional extra for the smaller range, the range is designed for reduced lubrication intervals and extended component life. Long life hydraulic filters now have 1000-hour service intervals and Hyundai-certified hydraulic oil can last up to 5000 hours before changing.
Hi-mate Remote Management System
Hi-mate, Hyundai's remote management system, provides operators and fleet managers access to service and diagnostic information on the machine from any internet terminal in the world. Users can pinpoint machine location using digital mapping and set machine work boundaries, reducing the need for multiple service calls and saving time and money by promoting preventative maintenance and reducing machine downtime.
Feel free to ask a question about this story or leave a comment on the Deals On Wheels
page.
For the latest reviews, subscribe to Deals On Wheels magazine here.
Keep up to date in the industry by signing up to Deals on Wheels' free newsletter or liking us on Facebook.