T190 Bobcat skid steer loader
---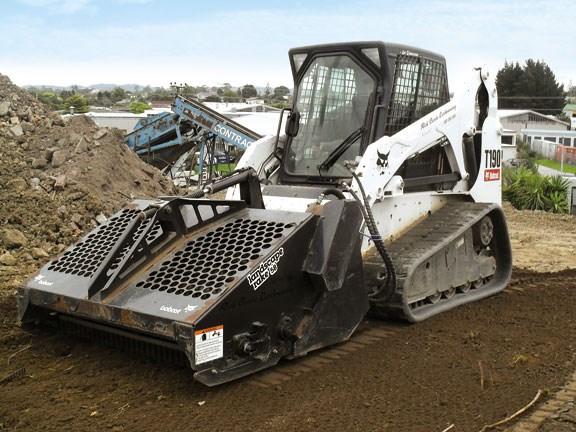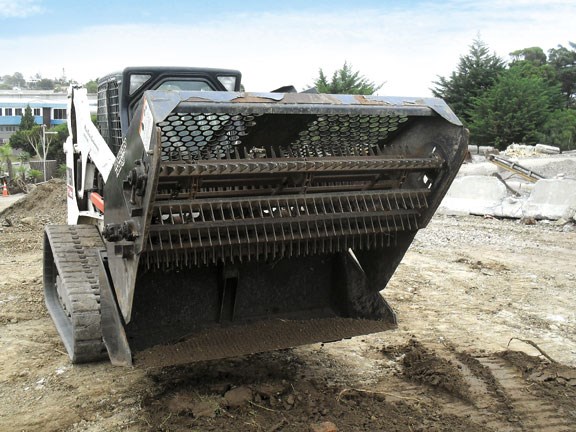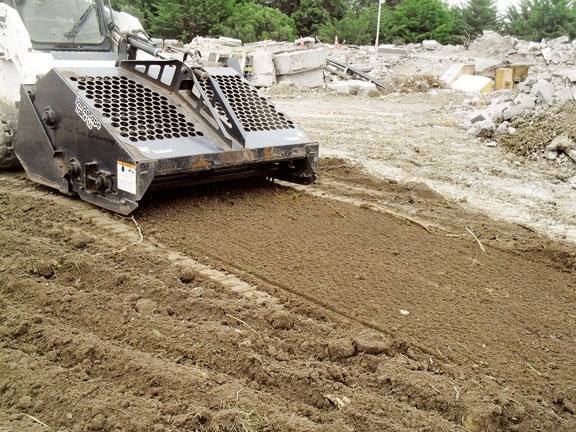 With the range of attachments available, the scope of use for the rubber-tracked T190 Bobcat is limitless.
Comfortable, fully-enclosed cab
Access to important areas for maintenance is easy
Over 60 compatible attachments available
Simple to understand instrument panel
Plenty of grunt from engine
With over 35 years' experience on tracked machines, Auckland-based owner/operator Rick Cassie runs a rubber tracked T190 Bobcat. USA manufacturer Bobcat produces a huge array of equipment, and makes over 60 compatible attachments for the T190 Bobcat alone.
Among Rick's collection of attachments is a Bobcat 5B landscape rake. The 183cm (72") rake is used to level ground and soil, as well as remove debris prior to grassing. It couples to the machine hydraulics, and takes no more than a few minutes to set up.
According to Bobcat, it offers more attachments for more machines than anyone in the world. Another attachment Rick finds he uses quite a bit are the forks, as more often than not he arrives onsite and finds access blocked by pallets of materials or rubbish skips. It is not unusual for customers to forget about these "minor" details when booking a job. With the forks he can quickly move these obstructions out of the way and get to work, saving time all round.
I caught up with Rick out in West Auckland, where Western Aggregates & Soil Ltd kindly lent us a bit of space on top of one of its raw soil stockpiles to try out the landscape rake. This particular stockpile is quite heavily contaminated with concrete and rock.
Inside the cab
Weighing in at 3.5 tonnes, Rick's machine has a fully enclosed cab that allows air-conditioned comfort.
The interior is surprisingly spacious. The simple to understand instrument panel sits to the top left of the windscreen and air con controls sit in a separate panel to the upper left of the operator.
This machine has the "standard" controls, with the bucket being controlled by pedals on the floor, and a vertical stick on each side of the operator for travelling. Other control options are available, depending on the purchaser's preference.
Engine and power
This machine is powered by a turbocharged 66hp Tier 4 diesel engine. The climb up the fairly steep stockpile incline was handled without any noticeable decline in rpms. Noise inside the cab is minimal, and doesn't distract from the Fusion sound system.
Performance and handling
With the rake attached the revs were cranked up to around 2000rpm. The rake was quite straightforward to operate, and adjustable "side skis" allowed for accurate depth control. Tines on the rake rotate and pull any debris or excess soil into the bucket, which can either be disposed of or placed in another area. I could see the advantages in speed and finish with one of these rakes as opposed to a normal 4-in-1 bucket.
Repairs and maintenance
This machine has clocked up almost 2000 hours in its two years, and everything still feels nice and tight. The rubber tracks are in good order, so replacement is still some time off. Access to important areas appears good.
Summary
This machine was impressive, and it lives up to the Bobcat brand's reputation. In the hands of a "Living Legend" like Rick, these things must be lethal. Ground pressure is 0.35kg/cm2, which is less than a 1.8m human male who stomps in heavier at 0.56kg/cm2. Not quite walking on water, but you get the point.
Feel free to ask a question about this story or leave a comment on the Deals On Wheels
page.
For the latest reviews, subscribe to Deals On Wheels magazine here.
Keep up to date in the industry by signing up to Deals on Wheels' free newsletter or liking us on Facebook.