Volvo EC360C L excavator
---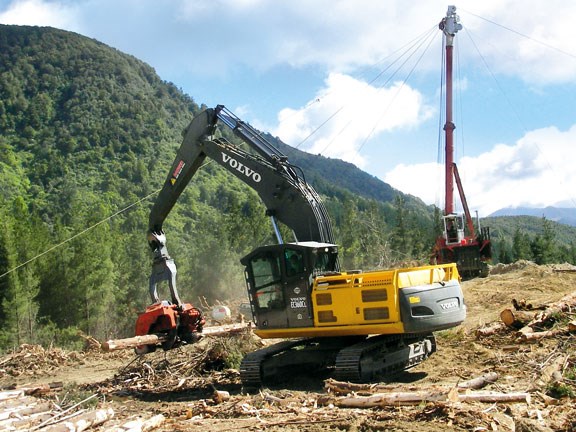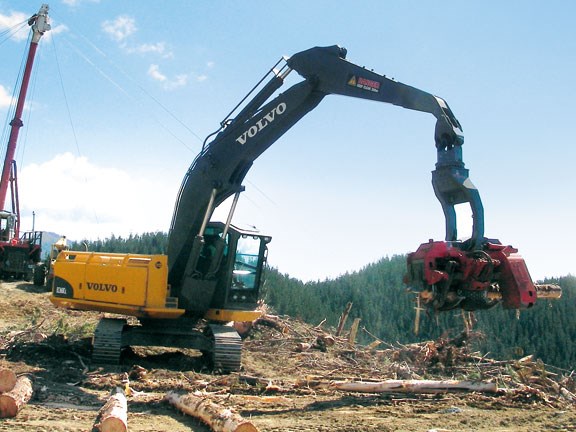 Kitted out for work in the forest, this Volvo EC 360 CL excavator proves easy to use with good performance
Quiet, comfortable cab
Large storage space under raised floor
Easily accessible engine compartment
Good feel of balance and hydraulic power
Neat and tidy control setup
Nelson-based contractor Dale Ewers, owner of Moutere Logging, took delivery of a new Volvo EC360C L tracked excavator in August 2010, complete with Ensign guarding package and Woodsman processing head.
The Volvo EC360C L left the factory as a 36-tonne digger, but by the time Ensign and Woodsman had kitted it out for forestry work, it now weighs close to 50 tonnes.
Test day and the EC360C L was working on a skid site processing radiata pine that had been hauled up a steep hill after being wind blown.
Operator Andy Gillespie says he is very pleased with his new machine.
"It's a pleasure to operate with a nice quiet comfortable cab there's a large storage compartment under the cab floor as it has been raised up from its original position."
Two tool boxes were also supplied; one with tools for the processing head, and one with tools for the forest guarding package.
A quick spin
The Volvo cab contains a large computer to the operator's right, which programmes the Woodsman processor, plus a smaller screen which displays the fuel gauge, water temperature, rpms, clock, etc.
The front windscreen is large and I'm told its bullet proof, not requiring steel bars for protection. All the windows are made the same.
Both hand control levers have been changed to accommodate all the buttons and switches needed to operate the Woodsman, which looks neat and tidy.
Because I've had little experience with the processing head, I stuck to operating it like a standard excavator. The control pattern was the same as most excavators worldwide, which is the ISO pattern. The Woodsman processor did feel quite heavy at full reach but the machine also felt like it had enough counter weight balance and hydraulic power to handle this type of attachment. After watching the full time operator, Andy, using it with ease, efficiency and speed, it was obvious that this was a quality piece of equipment.
A bolt on the side of the track frame steps enables them to move slightly when something pushes up against them, or even be unbolted to straighten them up.
Engine access
The engine compartment is quite easy to access, with the bonnet opening using a simple catch system and oil levels are therefore easy to check. The fuel filters can be accessed from standing on the ground after opening a panel on the right side of the machine at the rear.
 
Feel free to ask a question about this story or leave a comment on the Deals On Wheels
page.
For the latest reviews, subscribe to Deals On Wheels magazine here.
Keep up to date in the industry by signing up to Deals on Wheels' free newsletter or liking us on Facebook.