A-Ward concrete crusher-pulveriser attachment
---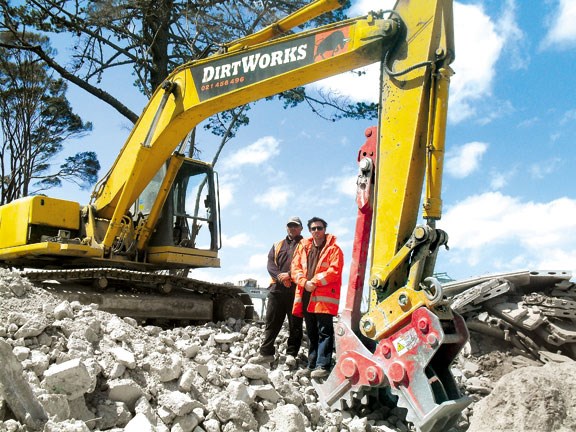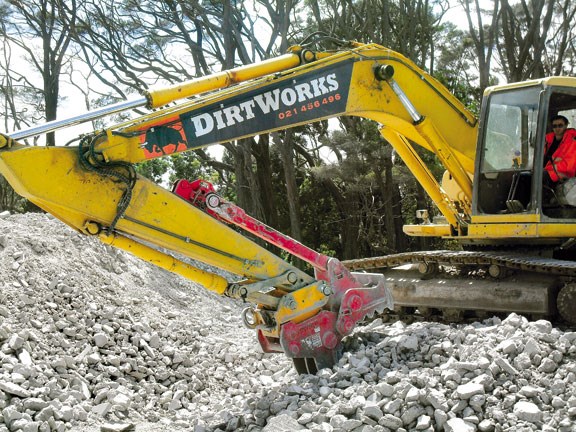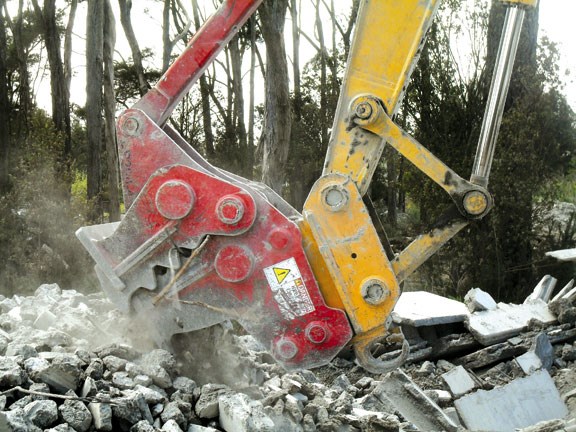 This A-Ward concrete pulveriser attachment helps Dirtworks Ltd crush and transport concrete and keep costs down.
Easy to set up
Operator friendly
Offers extra mobility and keeps costs down
Pulverisers to fit 12 to 65 tonne machines
Simple, sturdy design
Disposing of concrete these days can be difficult. With the introduction of the Resource Management Act in 1990, a small fortune is now required to set up a cleanfill tip site, hence the huge demand for sites available close to urban areas. For the astute cleanfill operator, this means that utilisation of every spare inch of space is money in the bank.
Cleanfill operator Iydden Wood of Dirtworks Ltd started out as an enterprising 19-year old, and has built up an impressive array of Komatsu equipment that run on his cleanfill sites on Auckland's North Shore. Looking to expand, the company has purchased an A-Ward concrete pulveriser coupled to a 20-tonne excavator.
"The pulveriser gives us the mobility to crush concrete at our customers' sites as well as our own, with the added bonus of making the concrete more economical to transport. Crushed concrete can often be used as a cheaper alternative to aggregate, which really saves us dollars," Iydden says. "At our cleanfills we are careful to separate concrete and stockpile it for crushing and re-use, rather than letting it be added to the fill."
Engineering
Kiwi company, A-Ward Attachments Ltd has been producing and selling heavy duty attachments and bulk handling equipment locally and overseas for years.
As the pulveriser name suggests, these units do just that - breaking down large concrete into smaller pieces to extract rebar, and preparing for either crushing or easier transportation offsite.
These solidly built mechanical units make use of an excavator's bucket ram to open or close a moving jaw against a fixed side, allowing the pulverising to happen. The fixed side is connected via pins to a stabilising arm which hooks to the underside of the excavator boom. Holding the stabiliser arm secure, the strut hook, as it is known, is the only piece that needs to be welded in place to set one of these puppies up, and becomes a regular fixture of the excavator when the pulveriser is removed. It is situated in such a place that it is no inconvenience when operating the excavator with a bucket or other attachment.
With Dirtwork's unit, around 250 to 850KN is produced when the jaw closes, depending on where the piece of concrete is situated in it. Tougher concrete pieces are progressively broken down until the jaw can handle them easily.
A-Ward makes pulverisers to fit 12 to 65-tonne machines.
Performance and handling
Cranking the revs up on Dirtworks Ltd's 20-tonne Komatsu, you can certainly feel the weight of the pulveriser as it lifts off the ground and the counterweight rocks the machine a little as it gets used to the 1500kg attachment.
Being attached to the bucket ram, the jaw (mechanically) opens and closes at much the same speed as curling a bucket, and faster than every other hydraulic pulveriser that I have seen.
Similar to rock, concrete (especially footings) has a grain so each piece of concrete has to be "read" by the operator for efficient breaking.
The main difference when operating is that as the pulveriser has to be connected via the stabilising arm to the excavator boom for its superhuman strength.
Breaking wise, this unit makes very quick work of driveway slabs, filled concrete block, and anything up to 150mm. Over this size it is still very productive, but operator experience counts, as operator Steve Oxborough shows.
Repairs and maintenance
A-Ward has put a lot of thought into the longevity of these heavily made units, continually developing the design. It offers bolt-on replacement teeth and there are greasing points in the usual strategic areas.
It is a good idea to give pulverisers a thorough visual inspection for hairline cracks on a regular basis, although these A-WARD units seem a lot sturdier than some others we have seen.
Pulverising takes its toll on excavator pins and bushes as there is a serious amount of energy being transferred about the place, and as always it will travel to the weakest points. Be prepared for a bit of upgrading if putting one of these units on an older machine.
Suited to
These are simple, well built units that would be suited in the arsenal of any contractor.
The pulveriser that fits a 12-tonne excavator would be ideal for using on driveway replacements and lighter work, but consider upgrading to at least a 20-tonne unit if you want to get serious about taking care of bigger concrete, other than using for the occasional house or light commercial demo.
Feel free to ask a question about this story or leave a comment on the Deals On Wheels
page.
For the latest reviews, subscribe to Deals On Wheels magazine here.
Keep up to date in the industry by signing up to Deals on Wheels' free newsletter or liking us on Facebook.