Komatsu WA320PZ-6 wheel loader
---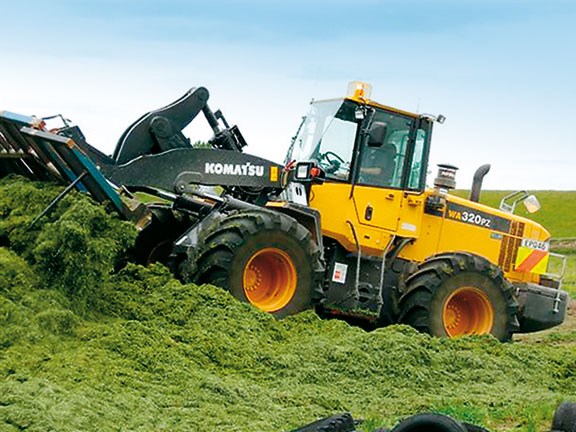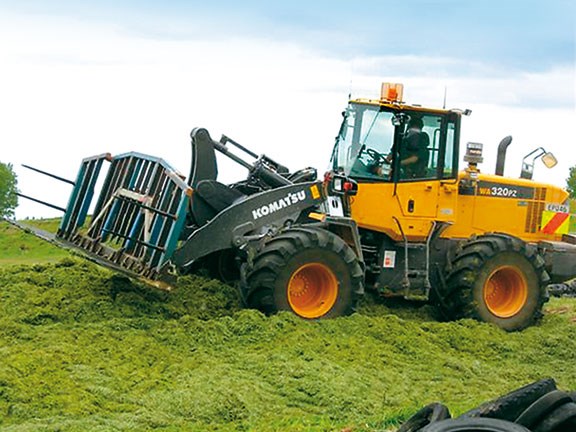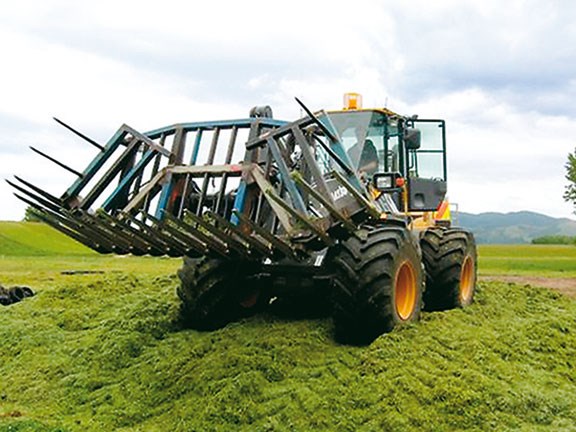 The Komatsu hydrostatic loader increases safety and productivity in pit silage application
Manoeuvrable, productive and safe.
Hydrostatic transmission giving you full engine and transmission braking at all times.
Easy to drive.
Canterbury-based agricultural contractor Meyer Contracting has recently taken delivery of a Komatsu WA320PZ-6 hydrostatic drive toolcarrier wheel loader for pit silage spreading and compacting.
This is a job typically carried out by agricultural wheel tractors, but company owner Alistair Meyer found that the Komatsu wheel loader, featuring hydrostatic drive transmission, is more manoeuvrable, productive and safer than alternative systems.
When carrying out pit silage work, the loader is fitted with a custom-made set of 4.2m-wide silage forks to move the silage around and form the silage bunds. In the "off season" it is used for general loading and handling applications, fitted with a standard bucket and pallet forks.
Alistair Meyer says he opted for the Komatsu loader – one of the first two sold in New Zealand – as the capabilities of conventional wheel tractors were beyond his requirements.
"We'd taken wheel tractors about as far as we could with our operations; they are not really made for loading or spreading operations," he says.
"Just for moving the material around at the production rates we want to achieve, we would have had to go for much larger wheel tractors, and we'd have lost a lot of manoeuvrability in this application.
"Wheel tractors are agricultural machines, whereas the Komatsu is an industrial machine, designed to provide high productivity in fairly constricted areas," says Meyer.
"Our WA320PZ-6 is easily able to keep up with the very large forage harvester that we use to process the silage; it delivers around 650 horsepower, which means the silage comes in to the pits at a pretty high rate, and together with the Komatsu, the two machines make a very good combination."
An important factor in Meyer Contracting's decision to opt for the Komatsu loader was its hydrostatic transmission.
"We'd previously had a variable-drive tractor on this work, which operates in a very similar manner to hydrostatic transmission," says Meyer.
"Having the hydrostatic transmission is a major safety advantage for us, compared to torque converter systems, because it gives you full engine and transmission braking at all times. If you take your foot off the accelerator, the machine just stops.
"This is important for us when the loader is going 'nose-down' down the side of the bund when it's compacting the silage. The operator just needs to flick to reverse, and the machine stops and starts reversing back up the bund.
"In comparison, with a torque converter system, the operator has to juggle the brakes and transmission while it's going through neutral, and there's the risk of the machine getting away.
"It's a very, very safe system," he says.
"The other thing about the Komatsu loader is that it's ridiculously easy to drive; we don't have to provide a lot of training for our operators."
To read in-depth machinery reviews, see the latest issue of Deals On Wheels magazine, on sale now.
Keep up to date in the industry by signing up to Deals on Wheels' free newsletter or liking us on Facebook.