Dash 9 excavators
---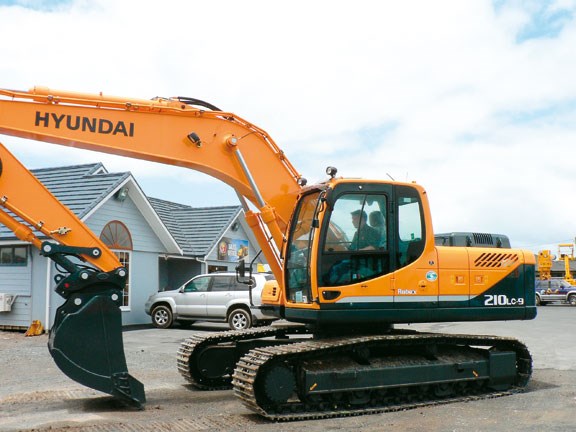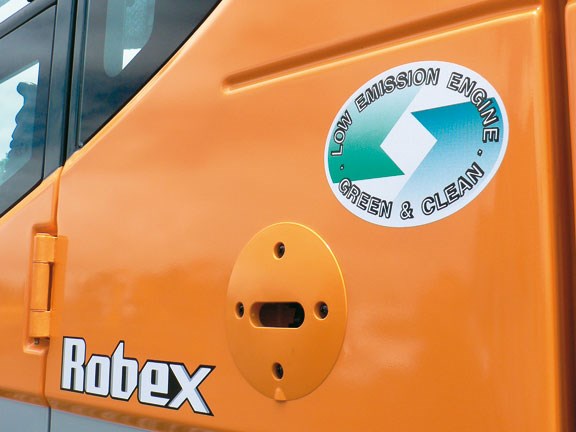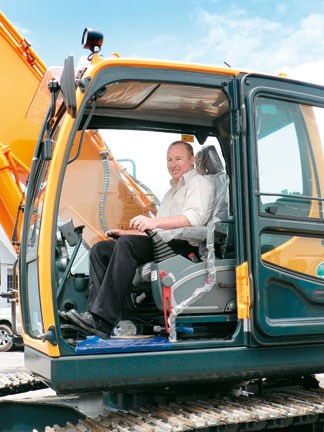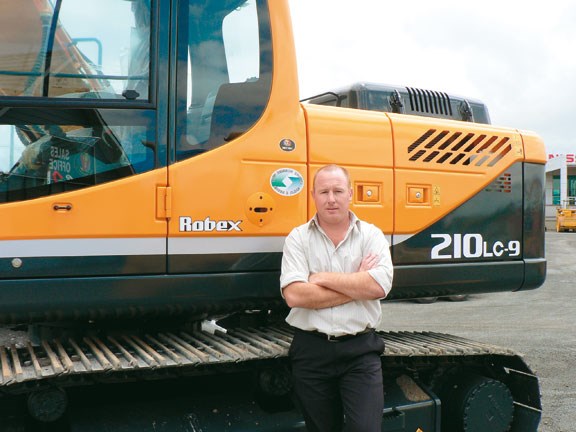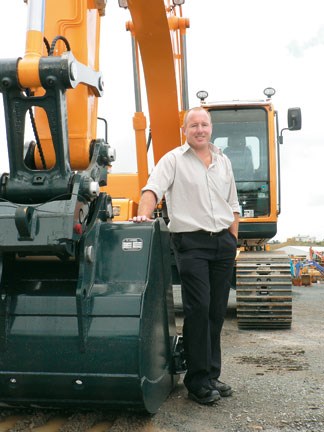 The Dash 9 at Eagle Equipment
The release of the new Dash 9 series in New Zealand puts Hyundai excavators a technological step ahead, according to Darren Ralph, the Eagle Equipment's marketing and sales manager.
"We are very excited about being able to offer clients machines that are so advanced. The whole range is designed around better fuel economy and smoother productivity," says Darren.
"Hyundai machines are renowned for being fast-acting, but the Dash 9s are going to get a reputation for giving even tighter and smoother control. They also have extended maintenance intervals, meaning more hours between oil and filter changes and less routine servicing."
The new engines in the Dash 9s are fully Tier 3-compliant to meet the stringent regulations of the EU and USA markets, making them cleaner burning and more fuel efficient and environmentally friendly. Their newly optimised hydraulic system combines the best of available technologies to give finer control over bucket movement while retaining the expected high speed of operation.
The operator has not been forgotten in the newly configured cab. Its structure has been beefed up to meet ISO standards, and a ROPS frame is not required in most global markets. Other new standard features include:
Display consoles that are a lot more functional and user-friendly
Climate-controlled air-conditioning
Rearview mirror
A cellphone integration system that allows a mobile phone to be plugged into the audio system, giving hands-free operation
Fixed-price R&M
While speed, precision and safety give the Dash 9s greater productivity, and the new engine and extended service intervals reduce running and maintenance costs, Eagle Equipment has boosted those advantages with an outstanding warranty and unbeatable set of service options for clients.
"Our 6000 hour warranty is standard, and there are no extra costs. I think that shows the confidence that Hyundai has in this product, and we are certainly prepared to back it 100 percent," says Darren.
"We offer fixed-price service and repairs and maintenance contracts up to 48 months so that regardless of cost increases in labour and parts, contractors will know upfront exactly what their costs will be for the next four years. It allows them to shed some of their overheads – they don't have to keep their own workshops up and running – so they can focus on their core business, which is what they do best. We will take care of the rest."
For contractors that like to keep a close watch on their gear, the Dash 9 models make that a breeze. Each machine has on-board diagnostics, and more advanced diagnostics are still possible by plugging in a laptop, but owners may prefer to take advantage of Hyundai's remote management system that is now standard. It consists of a web-based satellite link from the machine back to base, allowing monitoring of such things as fuel burn, productivity, any incidents on the machine, overheating, over revving, etc from anywhere in the world.
The base price of a Dash 9 includes a two-year subscription to a provider of the remote management service.
Whichever way Dash 9 owners decide to manage their maintenance and servicing, they will appreciate the benefits that the size of Eagle Equipment and the rest of the Porter Group gives them.
One is the ready availability of parts. Keeping an inventory of $30 million worth of spares on hand means that when breakages or failures occur, downtime is kept to the absolute minimum. Another plus for Eagle's clients is the nationwide network of service points so that wherever clients may be, help is not far away.
"Servicing is well integrated within the Group. In 12 of the bigger centres, we have Porter Group branches, which incorporates Eagle Equipment sales, the Hi-Tech Mechanical team that provides back-up services, and Eagle Spares, which is a parts supplier. The hiring side requires more branches and so there are 24 Porter Hire depots throughout the country, which also have service capabilities," says Darren.
"So nobody is very far from a service centre and we work to provide service throughout the Group. I think that is the right recipe because the market is telling us we've got it right."
The Hyundai brand has come a long way in New Zealand since Eagle Equipment took over the agency in 2001. Prior to that, fewer than 20 machines came into the country each year. Last year the figure was over 300. Darren says that the Dash 7 series proved beyond any doubt that Hyundai machines meet the needs of Kiwi contractors.
"Today the Hyundai is a strong brand here, and we are pleased to be offering this new series to the market," he says. "We will be rolling out a series of demonstrations around the country as the new models arrive, and of course we will have a major presence at The Expo at Mystery Creek on March 5."
Despite the advances in machine technology and capability, the ex-factory prices for Hyundai machines have not changed significantly, although the softer Kiwi dollar may cause local prices to rise.
However, yet another advantage of the Porter Group is that it has its own finance division, NARM Finance, which will help spread the load.
The complete Dash 9 series, from 1.6 tonnes to 80 tonnes, will be introduced steadily over the next 12 months.
The first three models – the R210, R250, and R290 – have already arrived and the R140 is due in April.
For more information on when machines will be available in your area, contact your nearest Eagle Equipment dealer, phone 0800 650 600.
Keep up to date in the industry by signing up to Deals on Wheels' free newsletter or liking us on Facebook.