Smooth Tractor, Smooth Cut
---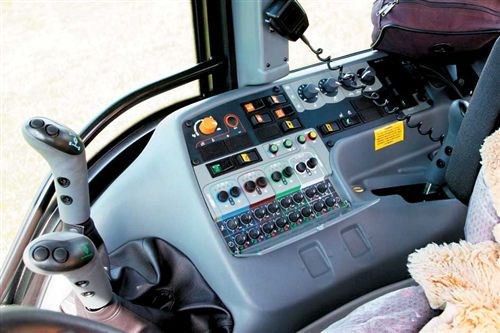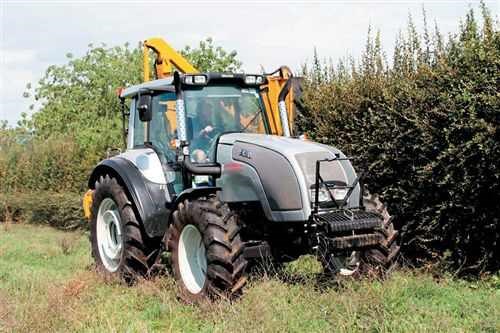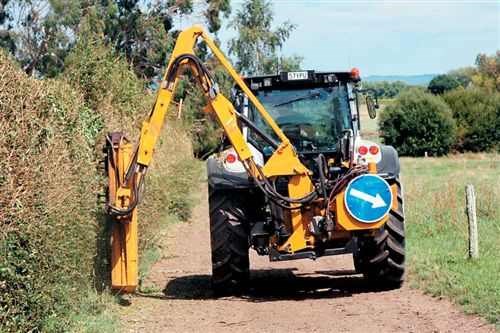 Terry Stevenson finds Valtra's M120 to be one fine hedge cutter
Often it's the little things that make a difference when you buy a new tractor, and certainly the Valtra range offers great attention to even the smallest detail.

Valtra has been making world-class tractors for over 55 years in Finland following production of the first Valmet in 1951. It has also been making their smaller range of tractors in Brazil since 1960. After a series of mergers, the name was changed permanently to Valtra in 2001 and, as they say, the rest is history.
The Valtra M120 is as stable as it gets and with its big Sisudiesel engine, and can go just about anywhere. It is also one of the smoothest tractors I've tested, quiet, good cab design and a low revving engine all help reduce vibration and noise to the operator. But the M120 is now an old model - a New Zealand customer bought the last M120.
John Livingstone must be one of the longest serving hedge trimming contractors in the Waikato, if not the entire country. After 28 years he's still at it and at the beginning of the year traded his four year old Valtra 6350. Livingstone has five full time employees using four tractors and eight mowers of different sorts to cover anywhere from National Park to the Coromandel.
Around 80 percent of his work is trimming hedges with the balance mowing grass using the same 1.6m wide spiral-cutter flail. Customers include farmers, councils, and may include large section work, roadside mowing, work around drains and trimming embankments to name a few.
A key advantage of the spiral-cutter flail he uses is that everything, up to around 100mm diameter, is turned into mulch, and nothing is left behind. Keeping hedges to size in many ways can be as important as having a good race or fences and having the right tractor to cut them is even more important as there are a huge number of aspects to consider to get the job done properly, and on time.
The degree of difficulty in cutting a simple hedge is incredibly high and there are many things an operator has to look out for. At any given moment Livingstone will be looking forwards to monitor the deviations in the upcoming terrain, looking to his left to ensure the flail is in the right position, watching the length of the hedge to keep a straight line and also looking out for hard to see and potentially dangerous obstacles in the hedge.
At the same time, he will be constantly moving the in/out and height adjustable cutter flail via a small hand operated joystick mounted on the left side of the seat. While all this is going on Livingstone has to keep the engine revs up, monitor ground speed and dodge the occasional ground obstacle such as logs or water troughs.
I wanted to try it for myself as Livingstone said it would take months to train any new person into his job – now I don't doubt it! He let me do what Livingstone calls the "fluffies", which is the first roughing cut on the top of the hedge before going over it a second, but straight, time. He said this was the easiest but, after only a couple of hundred metres of constant monitoring and adjustment to get the hedge right, I'd had enough.
 
Talk about having great eyes for the job - Livingstone unexpectedly stops the tractor as he's spotted a platted twine rope someone had left in the hedge, which sometimes get flung out. Further along Livingstone deviates around an old electric wire coil with a wire running through the hedge. It typifies the problems and possible dangers he faces every day. A wire mesh left window cover was made to protect the driver from flying debris, including occasional wire off-cuts, while the windows have been replaced with transparent but unbreakable plastic. A large plywood cover was even made to protect the left side of the engine bay.
Previous to receiving his M120, Livingstone owned a 90hp Valtra 6350 for four years.
"I had no problem in the four years I owned that, not one problem, nothing," Livingstone says. So it wasn't a difficult decision to opt for another Valtra, what he wanted was a tractor with larger diameter tyres, greater stability and a bit more horsepower. For additional safety, Livingstone has radial tyres filled with a special anti-puncture liquid because he simply cannot afford rapid deflation while working on a hill - with obvious consequences.
Tractor stability is one of the reasons why he chose this model. He's quite happy with its handling, being small enough to get into difficult places yet heavy enough not to tip over with a heavily cantilevered flail. Six 80kg wheel weights were added, with two more on the wheel inside bringing the 5290kg M120 to an all-up weight of around 7500kg, including front weights and the trimmer unit.
Valtra dealer Waikato Tractors Ltd sales rep Rob Riley, who has been selling tractors for 35 years, advised Livingstone to buy an M series model because the engine is mounted slightly forward on the front axle to offer greater stability when climbing steep hills. The now current N model has the powerplant positioned further back towards the driver to give a 60/40 front/rear weight ratio, which better suits a farmer who uses typical rear implements and a front end loader.
Riley helped to individualise (Valtra offer to build each tractor to your specification) the tractor to best suit Livingstone's unique use, with the main change being switching the armrest control panel onto the left side instead of the right, allowing Livingstone to work the controls in the direction he is mostly looking. Helping out is the seat which now swivels 15-degrees to the left, instead of to the right. The shuttle change has also been moved to the right hand side of the steering wheel.
With only sixty hours on the clock, Livingstone was still getting used to all the controls and electronic functions the M120 offers. I tested this model almost three years ago and nothing has changed since really. It still has great features, like powershift buttons in three places – one on the gear stick, another on the high/low ratio lever and, a third on the left armrest joystick.

The powershift offers three speed changes in the push of a button in each gear of the four speed gearbox. With three ratios to choose from, this gives a choice of 36 forward and 36 reverse speeds, with a 40km/h top speed. Just like a car, the three-speed powershift can also speed-match up or down when in automatic mode to suit the terrain and maintain groundspeed. It will change into the right powershift to speed-match the gears, when you do a gear change. Or, you can run it in manual as in a normal powershift tractor. Even with a gangly cutter arm alongside, the wet clutch shuttle worked smoothly and, when Livingstone parks the M120 he places the shuttle lever into the hydraulically operated HiBrake, instead of using a manual handbrake.
Another good feature is the braking system. When in 2WD, the hydrostatic wet discs automatically engage 4WD to give four wheel braking. During normal work, when you put your foot on the brake, the tractor de-activates the drive and stops moving forward. When it came to taking off again, there was a one to two second delay in take-up from when my foot came off the brake pedal. Something that should be programmed to happen much faster as the M120 rolled backwards downhill a little before moving forwards, so my auto take-offs became jerky and could potentially become dangerous on a steep hill.
The 115hp intercooled, turbocharged M120 has a long stroke EcoPower low revving Sisudiesel engine which makes a huge 580Nm of torque at only 1200rpm. The low revving 4.4-litre four-cylinder powerplant revs out at only 1800rpm, meaning it runs quieter, uses less fuel, with longer service intervals. Livingstone said it makes enough power to safely take him up the steepest of hills while trimming.
The M120 has an LCD screen on the pillar which shows the outside temperature and gear number you're in. It can also be used to correct just about any electronic fault while you are out in the field, either over the phone or by the handbook.
"We've got all the technology in this, and the armrest, which is really brilliant. It's taking a bit to get used to but now I'm getting there," Livingstone says.
By the time you read this, Livingstone will have a mower fitted to the front linkage system. This will save money as so often one of his employees has to following along after trimming to mow the roadside grass. Now I can say the Valtra really is a cut above the rest.
By Terry Stevenson
Valtra M120 Specifications.
Specifications
Model M120 M130 M150 XM130 XM150
EcoPower
Valtra engine 44EWA 44EWA 44EWA 44EWA 44EWA
kW/hp/rpm, ISO 14396 85/115/1800 96/130/2200 108/147/2200 96/130/2200 108/147/2200
Max torque, Nm/rpm 580/1200 510/1400 580/1400 510/1400 580/1400
Transmission 36 gears forward + 36 reverse, 0,6-40km/h (0.7-50km/h option)
Clutch type Dual wet multidisc (reverse/forward)
Shuttle Computer controlled, hydraulic, pedal free
Powershift Computer controlled powershift
4WD Manual or automatic operation (together with brakes and differential lock)
Differential lock Manual or automatic operation (together with powerlift and brakes)
Parking brake HiBrake, hydraulically operated with shuttle lever
PTO, interchangeable PTO shaft Controller engages the PTO smoothly, six spline 35mm (21,20, eight and eix-spline shafts as an option)
Hydraulic system Load sensing Load sensing Load sensing
Lift capacity at link ends, kg 7200 7200 7200
Steering Hydrostatic, adjustable telescopic steering column
Brakes Hydrostatic wet discs with automatic engagement of four wheel drive giving four wheel braking
Tyres 16.9R28/20.8R38 16.9R28/20.8R38 16.9R28/20.8R38 16.9R28/20.8R38 16.9R28/20.8R38
Keep up to date in the industry by signing up to Deals on Wheels' free newsletter or liking us on Facebook.