Kobelco releases Generation 10 heavy excavators
---
Kobelco is releasing its new Generation 10 series of heavy excavators this year, saying customers can expect a range of improvements in the new models.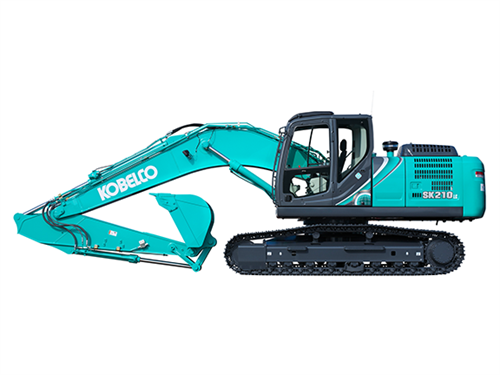 "We have looked at every aspect of our current heavy excavator models and assessed what we can make stronger, more durable and more fuel efficient," Kobelco general manager – sales & service Doug McQuinn says.
"Once again we have created machines that exceed the requirements and high standards of today's customers."
The Australian launch will initially see two 20-tonne Gen 10 models released — the SK200-10 and the SK210LC-10.
Kobelco says that fuel efficiency has been improved without sacrificing power; in fact the Gen 10s are designed to produce up to 157kN of digging force (an increase of about 7 percent) while using roughly 10 percent less fuel.
This reduction is due in large part to the excavator's redesigned lifting arm.
"A key contributor to its exceptional efficiency is the new Kobelco Arm Interflow System; a hydraulic regenerative system that enables the boom's weight to force hydraulic fluid to the shovel arm," McQuinn says.
"This reduces the need for fluid to be forced from the pump," he adds. "Less engine and hydraulic workload means less fuel."
Fuel efficiency and productivity improvements aren't the only benefits of the Generation 10 series: Kobelco says it has overhauled the cabin to make it as comfortable and modern as possible.
The Gen 10s feature an air-suspension seat, additional air-conditioning vents, a Bluetooth radio, 12v power socket and a USB port.
Maintenance has also been streamlined, with Kobelco redesigning the layout of the upper deck to allow easy access to the engine compartment and key maintenance points.
A compact and easily replaceable cannister-style oil filter has also been added as well as a new reinforced air-cleaner element which can reduce harmful NOx emissions by as much as 88 percent, making the new models compliant with Stage IV emission standards.
In addition to the SK200-10 and SK210LC-10 models, Kobelco will also release the SK250, SK260-LC, SK330 and SK350-LC models throughout 2016.
For the latest news and reviews, subscribe to Deals On Wheels magazine here.
Keep up to date in the industry by signing up to Deals on Wheels' free newsletter or liking us on Facebook.