Waterview: Alice completes journey
---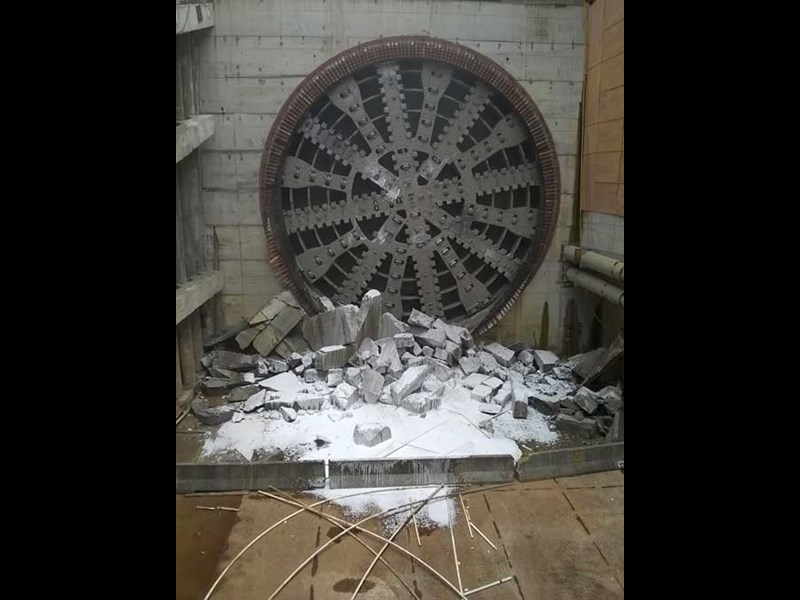 One of the largest TBM's ever used in the Southern Hemisphere broke through into daylight after its 2.4km-long journey underground between the suburbs of Waterview and Owairaka.
"Today's breakthrough is a massive milestone for a project that will transform the way Aucklanders get around their city – a brilliant and remarkable effort and a proud day that needs to be celebrated," says the NZ Transport Agency's highways manager in Auckland, Brett Gliddon.
Around 800 staff and contractors who've been working hard to deliver the project, stopped work this morning to watch the breakthrough together, live on specially erected screens and celebrate their success so far.
"The risks associated with constructing tunnels twice as long as the Auckland Harbour Bridge were always high and the Waterview team rightly needs to be congratulated for its engineering skills and innovation to complete this job safely and on time. That's a fantastic achievement."
The $1.4bn Waterview Connection is New Zealand's largest ever roading project. It includes construction of twin 3-lane tunnels – the longest road tunnels in the country – and a giant interchange to connect Auckland's Northwestern and Southwestern Motorways (State Highways 16 and 20).
The project is being delivered for the Transport Agency by the Well-Connected Alliance.
Tunnelling at Waterview first began in 2013. The first tunnel was completed in September 2014. In a rare manoeuvre for any TBM worldwide, Alice was then turned 180 degrees to complete her second drive.
"The project's careful and detailed design, planning and operation for the construction of the tunnels and the complex turnaround grabbed some pretty amazing headlines in New Zealand and overseas," Mr Gliddon says.
During her time underground, Alice excavated enough dirt to fill 320 Olympic-sized swimming pools and installed more than 24,000 concrete segments to line both tunnels.
The TBM's job is now complete. Over the coming months Alice will be taken apart and returned to the German company, Herrenknecht, that designed and built her.
"Although it's the end of the road for Alice she will leave behind a lasting legacy – the world class tunnels she helped construct that will benefit Auckland and New Zealand for 100 years and more," Mr Gliddon says.
Meanwhile, there is a busy programme of work to complete both tunnels. Sixteen cross passages linking the two tunnels are being constructed, equipment to safely operate the tunnels together with lighting and signage are being fitted, walls and the ceiling are being painted, and back-filling continues before the motorway asphalt is laid.
The Transport Agency plans to open the tunnels and the adjacent Great North Road Interchange in early 2017.
The Waterview Connection completes Auckland's Western Ring Route, a 48km alternative route to SH1. It will link Manukau, Auckland, Waitakere and the North Shore, improving network resilience, travel time reliability and bus shoulder lanes as well as upgrading cycleway and pedestrian facilities.
The Waterview Connection project is being delivered by the Well-Connected Alliance, which includes the Transport Agency, Fletcher Construction, McConnell Dowell, Parsons Brinckerhoff, Beca Infrastructure, Tonkin & Taylor and Japanese construction company Obayashi Corporation. Sub-alliance partners are Auckland-based Wilson Tunnelling and Spanish tunnel controls specialists SICE.
For the latest news and reviews, subscribe to Deals On Wheels magazine here.
Keep up to date in the industry by signing up to Deals on Wheels' free newsletter or liking us on Facebook.