Product release: Kobelco SK55SRX-6
---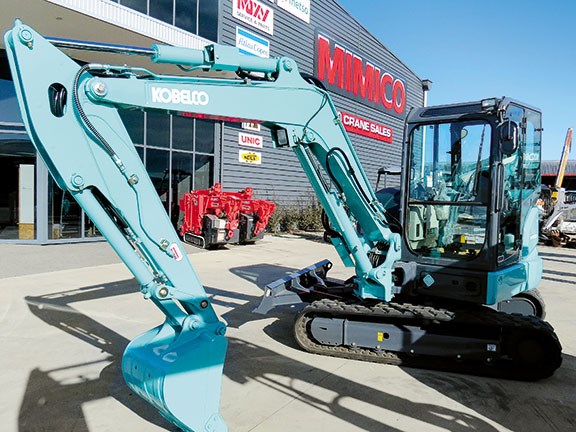 The Kobelco SK55SRX-6 is a compact yet tough mini-excavator.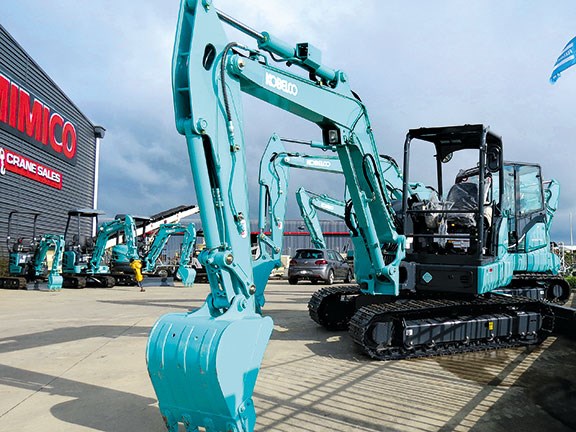 The Kobelco SK55SRX-6 was a feature of MIMICO's Fieldays site.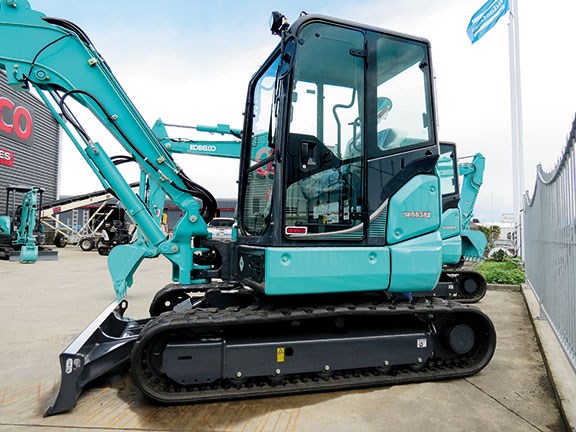 The rectangular cab design of the Kobelco SK55SRX-6 offers plenty of room and an unobstructed view.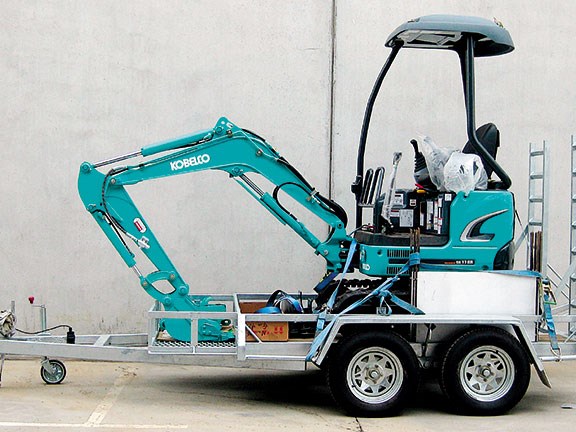 Smaller Kobelco mini-excavator models can now be purchased from MIMICO with a Lochiel trailer.

Kobelco's SK55SRX-6 excavator made its first appearance in New Zealand at National Fieldays 2014, proudly displayed by MIMICO.
MIMICO featured its range of Kobelco excavators at National Fieldays this year, but the glory was reserved for the Kobelco SK55SRX-6 excavator, on display for the first time in New Zealand.
The SK55SRX-6 is a compact yet tough mini that packs even more digging power and practical performance features into the digger, while maintaining a short tail swing, says Rex Davies, MIMICO's managing director.
Several new features come with the SK55SRX-6. Factory hydraulic hitch piping is fitted as standard. A colour liquid crystal monitor is also fitted as standard, allowing for operational data as well as the full range of machine-status data to readily be checked.
The SK55SRX-6 is also the first Kobelco mini to be fitted with the iNDr (Integrated Noise and Dust Reduction) cooling system. The airtight engine compartment and offset duct contribute to noise reduction, while the filter fitted in front of the cooling system means easy cleaning. "This ensures quiet operation, protection from dust, and easy maintenance," says Davies.
The rectangular cab design of the SR55SRX-6 offers plenty of room and an unobstructed view, which means greater operator comfort and safety. "It all adds up to enhanced full-size performance, short-radius agility, and a low-noise environment, with Kobelco's usual exceptional performance," he says.
MIMICO also featured three smaller models from the Kobelco mini excavator range. The Kobelco SK10SR-2, Kobelco SK17SR-3 and Kobelco SK20SR-5 models can now be purchased from MIMICO with a Lochiel brand trailer.
These mini excavators are the machine of choice for small jobs where space is limited, like garden construction and pipe laying. "In addition to their minimised tail swing radius, Kobelco minis have also developed excellent performance characteristics and manoeuvrability that have broadened their usefulness for many different types of jobs," says Davies.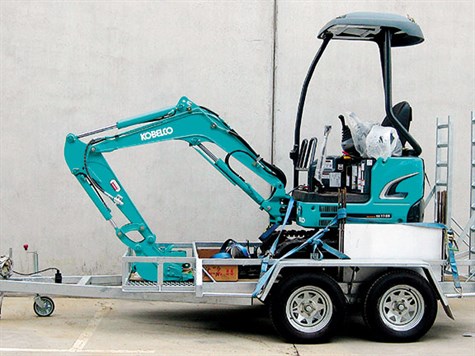 You need a decent trailer to get your digger from point A to point B and all places in between. The team at Lochiel Engineering has been in the business of designing and manufacturing trailers for over 50 years. "We are totally focused on building an over-engineered trailer that will last a lifetime," says Colin Hitchin, managing director of Lochiel Engineering. "Our aim is to provide a level of service and quality that few can match."
Lochiel trailers only use fully hot-dipped galvanised steel in their chassis. They are manufactured on demmeler modular fixturing welding tables, meaning that all the chassis are square and true. "And we can guarantee and duplicate the same standard every time," says Hitchin.
The Lochiel tandem trailers are braked and rated to 2500kg with hydraulic brakes, and 3500kg with electric brakes. They are WOF authorised, so all trailers are assembled to current WOF standards, and are welded to 2980 (4711) standards and procedures. Lochiel trailers are sold throughout New Zealand. "We stand behind our product 100 percent," declares Hitchin.
A range of Atlas Copco breakers, mounted on Kobelco excavators, were also on site. "The Atlas Copco range of rock breakers has been tested in the toughest conditions around the world for over 40 years," says Davies. "All models are robustly designed and feature a compressed air function that keeps the area between the piston and tool free from dust."
Last but not least, MIMICO also had a selection of new-to-New Zealand Pro Mac Brushcutter cutters on display at Fieldays. These environmentally-friendly Canadian-produced cutters can be excavator-mounted for mulching and forestry thinning jobs. Pro Mac manufactures two basic types of brushcutter heads, both designed to be easily fitted to most makes of excavators and backhoes.
Horizontal shaft units come in three sizes — 34 inches, 48 inches, and 60 inches. The horizontal units are the machine of choice for road maintenance due to the neat appearance left behind after cutting. They are also safer to operate at the side of the road as they discharge material under the front of the cutter head. The MIMICO Fieldays had a 48-inch horizontal shaft unit on display.
Rotary Brushcutters are also available in three sizes — 36 inches, 52 inches, and 66 inches. These units are available with either two or three blades, or standard mulching disc units. Rotary cutters are also available in single- or double-door frames with options on standard duty or extreme service.
These cutters can be set up to specific operator requirements, such as ground level clearing and cutting, and set up with the heavy-duty mulching disc to cut and mulch standing trees, which is an excellent environmental option.
For more information visit mimico.co.nz, lochieltrailers.co.nz, and promac.bc.ca
For the latest reviews, subscribe to Deals On Wheels magazine here.
Keep up to date in the industry by signing up to Deals on Wheels' free newsletter or liking us on Facebook.