New brands strengthen AB Equipment's position
---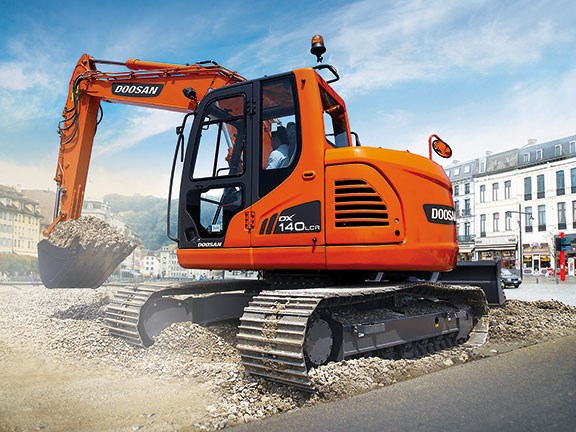 Doosan DX140LCR excavator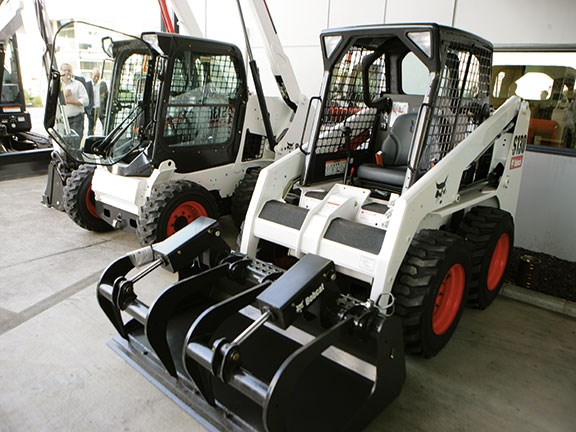 Bobcat skid steer loaders ready for delivery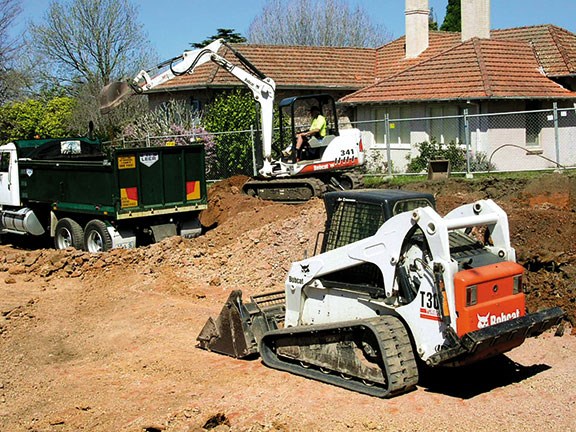 Bobcat compact track loader and Bobcat excavator at work

With the recent arrival of two of the world's most recognised construction brands, AB Equipment's stated intention of having a range of products with broad appeal has now become a reality.
Along with well-known products from Sumitomo, Tigercat, Sakai, Vermeer and Manitou, AB Equipment has now added Doosan Heavy Equipment, Bobcat and Doosan Portable Power to its already extensive mix.
The ability to attract leading brands from around the world can in part be attributed to AB Equipment's dedicated and experienced team, which has gone about establishing long term business relationships with key suppliers. The team has also provided their customers with superior service that has allowed their clients to be more competitive in their own respective markets.
DOING MORE WITH A DOOSAN
The arrival of Doosan has given AB Equipment a good reason to beef up an area of the business that was missing some integral products. Doosan's extensive range of construction equipment, including wheeled loaders, excavators and articulated dump trucks (ADTs), has not only provided new products but has also opened up additional market opportunities in the construction, forestry, quarrying and mining industries.
The complete range of Doosan Construction Equipment available to the New Zealand market includes 32 models of excavators, nine kinds of wheeled loaders and five ADT options. A full range of attachments accommodates all-terrain and heavy work applications around this.
DOOSAN EXCAVATORS
Doosan excavators offer decades of proven performance and a seemingly unbeatable combination of performance, efficiency, durability and comfort can be found across the line-up.
AB Equipment will be distributing a full range that starts with four reduced radius excavator models and encompasses a wide choice of crawler models up to 50 tonnes. All excavators are factory fitted with a ROPS cabin, climate air and safety lock valves. Depending on the model, other factory fitted features can include a rear camera, quick hitch and DA two-way piping. All models are powered by a Doosan engine.
Doosan excavators are equipped to handle; digging, lifting and loading applications, including confined roadways, major construction projects, mass excavation, heavy-duty mining, scrap handling and more. Many of the models feature a long carriage (LC) design that optimises performance in heavy digging and lifting operations. Additional possibilities include a super-long reach option.
DOOSAN WHEEL LOADERS
Designed to scoop, carry, and load material, Doosan wheel loaders face a wide range of material handling tasks, from loading and transporting granular material in construction and municipal operations to industrial, mining and quarrying applications.
Each model in the AB Equipment range offers outstanding comfort features, superior lift height and lift capacity and enough traction to penetrate hard materials. Plus, two tool carrier options provide added versatility with seamless attachment capabilities.
DOOSAN DUMP TRUCKS
The two models in the Doosan articulated dump truck (ADT) lineup, the DA30 and DA40, offer larger load capacities in all weight class categories along with superior power and traction. Doosan ADTs, with their unique forward mounting turn ring, sloping rear frame and free-swinging tandem bogie, has stability that is hard to match. Each model is reliable, dependable and cost-effective. Loaded with innovative design and technical advantages, these hardworking machines deliver great bottom-line performance.
DOOSAN PORTABLE POWER
Formally known as Ingersoll Rand, Doosan Portable Power has created a whole new market for AB Equipment. With products from air compressors, lighting systems and generators to the rugged and reliable light compaction and pneumatic tools, this range is going to be hard to match. The recent release of the 7 Series range of portable air compressors that come with an optional "tough top" polymer canopy is a case in point. Apart from its aesthetic design and durability the lockable canopy and steel instrument cover is designed to minimise the risk of theft.
ABOUT AB EQUIPMENT
A member of the Hellaby Holdings Industrial group of companies, AB Equipment has its headquarters in East Tamaki, Auckland. From this location, the company operates a complete, fully owned network of 18 branches and dealers throughout New Zealand. AB Equipment sells and rents new and used equipment and provides the all-important local area base for the provision of benchmark customer support programmes. AB Equipment fosters a friendly, honest and professional operating environment, recognising that their own people, their clients and suppliers which when combined together are the key to their success.
BOBCAT – Time tested and iconic
The inclusion of the Bobcat range gives AB Equipment a real edge in a sector, where the company has enjoyed some success in the past. It's called 'The Bobcat Advantage' and the line-up represents true value for money across a wide range of compact excavators, compact track and skid steer loaders and utility vehicles.
BOBCAT EXCAVATORS
The Bobcat excavators may look small but their size can be deceiving. Mini M- Series excavators are powerful digging machines with advanced hydraulic systems that can often outperform larger machines. Some new features include auto shift travel; auto idle and fingertip controls. Add to that the reduced noise levels, improved climate control and new X-frame for better ground clearance, it becomes easy to see at a glance that these machines are both comfortable for the operator and productive for the owner.
BOBCAT SKID STEER LOADERS
The reputation and time-tested popularity of the Bobcat name has been firmly cemented in history when it comes to skid steer loaders, with Bobcats being designed to work more efficiently, lift more, turn faster and dig more. The machines are all about productivity and include features such as a maintenance free chain case, dual path cooling and machine shut down protection to keep an operator on a job. And along with all other Bobcats they do more than just dig, having attachments galore to suit just about every application one can think of and have turned attachment fitting into something of an art form, with systems that allow quick and simple changing according to the varied nature of job requirements.
BOBCAT COMPACT TRACK LOADERS
For outstanding performance it is difficult to go past the range of Bobcat Compact Track Loaders. They may weigh more than skid steer loaders of the same size, but thanks to their tracks, machine weight is spread over a wider area enabling increased flotation, minimal ground disturbance, higher pushing force and lifting of larger loads. The M Series is said to be just a treat to operate. Deluxe instrumentation, a larger, more comfortable cab, improved visibility and advanced controls are just some of the features that help Bobcat redefine the term, operator friendly.
For the latest reviews, subscribe to our Farm Trader magazine here.
Keep up to date in the industry by signing up to Deals on Wheels' free newsletter or liking us on Facebook.