Product profile: Komatsu WA470-8 loader
---
Deals on Wheels headed to the Ohau Quarry to see QDC Group's latest venture, a Komatsu WA470-8 loader
The Wellington-based QDC Group Ltd name may not be immediately recognisable to some in the industry, but their previous branding Quality Demolition & Contracting Ltd is well-known pretty much countrywide.
The new branding was officially introduced in 2020 to more accurately describe the numerous businesses that are now grouped under owner Shane Gray's dedicated hands.
The origins of the business go back to the mid-1990s, with a focus on the demolition work undertaken back then by Shane and his father Gavin, who sadly passed away in 2017.
As the years evolved, the business moved on to numerous other things and is now a multi-faceted operation consisting of building removals, site works, earthworks, plant hire, and pretty much all things concrete, which includes recycling of the cement-based product.
"We're up to something like 110 staff, so we're a reasonably substantial business these days," says Shane. Their latest venture, Ohau Quarries Ltd, just outside Levin township, is the reason for our visit.
The quarry is owned in a partnership with local contractors Alan G Gibson Ltd and forms part of Shane's vision for his business by looking at different forms of income streams the company can invest into.
"We had the opportunity to come into the quarry with Gibson's, and their business is well known in the Ohau area. We have been able to also do concrete recycling up this way, so it's opened up new opportunities for us," says Shane.
Investment in new fleet
Part of investing in the Ohau Quarry was the need to upgrade some machinery and a new wheel loader to complement the other one onsite is a recent addition to the fleet.
"We needed to upgrade what we were doing at the quarry and Komatsu came along with a good deal and supplied what we asked for," says Shane. "It's been a good move."
The WA470-8 model wheel loader selected for the business works alongside a similar-sized unit of another brand and replaces a smaller machine that was nearing the end of its useful life.
Weighing in with an operating weight of between 24,350 and 25,210kg depending
on how it is set up, the 203kW (272hp) loader is more than suited for the workload thrown at it every day at Ohau. Bucket sizes available for the WA470-8 vary between 3.8 and 4.65 cubic metres, and Shane and his team specified a 4.5 cubic metre bucket on their unit.
Duties during the day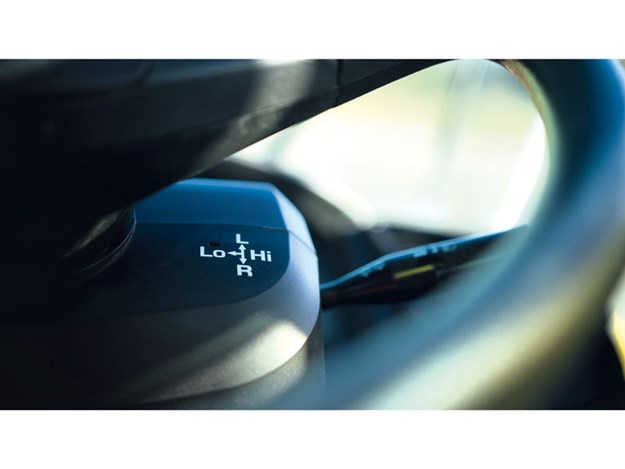 The type of work carried out during a normal workday sees the WA470-8 alongside the quarry's Komatsu PC300LC excavator, removing crushed aggregate to the various stockpile areas and loading trucks. Like all well-run quarries, Shane's capable on-site crew carries out the work safely and their high skill level is noticeable.
Keeping the aggregate levels under the stacking conveyors clear is a continual job and is fitted in between loading the numerous truck and trailer units that arrive in a seemingly continual flow, which sometimes requires the loader to travel a considerable distance, when the product required is located at the other end of the quarry.
Operator comforts
Fortunately, the day of our visit coincided with fine weather, but for the operator, changeable conditions are really nothing to worry about, thanks to the WA470-8's interior comfort.
Ohau quarry's machine was supplied with the optional joystick/wheel steering control system, which allows steering and directional travel to be controlled by wrist and finger movements, although, an old-school operator will feel right at home with the steering wheel and bucket functions still located in the usual places.
Low noise design is one feature Komatsu is known for across its whole range of equipment, and the WA470-8 has a reported level of 72db(A) at the operator's ear or something akin to a dishwasher or washing machine in use.
It also probably goes without saying that full air-conditioning is standard, along with auxiliary inputs for digital devices and two standard 12-volt outlets. The WA470-8 features a new model suspension seat, and the EPC (electronic pilot control) lever is integrated into the seat. For those extremely chilly days, the seat can be heated.
Safety for the operator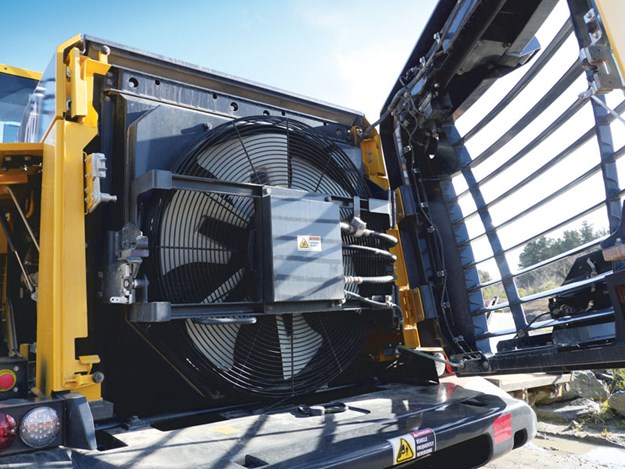 Like all modern manufacturers, Komatsu puts considerable thought into ensuring their equipment is as safe and fit for purpose as possible. With this in mind, the WA470-8 features a rear-view monitoring system as standard, engine shutdown secondary switch located on the side of the operator's panel, and accessible from the doorway, along with an emergency stop (E-Stop) that's positioned on the right-hand side of the forward cabin pillar.
E-Stops are also located externally and are fitted standard to the machine.
Additionally, the operator will find a wide inclined ladder with plenty of grab rails for egress and easy-to-use wheel chocks for safe parking during service work.
Servicing and maintenance
An automatic greasing system and centrifugal type pre-cleaner help reduce maintenance, with servicing points grouped for easy access. The rear fenders are made of durable plastic and are designed to swing out of the way, which makes access around the engine compartment an easier and cleaner process for any required mechanical work.
Electronic information is available via the in-cab monitoring system and provides notifications of any maintenance requirements. Komatsu's Komtrax cloud-based monitoring system ensures Shane and Komatsu can keep across vitals and the location of the machine at all times.
Into the future
Shane says that he's unsure where exactly the economy is going at the moment but feels his business is placed in a strong position to manage whatever eventuates. The region surrounding the quarry will before long be further connected with new a motorway system, allowing easier access to other parts of the lower North Island.
When that happens, you can be sure land development won't be too far behind and no doubt, the need for additional equipment will feature high in QDC Group's task list.
"We've been pretty staunch with Komatsu for a long time.
We used to have a lot of their second-hand gear, and as our business grew, we were able to purchase new machines. We like their support and find the machinery more than capable for what we do," says Shane.
For more information, visit komatsu.co.nz.  
Find new and used heavy machinery for sale in NZ
Keep up to date in the industry by signing up to Deals on Wheels' free newsletter or liking us on Facebook.