Product feature: New Hidromek model
---
Magnum Equipment has delivered its first Hidromek wheeled excavator to a client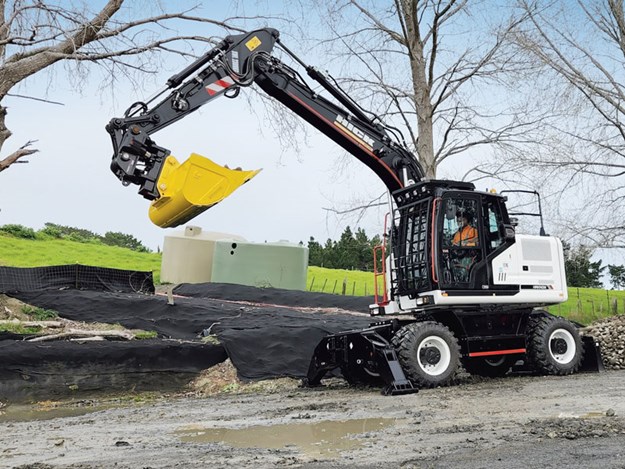 Based on the latest H4-series styling and mechanical design specs, European heavy equipment manufacturer Hidromek builds three models of wheeled excavator—the HMK140W, HMK150WR (short radius tail), and HMK210W.
New Zealand distributor of the brand, Magnum Equipment recently landed two 16.2-tonne HMK140W machines in the country to gauge their popularity with the company's expanding customer base.
In quick order, one wheeled excavator was secured by nationwide infrastructure and development specialists Hick Bros Civil Construction Ltd. Destined for the construction of water tables at the Harapaki Wind Farm in Hawke's Bay, we managed to catch up with the machine briefly at the Milldale subdivision in Wainui, north of Auckland, as it undertook some smaller jobs around the site, before moving to its new job lcoation.
A shift from traditional thinking
Overseas, particularly in Europe, where urban space can be at a premium, wheeled excavators can provide the versatility to access tight work areas without causing damage to new infrastructure, such as driveways and internal roading, which can often be the case with steel tracked machinery.
And, of course, if you add a tiltrotator into the mix then a wheeled excavator becomes a formidable piece of equipment, especially on a building site. Going along with their versatility and the need to not worry about when to book a low-loader for a shift, the Hidromek HMK140W can travel at up to 34km/h, which can be handy for anyone wanting to take care of numerous jobs in close vicinity.
Roadside maintenance is another area where wheeled excavators have been dominant, and while for a few years their popularity declined, there appears to be a move back towards the rubber-tyred beasts as technology develops, with attachments such as wood processors, sweepers, grapples, mulchers, and other hydraulic-powered equipment.
"The Hidromek wheeled models represent a shift away from traditional thinking," says Magnum Equipment general manager, sales, Paul Gorrie. "The use for these types of machines is only limited by the imagination of the user. The only place you would think twice about taking them would be a muddy site."
Power and hydraulics
The HMK140W uses the same power plant as its HMK140LC and HMK145LC-3 tracked siblings. A fuel-efficient Isuzu AI-4JJ1X four-cylinder turbo intercooled engine (Tier 3) provides power (123hp/92kW@2000rpm gross) to spin the twin Kawasaki hydraulic pumps, each delivering up to 160 litres per minute to the hydraulic system.
Maximum torque is 420Nm@1800rpm gross, or in less technical speak, enough to handle pretty much anything that's thrown at it on any given workday. The machine gets around thanks to a fully hydrostatic drive and features orbital-type steering, meaning the hydraulic fluid provides pressure to the steering system.
Stabilising effect
Hidromek wheeled excavators are delivered with rear left and right stabilisers, along with a front blade, all of which help provide a solid platform, especially when digging at maximum reach of just over eight metres.
The stabilisers will lower 116mm below ground level, giving the operator flexibility to make adjustments to the base, as the HMK140W carries out its work. "Some other brands don't supply stabilisers with their wheeled excavators, so it can make things more difficult for the operator, which has the flow-on effect of slowing up the work rate and reducing the quality of the finished work," says Paul.
The important inside stuff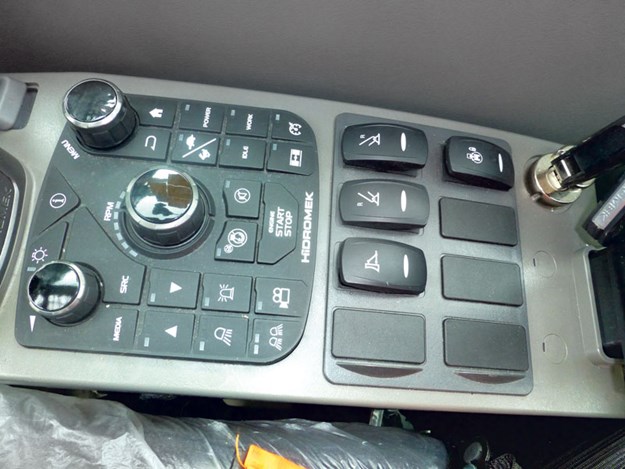 Inside, the ROPS/FOPS cab features all the mod cons Hidromek operators have become accustomed to, including full air-conditioning, wide glass windows, air suspension seat, heater/cooler box, and six silicone cab dampers, all designed to keep vibrations to a minimum and production to a maximum.
Touchscreen benefits
As well as integrating with the music system and the usual machine monitoring, the eight-inch touchscreen can provide information on activities, such as, allowing the operator to adjust the flow required for attachments without leaving the cab (store up to 20 different attachments), controlling camera views and automating their use, pressure readings from the hydraulic system, engine, fuel, and atmosphere.
"The touchscreen has many different applications, although one of the most important is allowing also the user to set up the machine to their preferred parameters. This information can be stored onboard, which is very helpful when the machine is used by multiple operators," says Paul.
Setting up for use
Getting back to Hick Bros latest acquisition, their HMK40W has been fitted with a Leica 3D GPS system, which will ensure the operator gets the Robur twin ram tilt hitch and bucket to keep the water tables at just the right depth once the HMK140W gets to its new Hawke's Bay home.
"Hidromek's wheeled excavators provide a safe, stable, and efficient working environment for the operator," says Paul. "In my opinion, they represent the best value for money for a machine of this quality."
Hidromek HMK140W H4 specifications
Operating weight (mono boom)

16,200kg
Engine

Isuzu AI-4JJ1X 4-cylinder
turbo-intercooled

Power (gross)
123hp/92kW @2000rpm
Max torque (gross)
420Nm@1800rpm
Main pumps
2 x Kawasaki axial piston variable displacement
Pump output (each) 
160L/min
Overall width tyres 
2500mm
Travel
Fully hydrostatic
Travel speed
High—34km/h Low—9.5km/h
Max reach at ground level
7990mm
Max digging reach
 8220mm
Max dump height
6260mm
Min swing radius 
2620mm
For more information, visit magnumequipment.co.nz.
Find new and used heavy machinery for sale in NZ
Keep up to date in the industry by signing up to Deals on Wheels' free newsletter or liking us on Facebook.