Business profile: Kaikohe Water Supplies
---
The Ed spoke to Okaihau-based Frank Veldhuizen to find out more about the daily life of a Northland water-carrying business
Those who frequent rural areas will no doubt be familiar with water carriers. They're the ones whose trucks are often laden to maximum legal capacity and are in charge of delivering our most precious commodity to those who have reached (or almost reached) the end of their tank supply.
There's no denying that when a water truck turns up, the property occupier always has a smile on their face. Being seasonal, businesses that supply drinking water to areas with no reticulation will sometimes be local transport operators or contractors who've added another string to the bow of services they provide to the nearby communities.
With strict restrictions governing the sale and supply of water for human consumption, frequently, though, it's an owner-operator who will be the one prepared to work the extended hours required when delivery season is operating at full capacity and the patience to deal with frequent enquiries from a varied customer base.
Add to this the many difficult roads, traffic, and delivery conditions they encounter each day and it's not hard to see why it's a job for a select group of people. One person, who fits nicely into this select group is Frank Veldhuizen, whose aptly-named business Kaikohe Water Supplies—The Waterboys operates from the small Northland town of Okaihau.
Nissan UD CG400 with a twist
Situated some 20 minutes from both Kerikeri and Kaikohe, Frank's patch covers a sizeable geographic area, which he services with an eight-wheeler 2005 Nissan UD CG400. With just over 1.2 million kilometres on the clock, the truck is in remarkably good condition, considering the varying terrain that gets covered in any one workday.
"I purchased the truck a few years back from Commercial Vehicle Centre in Dunedin," says Frank. "Originally, the tank was as an articulated trailer on my tractor unit, so when I replaced the truck with the eight-wheeler, the tank was transferred across onto the eight-wheeler's flat deck."
According to Frank, the Nissan UD has been a good truck to own and other than an engine issue a while back, has been straightforward to maintain.
"A couple of years ago I had a problem with the heads. At the time, we couldn't locate 400 heads, so had to put on a set of 380s. The only downside, other than a small loss of power, was I lost engine retardation, but it's something I quickly adjusted to," he says.
More water capacity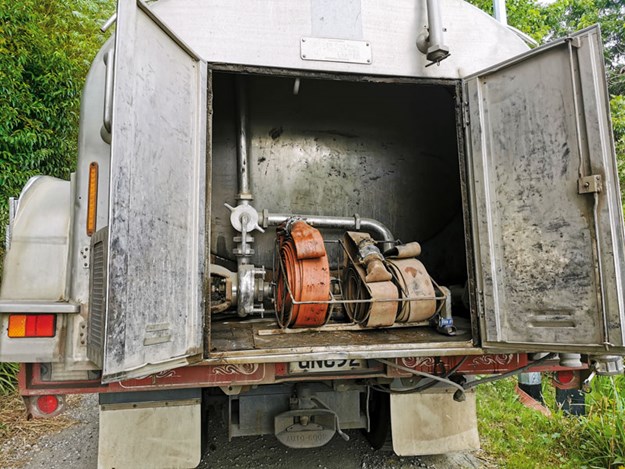 Unlike most other water carriers who operate six-wheelers, the extra axle on Frank's truck allows for an additional 3000 litres of water to be delivered at any one time. The tank can be removed for work outside of water delivery season, but this is rarely done.
"There are a couple of months of the year when we park up. During this time, I work for a mate who does roadside vegetation control, but I prefer to be delivering water, as people are always happy to see you," says Frank.
During summer, it's not unusual for Frank to be working all day and it can take a bit of co-ordination to ensure his hectic schedule is kept in order. The water is purchased from specific Council-run supply depots to ensure full compliance with health standards.
"People sometimes ask why we can just get water from such-and-such creek, but no decent business would put their reputation or the health of their customers in a risky situation like that," says Frank.
"We have frequent compliance tests, so I will work this in with a delivery near the lab
I use in Kaikohe. I'll phone up and tell them I'm coming through with a load of water and the technician will take a sample straight from the tank and have it tested."
Accessing properties
Deliveries can often be in awkward situations and Frank is cautious about where he takes the truck, preferring to run additional lengths of hose as opposed to finding out too late that a tow out is required.
"The UD is a very good truck and despite the length, has good traction and capabilities. Sometimes, I have to park on the road and pump water from there. Drivers are pretty good and are happy to sit for a few minutes while I empty the tank. They understand that we're providing a necessary service."
Often the issue with accessing properties is overhanging trees and to help prevent damage to the tank, a large header bar has been fitted behind the cab.
"The truck originally came with a fibreglass air deflector on top of the cab, which was removed, as that would not have lasted long at all. The header bar was fitted, but I had it lowered as it sat too high," says Frank.
"It's a comfortable truck, which has good vision and power for what I use it for. Like any piece of machinery, if you maintain it regularly and correctly, it will perform the task well," says Frank.
So, next time you're following a water carrier on a narrow dusty country road, spare a thought for the person behind the wheel. Chances are high they won't be a show pony gagging for the attention of everyone they pass, but you can be assured of their high skill set, strong work ethic, and engaging personality.
For more information, contact Kaikohe Water Supplies—the Waterboys 0800 029 929 or
khoh2o@outlook.com.
Find new and used heavy machinery for sale in NZ
Keep up to date in the industry by signing up to Deals on Wheels' free newsletter or liking us on Facebook.