Global release: Bobcat construction telehandlers
---
The new R-Series telehandlers can carry out the trickiest jobs at height with surgical precision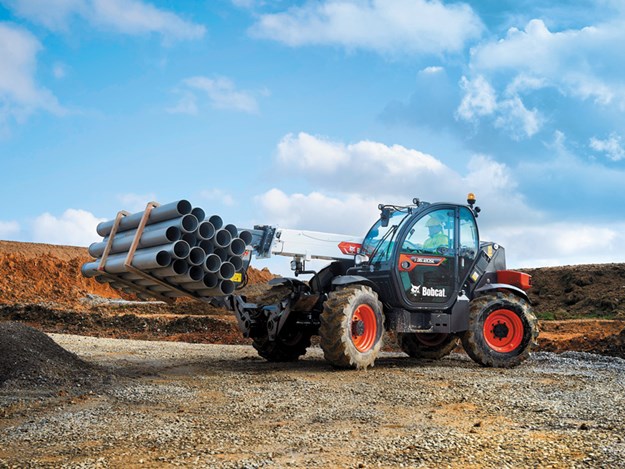 Bobcat has just launched a new generation R-Series telehandler range consisting of 12 models with lifting heights from six to 18 metres and maximum lifting capacities between 2.6 and 4.1 tonnes.
The new R-Series range of telehandlers includes models TL26.60, TL30.60, and TL30.70 in the compact telescopic loader section. There are also the middle range telehandlers TL35.70, T35.105, T35.105L, and T36.120SL. The high-lift telehandlers T35.130S, T35.130SLP, T35.140S, T41.140SLP, and T40.180SLP complete the range.
The telehandlers, both agri and construction, will be available in the Australian and New Zealand markets, says Bobcat. The R-Series are global products covering all the regions around the world, with regional distributors able to choose the engine type according to the applicable regulations and the machines are available with options to answer the local market specificities and needs.
Precision control
Bobcat says the new R-Series telehandlers have a newly configured transmission system providing enhanced smoothness to carry out the trickiest jobs at height with surgical precision.
These operations are also facilitated by the combination of the Boom Positioning System, the new updated ultra-accurate joystick, the inching function, and the improved visibility from the cab.
An enhanced inching pedal design is easier to use and reduces fatigue. A higher engine brake provides a shorter stop distance and increases safety on construction sites. Turtle/rabbit speeds are standard on all models and operated from the joystick.
There's a new Dynamic mode for applications requiring rapid transmission response and the new optional hand throttle with Flex Drive function allows for the control of travel speed independent from engine rpm.
Cab redefined
Bobcat R-Series telehandlers feature a new cab offering a unique central control panel for optimised 360-degree ergonomics. The new high-quality, contemporary interior of the cab features stand-out R-Series branding, colours, and textures that clearly reflect Bobcat's DNA.
In the ergonomic design, all surfaces have been optimised to offer increased space and visibility. It's based around a new five-inch LCD display providing interactive and streamlined information, including the feed from the rear camera for easier and more precise operation.
Maximum uptime
Uptime is key in construction. Bobcat telehandlers have always had an extra tough design and the new R-Series models build on this reputation, thanks to protective shielding of all vital components in key areas and the robust frame and boom for working in every possible environment.
The shielded design provides protection for hydraulic and electrical components (including the pipes, harness, and transmission) and a steel plate protecting the base of the machine. All Bobcat telehandlers have a rigid boom structure and a robust frame with a box section layout.
Easy access engine
All R-Series telehandlers now feature a new engine hood with a steeper profile that increases visibility and reduces blind spots by 15% on the right-hand side of the machines.
Together with the new dashboard design, this provides excellent unobstructed visibility from the cab, allowing the driver to move around the job site with ease and minimises accidents or mistakes.
Access to the engine compartment has also been improved, enabling easier maintenance. Under the hood, R-Series telehandlers are powered by new upgraded versions of the Bobcat D34 Stage V engine, utilising DPF after-treatment, which is automatically regenerated with no impact on performance and no disturbance for operators.
The lack of AdBlue in the 75hp engine and the absence of EGR in the 100hp engine provides further advantages. Overall, the decreased number of intervals from five to three in these Stage V models allows for easier maintenance and a lower total cost of ownership.
These machines are also connected via Bobcat's new Machine IQ telematics system further enhancing the efficiency of the ownership experience. For lesser regulated markets, the proven Perkins Stage IIIA engine provides high power and the simplicity of its mechanical injection system.
The R-Series has a low centre of gravity and a well-balanced design of the machines, which also incorporate a heavy counterweight and a long wheelbase. The optimum weight distribution of the new Bobcat telehandlers, with or without the compact stabilisers being employed, also allows operators to safely reach as high and as far as possible while handling heavy loads with the machines.
"As with all new Bobcat telehandlers, the R-Series offers customers peace of mind with a three-year warranty, or 3000 hours, on the entire machine as standard from the factory" says Quentin D'Herouel, Doosan Bobcat product manager for telehandlers.
"Bobcat is the only manufacturer to provide a three-year warranty as standard, allowing customers to focus entirely on growing their business without worrying about their machines."
Bobcat R-Series telehandlers features:
All-in-one joystick with improved ergonomics
Intuitive automotive-style controls (backlit keypad, jog-shuttle, levers under steering wheel)
Interactive five-inch LCD display
Semi-automatic wheel alignment
Automatic transmission and parking brake
Bobcat telehandlers are currently not available in New Zealand
Find new and used heavy machinery for sale in NZ
Keep up to date in the industry by signing up to Deals on Wheels' free newsletter or liking us on Facebook.