Product feature: XC20 Xcentric Crusher Bucket
---
Harrison Bulk Haulage has been using two Xcentric Crusher Buckets to crush river-run greywacke aggregates retrieved from the Awatere River
At first glance, as you travel State Highway 35 around East Cape, it is a world of endless stunning beaches and isolated native scenery.
But scratch the surface and you'll find that substantial changes are taking place among the businesses in the manuka honey and forestry-related sectors, which are playing an important role in helping to keep the coast's isolated communities going.
Harrison Bulk Haulage is one of these businesses. Based at Te Araroa, just south of Hick's Bay, the company employs 10 people and operates a resource consent to crush river-run greywacke aggregates retrieved from the Awatere River, which has its headwaters in the Raukumara range.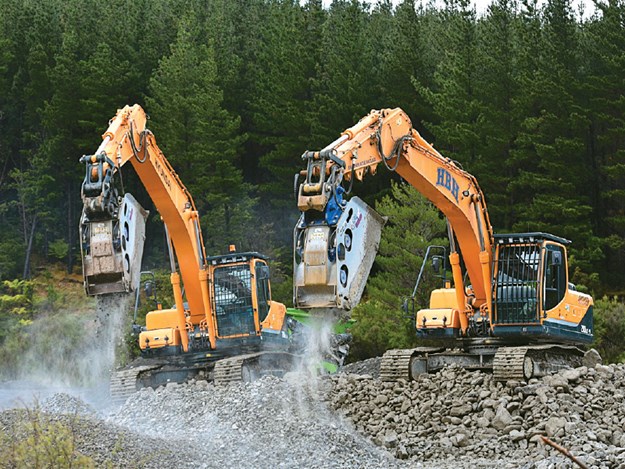 However, managing this type of resource isn't without its challenges. Last November, during a major storm event, a section of the river being worked broke its banks and shifted its course over 100 meters in a new direction, leaving an excavator that had previously been on high dry ground, underwater.
Despite such natural adversities, the business is focused on delivering their client demands. That means the dedicated team, led by operations manager Johnny Hovel, work hard to anticipate what those immediate requirements will be and go the extra mile to make sure that the right product is always ready and waiting when needed.
"Quite simply, when they need it, we deliver," business owner Steve Allan says.
Harrison Bulk Haulage's close involvement with the local community is also important to Steve.
"We started this venture 14 months ago and the support we have had from the people within the region has been absolutely massive," Steve says.
So in return, HBH has become the main sponsor of the local Tokarangi senior rugby team and is also employing local people and setting up a system to help integrate owner drivers into the business,
The company's main focus is on the supply of roading aggregates for Ngati Porou Forests Limited—a company based in Ruatoria, which manages forestry joint ventures between Ngati Porou landowners and forest investors.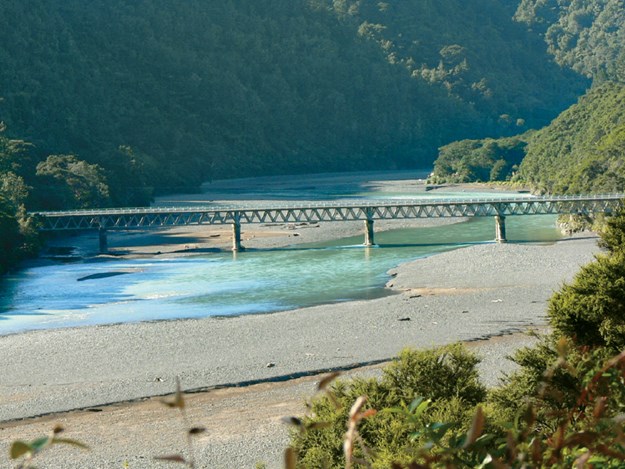 "The support that we've had from Ngati Porou has been outstanding, as has the guidance and strategic advice that we've had from our financial adviser Ian White of Crediflex," Steve says.
In his words, their number one business mantra is product quality, and with this objective in mind, the purchase of their first Xcentric Crusher Bucket last year was a real game changer.
As well as delivering exceptional production levels, Steve says that the crushed product from the bucket was of the highest quality and an ideal shape for their clients' aggregate requirements. This is reinforced by a recent analysis by a quarrying consultant, which indicated that the end product was the best he had ever seen from the region.
"And since the only thing better than one Xcentric Crusher Bucket is two of them, we commissioned our second one in May this year," Steve says.
Also, since their resource consent doesn't allow for a round the clock operation, having the extra unit operating has made a major difference to the overall production capabilities without any increase in site operational hours. Designed and manufactured in Spain, Xcentric Crusher Buckets are a world-leading brand designed to resist wear and high stresses in the toughest working conditions. Its extremely compact and low centre of gravity improves balance and drastically reduces the strain on the excavator arm, eliminating impact vibrations.
Boss Attachments is the New Zealand agent for the Xcentric brand.
"Steve is operating his XC20 units with 20-tonne excavators and the performance he is getting from the buckets matches what our other clients are achieving," Boss Attachments MD Paul Herbison says.
"Xcentric may not have invented the crusher bucket but they have certainly perfected it."
XC20 Xcentric Crusher features include:
patented isolating jaw movement ensuring the material is crushed without a compacting effect and giving at least 35% greater production than conventional crusher buckets,
fully adjustable jaws to give you an output product of +20mm to + 120mm,
a simple and fast adjustment system that allows adjustment of output size in less than two minutes using two simple pins,
Cross Top Jaws with the circular motion that allows crushing of wet material,
Double Effect Hydraulic System, which allows operators to reverse the crushing movement in the event of a product jam,
process hard materials such as granite or porphyry at 100% of the jaw opening,
200-hour greasing intervals,
eighty percent fewer consumables parts than conventional 
crusher buckets; no toggles, no springs, etc.,
Anti-skid Transmission for higher production and fewer jams,
high inertia powertrain, 40% less oil required to operate the crusher bucket, better fuel economy, and
HARDOX® construction, which ensures long-lasting durability in extreme conditions.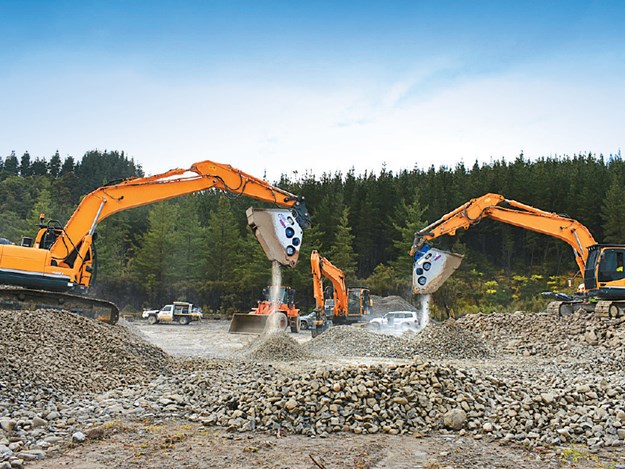 For further details contact Paul Herbison on 027 2908306 or visit bossattachments.co.nz.
Keep up to date in the industry by signing up to Deals on Wheels' free newsletter or liking us on Facebook.