Product profile: Hidromek excavators
---
Deals on Wheels meets up with top excavator operator Kim Dixon on an Auckland worksite to get her thoughts on Hidromek excavators
I'm told that if Mercedes-Benz ever decided to build an excavator, then Hidromek would be the brand used for inspiration. As these enthusiastic words were imparted by a Hidromek brand specialist, I figured they would be met with a degree of scepticism by the more cynical among us, so I thought it a good idea to look further afield and get the comments from an experienced operator with no manufacturer affiliation.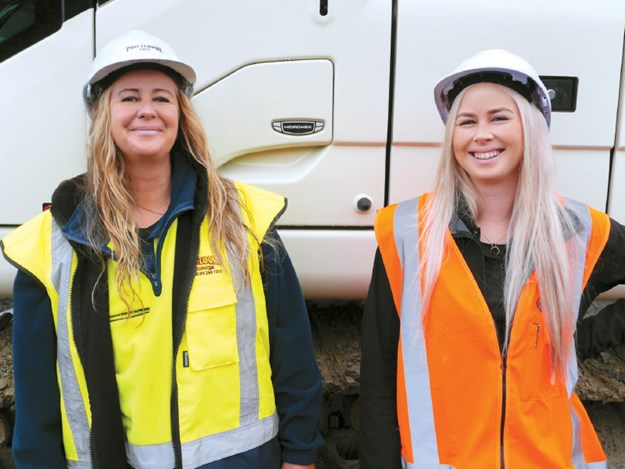 It didn't take a lot of searching to find gun operator Kim Dixon of Auckland-based Pro Floors Ltd, who has been using a 23-tonne Hidromek HMK220LC for the last eight months on a North Shore development.
If her name sounds familiar, then it could have something to do with her 12-plus years as an operator or her status as the best female operator and fourth overall placing in the non-member division at the Auckland regional event of the Civil Contractors New Zealand Regional Excavator Operator Competition last November. 
So, one would comfortably say that when Kim offers an opinion, it's backed up by qualified credentials and experience; she's definitely not some smartphone warrior talking from their two years of operating, supplemented by watching YouTube how-to videos.
Excavator of choice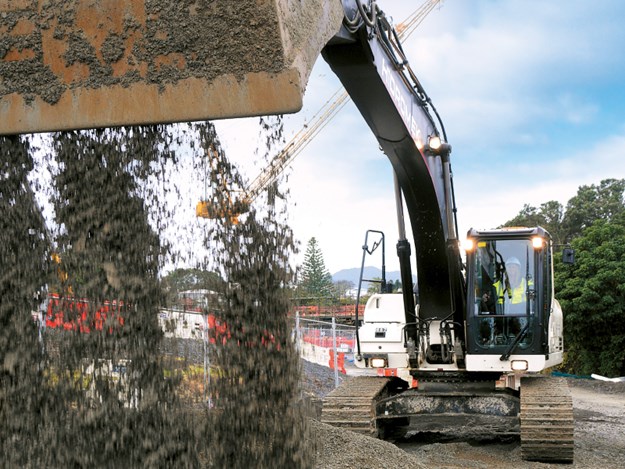 "This is my baby," Kim says, as she affectionately places her hand on the Hidromek HMK220LC.
Kim has just clocked up near 1000 hours on her machine since taking delivery of the Magnum Hire supplied machine.
A quick scan across the site and it seems evident that she must have pulled about 10,000 cubes.
"Way more than that," Kim replies. Pointing to a multi-storey building making its way skywards in the far corner of the site, she adds, "There is a full basement car park under the building over there." Pro-Floors Ltd, the business Kim is employed by, has been excavating on-site for a number of months, and while there is a varying range of their other brand machines working alongside each other, the white Turkish-built Hidromek HMK220LC is Kim's excavator of choice.
A look around the Hidromek indicates that the machine is well cared for, and despite being on-site for some months, looks as if it were only recently delivered.
"We love working with people such as Kim," Sibohan Hogg, Magnum Hire business hire manager, says.
"Look at the machine; it's spotless and the interior is just as tidy. It is a real credit to Kim, who looks after the excavator as if it's her and 2IC Ronnie's own," she says.
Ease of use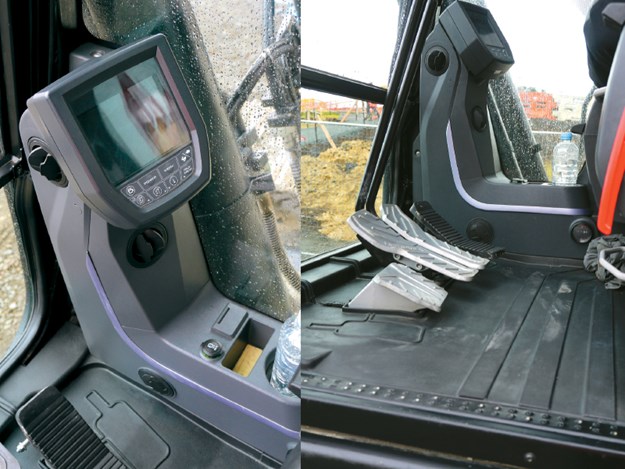 Power, comfort, and usability are a couple of reasons why Kim has been full of praise for her Hidromek excavator.
"This machine is awesome to use. It's stable and has heaps of grunt when excavating on-site," she says. "And it's comfortable to be in all day.
"The control levers are adjustable independent of the seat, and all the switches and dials are alongside you, so there is no twisting around to turn something on or off."
Hidromek uses its OPERA user interface through a high-resolution screen to keep as many controls as possible in the operator's line of vision.
I understand the engine in the Hidromek HMK220LC— Isuzu AI-4HK1X, 4-cylinder turbocharged engine (Tier 3)— is also used by Hitachi and Case for some of their models. The power plant delivers 172hp@2000rpm to the twin Kawasaki hydraulic pump system, with a regenerative set-up helping prevent cavitation during arm and bucket operations.
Anti-drop valves come as a standard fitting on all Hidromek excavators.
"We're also really pleased with the fuel economy of this 220," Kim says.
"It seems to use a lot less diesel than I expected it to, and maybe it has something to do with it not requiring a urea treatment system for emission control," she says.
Another aspect Kim speaks about is operator visibility and safety of others on the work site.
"Did you know the machine has something like 14 air vents? And every window has a drop-down shade. This means on mornings when things are misted up, I can clear every window quickly to get a complete view of my surroundings. And I can load out from any position and prevent sunstrike by dropping the shade on the appropriate window. Its things like that help speed up jobs and make worksites safer," she says.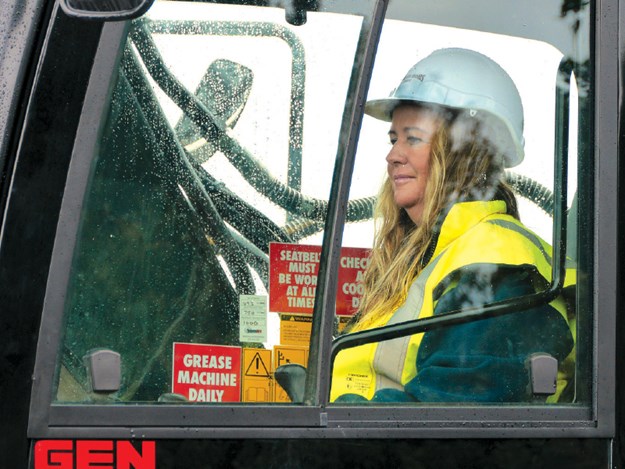 Kim also points to the two-part front windscreens, focussing on the front lower screen.
"My background is in drainlaying, and one thing I really love is the extra window wiper on the lower windscreen," she says.
Like other Hidromek excavators, the HMK220LC features a double-wiper system, having two connected blades: one for the larger upper screen and a second smaller wiper that keeps the smaller lower screen clear.
"When you're doing drainage or excavating for services below ground level, having the second wiper is a necessity, especially when working in wet conditions," she says.
So, by all accounts, Kim has talked up the Hidromek HMK220LC excavator, and seeing her enthusiasm for the 23-tonne excavator, it is hard to challenge the case she has put forward for it.
As she tidies up a pile of aggregate, mainly for the sake of our videographer who has a drone doing some low passes, it is easy to see Kim's operating skills are slick and I take on board what she has said about the machine.
Perhaps Mercedes-Benz would get some inspiration from this European counterpart if they decided to get into construction equipment. I'm pretty sure it would be one of the brands they would be closely looking at if they did.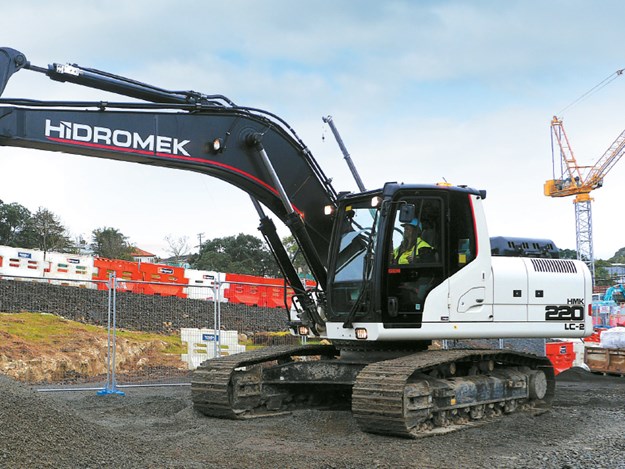 Hidromek HMK220LC specifications
| | |
| --- | --- |
| Operating weight  | 23,350kg |
| Engine | Isuzu AI-4HK1X |
| Emission | Tier 3 |
| Gross power | 128kW (172hp) @2000rpm |
| Max reach at ground | 10,050mm |
| Max dig depth  | 6670mm |
| Max dig reach | 6890mm |
| Hydraulic oil max flow | 2 x 234L/min |
For more information, visit magnumequipment.co.nz
Hidromek HMK220LC video
Watch the video of Kim operating the Hidromek HM220LC excavator

Keep up to date in the industry by signing up to Deals on Wheels' free newsletter or liking us on Facebook.