Profile: High Country Earthworks Ltd
---
Deals on Wheels headed to the South Island to visit an innovative business that is using technology to obtain efficiency gains for customers
Innovation is one of the many things that contribute towards being a successful company in today's competitive market, and it may come as a surprise to some that such a word would lead us to Fairlie—a small rural town in the Mackenzie District where Ethan Anderson (27) and Peter Wardle (30) from High Country Earthworks base themselves.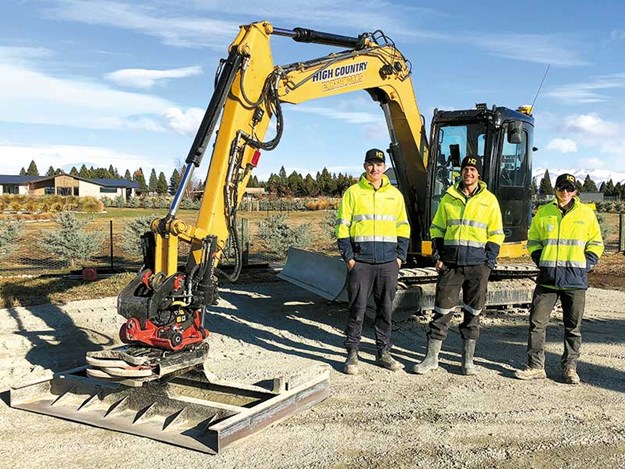 Back in 2015, Ethan had been in the building trade for eight or so years and was getting the proverbial itch for a change, while Peter was looking to get back to a more rural life after various contract roles in Christchurch. Both just happened to be looking for something new and it was over a casual phone conversation that they came up with the idea to form their own business.
Channelling his building experiences, Ethan knew that it would be useful to future customers to have someone with knowledge in the building sector to be the person operating the machinery. And having someone on-site with the ability to decipher plans has subsequently proven itself many times over and something many of Ethan's clients find valuable, but we're getting a little ahead of ourselves.
After several conversations, the boys decided that instead of trying to take on other contractors with similar machinery, they would simply offer a service that is somewhat hard to argue with—being efficient and offering technologically advanced equipment. After some research and trials, they decided to purchase an 8.4-tonne Caterpillar 308E2 CR fixed-boom model, which was then fitted with a Rototilt R3-model tilt rotator, offering 360-degree bucket attachment rotation and a 40-degree tilt each way.
Not long after, this purchase was followed by a number of attachments, making the duo as versatile as possible. Within a few months of starting up, business was brisk and customers were more than pleased with the quality of works and the job completion time frames on offer.
Getting jobs done faster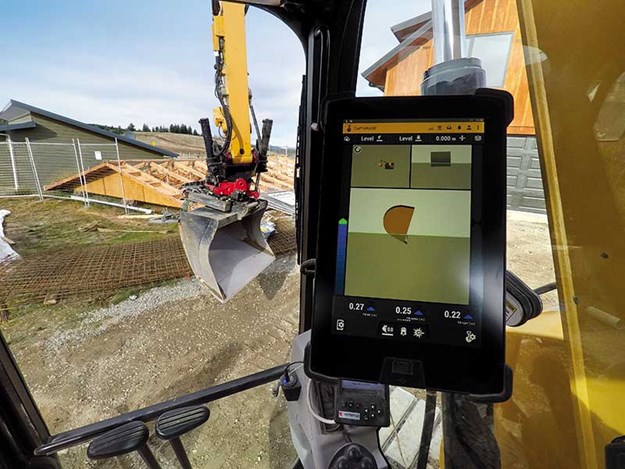 However, this wasn't enough for Ethan and Peter, and the search resumed to obtain an end result in even more of a timely fashion. It was during this process, they came across Trimble grade control system.
Seeing the benefits of having this system while also wanting to be an innovative company who was willing to try new things, a deal was done and soon enough, the rewards began flowing in with even faster and more accurate job completions. Initially just wanting to target the trade side of the market, word got out about what High Country Earthworks had to offer, and before too long, the business partners found work on subdivision works in the region.
Two-and-a-half years on and it comes as no surprise that growth was inevitable. So to keep up with demand and also smaller works on offer, another machine was recently added—a Cat 305.5E2 CR fitted with an R2 model Rototilt tilt rotator, which was on display at the Gough Cat stand at the National Agricultural Fieldays® event this year. Ethan says the new machine will be operated by Sam McConnell and the future plan is to fit it with a Trimble system.
Due to the ever-increasing workload with residential and subdivision works, they added 3D GPS—an upgrade on their existing 2D Trimble Earthworks Grade Control. While still very new to them, the two say it will open up a whole new world with the savings in time and the safety aspect of not needing a labourer on the ground.
Meeting up on a site in Lake Tekapo, the boys are finishing loose ends on a renovation build and preparing the driveway for concrete. It was here that I saw the benefits of their fitted technologies at work, whether it is trimming up against the house, checking grades using the grade control technology, or even simply picking up and moving their 416kg Weber MT CR6 reversible plate compactor using the pincer attachment on the tilt rotator.
All these things add up to that ever-persisting word—efficiency. It's while seeing the compactor in action that I spot another innovative technology the boys are using on their Weber Compactors in the form of Compatrol—a system offered by Weber that indicates the compaction level of material being plated. This clever bit of tech not only eliminates time wasted in over-compacting areas but also warns operators of soft spots to be rectified, which, in turn, saves time while also ensuring a quality job is achieved.
Building an online community of contractors in NZ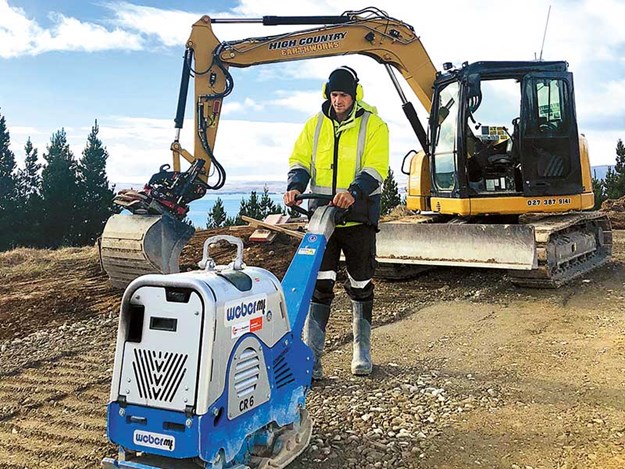 Another aspect of being somewhat innovative is Ethan's use of social media. After coming across another contractor's online content, the two business partners could see the obvious potential this would have for customers to keep up to date with projects they were doing and also see the quality of work. This initiative was advanced further with the use of video content to really show off the time-savings and efficiency on offer.
Immersing himself in the social media world, Ethan came across an international page on Facebook where earthmoving contractors gathered online to discuss and share any topics related to the industry. In typical Ethan fashion, he decided New Zealand could benefit from a similar page where contractors could share their own content, ask for feedback on equipment, and network with other contractor's countrywide.
This resulted in the establishment of the 'Digger and Earthworks Blog NZ' on Facebook. Now the page comprises more than 500 members and has steadily become popular, being actively used by contractors all over the country, asking for opinions as well as showing off their own content as Ethan had intended.
After meeting with Ethan and Peter, it is clear to see that High Country Earthworks is certainly ahead of the earthmoving game in the technology aspect, and I'm keen to see where this road of innovative methods and ideology takes them. n
For more information, contact ethan@highcountryearthworks.co.nz.
Keep up to date in the industry by signing up to Deals on Wheels' free newsletter or liking us on Facebook.