Business profile: Keestrack electric mobile processing plants
---
Keestrack is among the first manufacturers to have an option of either fully electric or hybrid mobile processing plants
The world is changing fast and there are new inventions seen every day, especially in the electric technology field. Major car manufacturers are already putting in timelines of when they will stop making diesel vehicles.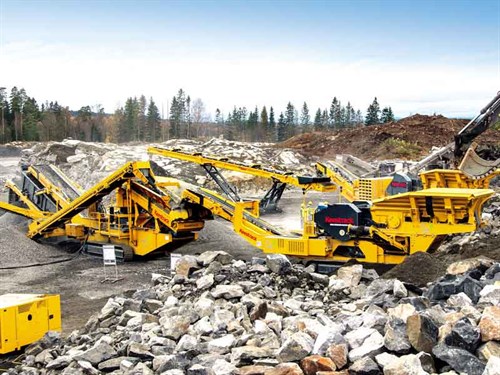 Keestrack is already seen to be one of the leaders of the mobile screening and crushing industry, being among the first manufacturers to have an option of either fully electric or hybrid mobile processing plants, says Keestrack president Kees Hoogendoorn.
Electric machines can have many benefits in quarries, such as improving productivity and financial performance through lower running costs. As the machines plug directly into the grid or a separate power unit, Kees says operators can gain economic advantages when processing material.
With electric drives, downtime can also be reduced, as there is less risk of bursting a hose or a hydraulic motor failing. There is also less servicing required and with Keestrack's new innovative 'removable' diesel power pack, owners can shift it to a dust-free environment to run the machine from a distance.
Keestrack first publicly demonstrated their new machines during the customer days of the Norwegian Keestrack dealer Fredheim Maskin and formed part of the technical premiere for the 'full-hybrid' drive technology of the international processing specialist. 
Debuting in the hard rock granite quarry in Norway was the full-electric tracked processing line with the Keestrack B4e jaw crusher, S5e Stacker (for 0–20mm pre-screen), the H4e cone with three-deck-afterscreen, and the final K3e two-deck-classifier outputting five end product fractions.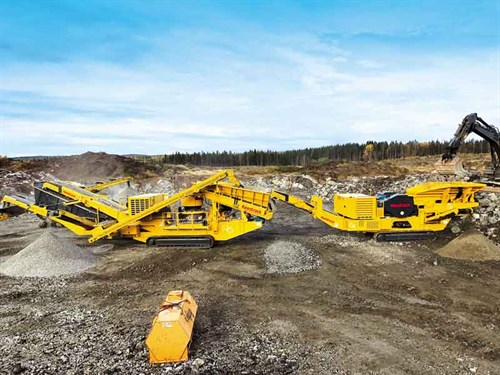 With a feed size of 600mm and a range of different end products, including double crushed chippings (0–2mm, 2–5mm, 5–8mm, 8–16mm, 16–22mm), the combination reached a maximum production output of 180tph, says Kees.
Without activating their on-board diesel engines, all machines were powered by a single 500kVA external gen set. Consumption analyses over several days gave average diesel usage values of under 60 litres per hour.
"We were surprised by these results," Kees says. "Even if these values are quite specific, they clearly reflect the high economic potential of our full hybrid technology. Applied in a mobile multi-stage processing line, as presented here for the first time, it offers great advantages for the contractor. Not only in daily practice but also specifically in long-term evaluation if we consider lower maintenance costs and longer service life."
Keep up to date in the industry by signing up to Deals on Wheels' free newsletter or liking us on Facebook.