Alsco EcoSafe parts cleaner
---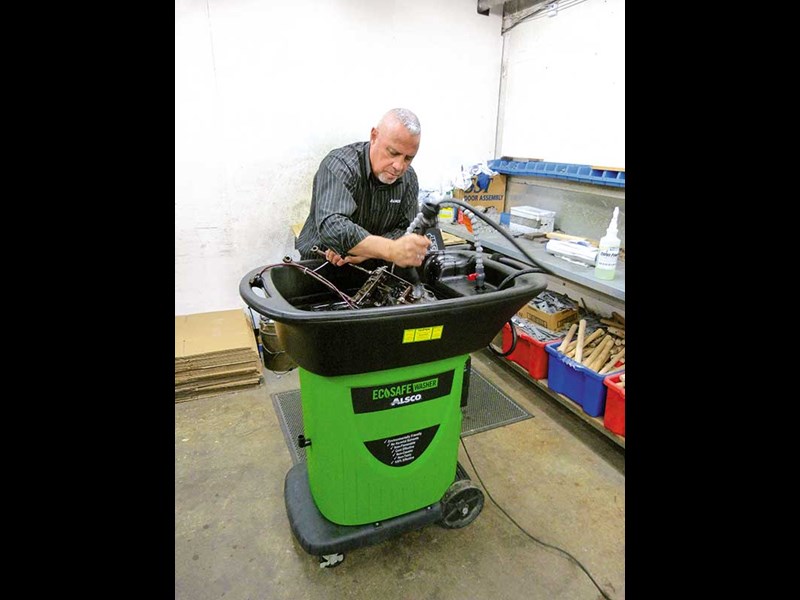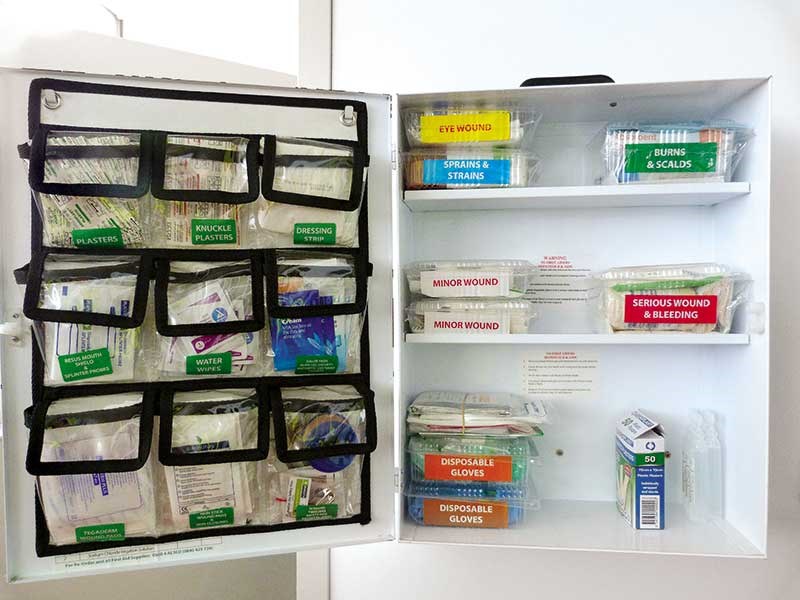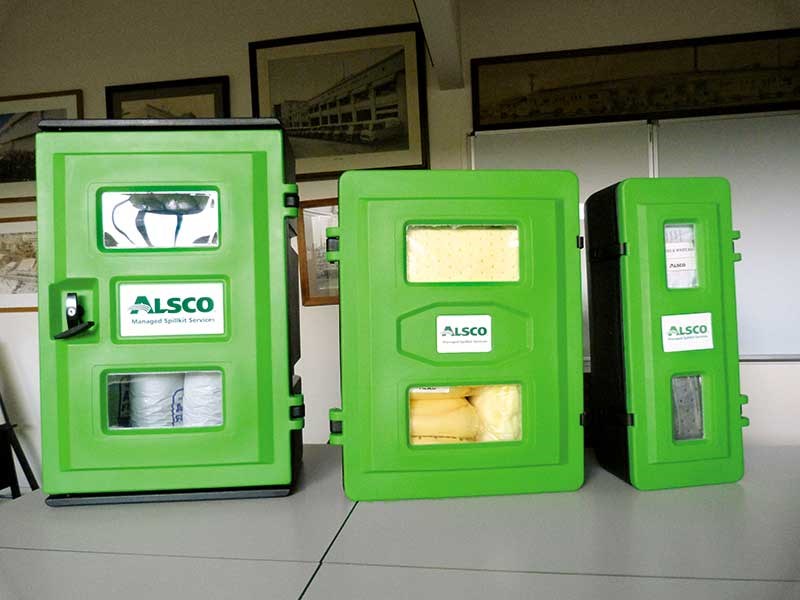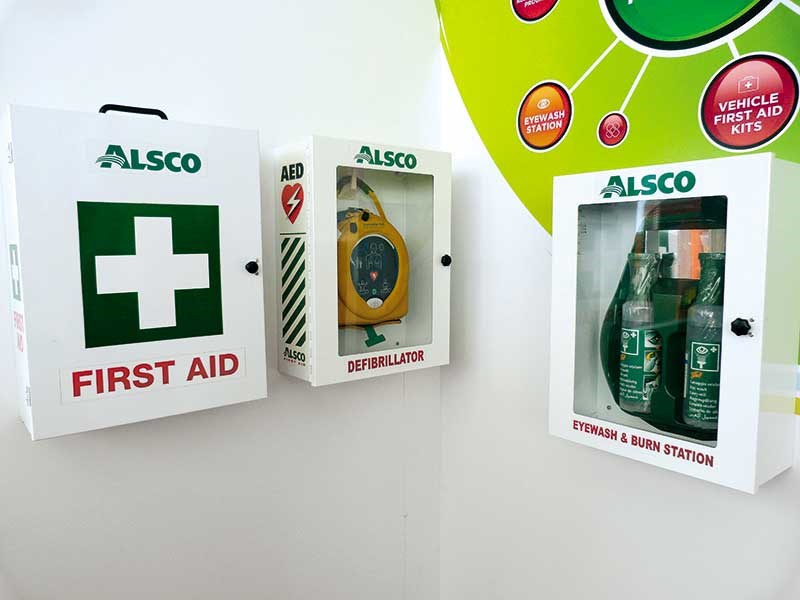 The Ed sent me along to Alsco's Auckland branch to catch up with sales executive John Gibbs and check out the company's environmentally friendly EcoSafe parts cleaner.
Taking Gibbs up on an offer to bring along up to a boot-load of dirty mechanical parts of my choice, I arrived at Alsco's Auckland branch armed with a brake and clutch cluster from a 1960s Morris truck that I'm about to restore.
My choice of motor part wasn't merely happenstance, as aside from the need to have the part cleaned, I could also recall Alsco having a fleet of these vehicles back when the company was branded as New Zealand Towel Supply (NZTS).
Alsco is a one-stop provider catering to the workplace health and safety needs of companies by providing a comprehensive range of user-friendly spill kits, first aid response kits, and the EcoSafe parts washer – to name a few.
The EcoSafe parts washer
The Alsco EcoSafe washer requires no upfront investment of any kind, as a brand-new machine is delivered to your location. An Alsco team member provides you and your staff on the correct use of the machine.
Once a week Alsco will come and inspect the machine, change the filter and address any questions you may have, and the company maintains the unit for the duration of your business partnership.
How the system works
The EcoSafe washer system has three essential component parts:
The parts washer
A powerful water-based degreasing fluid called OzzyJuice
A microbe-impregnated particulate trap called OzzyMat
The system employs a natural process called bioremediation, courtesy of a pH neutral aqueous solution called OzzyJuice which is heated to a temperature of approximately 40 degrees Celsius – roughly the same temperature as a spa pool operates at.
The water is heated by an onboard element in the EcoSafe washer which plugs into a standard 10-amp wall socket and research has proven that the 40-degree temperature provides optimum cleaning ability and a comfortable working temperature for the operator.
While the parts washer can be purchased outright elsewhere in New Zealand, Alsco believes that the weekly servicing programme it provides to its customers greatly enhances the longevity and performance of the machine.
The weekly Alsco service regime also ensures that by topping up the level of the OzzyJuice solution and replacing the OzzyMats, an optimal level of cleaning ability is maintained.
Being portable, the EcoSafe washer is easily able to be placed under a vehicle on a hoist, reducing the possibility of spillage, thus maintaining a safe working environment.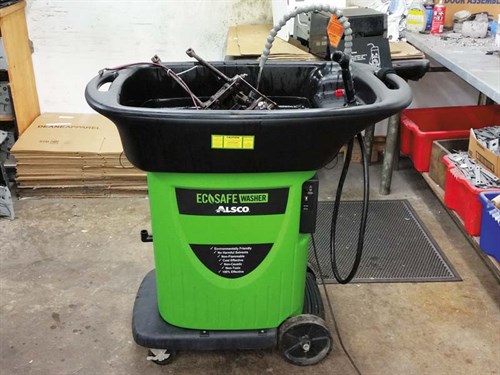 What is bioremediation?
Bioremediation is the use of biological agents such as microbes or plants to break down or neutralise hazardous substances or contaminants thereby removing dangerous chemicals in the environment. The process of bioremediation is listed as one of the Environmental Protection Agency's (EPA) innovative technologies.
OzzyJuice cleans carburettors, transmissions, aluminium, brakes and anything else in the workshop and will not damage non-metal components such as rubber or plastic fittings that may be attached to the parts being cleaned.
As OzzyJuice is a pH-neutral, non-caustic, water-based formula. It won't dry crack or irritate the skin, unlike solvents and caustic solutions which pull fat cells from the skin which can cause extreme drying, redness, blisters, and other dermatological problems.
The EcoSafe washer is fitted with a number of safety features such as an overheat switch-off system that activates if the OzzyJuice gets low.
The heater is automatically deactivated when the fluid indicator light is illuminated.
While the pump will continue to operate, the heater will not be reactivated until a full container of OzzyJuice is added to the system and the fluid indicator light is off.
Managed first aid services
Not to be confused with a standard first aid kit, the Alsco range of first aid equipment is clearly labelled, making it easily identified and accessed in an emergency.
In fact, I think that the way the Alsco first aid kit is packed, makes it the best kit I've ever seen as all its components are housed in separate compartments with each one being labelled, not by the name of the dressing itself, but more appropriately by the application to which the dressing would be used in an emergency.
The combination of Alsco first aid equipment consists of three separate wall-mounted units, an eyewash/burn station, a defibrillator (AED), and a clearly labelled first aid kit which are all supplied in uniformly-sized containers.
A portable first aid response kit bag is also available. This unit is packed in the same user-friendly form as its wall-mounted counterpart.
Alsco provides a regularly-scheduled restocking programme, ensuring that all stock is current and complete. Nothing ever goes to waste as all expired stock is redistributed overseas via Medical Aid Abroad and other local and international charities.
Spill kits
Unlike the regular wheelie bin style of spill kit, the Alsco variety is wall-mounted and has a viewing window which makes easy viewing of its contents. Kits come in three standard sizes to suit the level of risk likely to be encountered.
Under current health and safety regulations, there is need for businesses to carefully control their health and safety requirements.
With branches throughout New Zealand, Alsco is well-placed to advise its customers as to the appropriate level of protection needed for each individual worksite throughout New Zealand.
For more information, contact John Gibbs by phoning 0800 4 ALSCO.
Keep up to date in the industry by signing up to Deals on Wheels' free newsletter or liking us on Facebook.