Volvo ECR305CL fuelling success
---
Fuel Installations Auckland Limited is a specialist company that provides all the products and services needed to get a petrol service station up and running.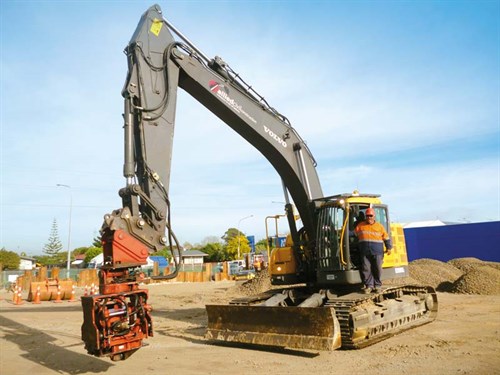 It caters for small independent stations or large chains and offers pumps and tanks, facility upgrades, tank removals, service station construction and design, sheet-piling, and more.
It has a fleet of machinery to cater for all of the civil requirements and a number of specialist attachments to complete the vast array of project tasks. In this type of business, the equipment needs to be of the highest standard and be installed by experienced technicians and this is no different for the excavators and operators it uses.
Fuel Installations had a need for a new excavator that was able to offer more reach, power, and stability as a result of some jobs requiring larger tank installations. At the same time, the machine needed to work around some very tight spaces and was further limited in size due to weight restrictions on sites the company works on.
The excavator needed to be a versatile machine, suitable for the number of applications that it would be used for from commercial site works, tank removal and installations, to sheet piling. It also needed to be capable of handling multiple attachments, including breakers, drills, crushing units, buckets, rippers and, most importantly, a high tech Movax sheet piling attachment.
Fred Meinata, one of Fuel Installations' key excavator operators, had spotted a Volvo working on the Western Arterial that he thought was about the right size for their business requirements, but had to give it a second glance because he noticed how compact it looked for such a large machine. Meinata reported his findings back to business owner Bryce Bacon, who then got online to research the machine extensively.
The machine that Meinata had spotted, was in fact the Volvo ECR305CL short swing excavator and New Zealand Volvo construction equipment distributor TransDiesel says that this machine rewrites the rules while offering the best of both worlds – a short swing design for confined areas while delivering the productivity, ease of operation, and safety of a 'conventional' excavator.
The compact body swings only fractionally outside its own track width – less than 80mm (with 800mm shoes), enabling the machine to work extremely close to objects like walls and road barriers without risk of colliding with the rear of the machine as it swings.
It is said that the 30-tonne machine features best-in-class lifting capacity, stability, digging force and fine control; as well as boasting better weight distribution and increased swing torque. Its hydraulic system features full electro hydraulic control.
Bacon contacted TransDiesel about the ECR305CL and subsequently had a demonstration of the machine. Meinata was extremely impressed with the ease of operation in the trial; being equally impressed with the drivability of the machine and found the comfort and space in the cab to be excellent.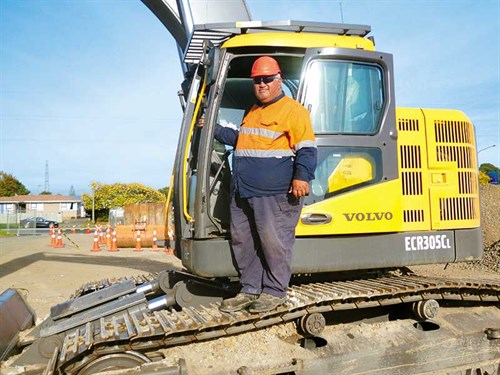 Once the machine was purchased, Craig Ormrod, product support manager of TransDiesel, spent time with Meinata, familiarising him with the operation and features of the machine. Ormrod walked through all of the controls and software, putting Meinata at ease with the operation. "Craig was fantastic," Meinata explained. "And I know that I can get support from TransDiesel wherever the machine is operating."
"When I first got in the machine, I could not believe how quiet it was, I am 'old school' and my initial action was to fire it up to full revs," explained Meinata. "But Craig told me to knock it right back and I couldn't believe that the machine ran so smoothly and with ease at low revs, especially with the Movax attachment."
"It has been a whole new experience for me. I get out of the Volvo every day and I can't wait to get back into it the next day.
"The fuel burn savings are also incredible; we are saving a substantial amount of money each week that we operate the Volvo over some of our current 22-tonne fleet. I am also very impressed with the hydraulic system which is making a huge difference in using our attachments and there is no heat build-up in the hydraulic system."
Meinata further advised that the reverse cooling fan for the engine was a great addition, especially suited to the often dusty environments that they operate in.
One key attachment that the machine operates is a Movax piling hammer, used for driving load-bearing piles or assisting in sheet pile driving. The Movax software has been fully integrated into the Volvo system which Meinata advised works perfectly in sync, with the warning and safety systems working in harmony.
The Volvo has now been used on a number of sites, most recently at a new Hamilton service station installation. Meinata and Bacon explained that bringing the ECR305CL onto one job they were working on, which was an eight-week programme, actually saved them two-to-three days of time, with the machine being completely the right tool for the job, with its versatility of handling the multiple jobs with ease.
The ECR305CL is fitted with the optional blade which Meinata advises gives the machine incredible stability and lifting capacity. It is also fitted with the Volvo spec'd extended dipper arm to give it more reach and an Everdigm quick hitch for ease of change of the multiple attachments they use.
"The durability and build quality of the machine is amazing and I am well and truly converted to Volvos," Meinata concluded.
Keep up to date in the industry by signing up to Deals on Wheels' free newsletter or liking us on Facebook.