On site with United Civil Construction
---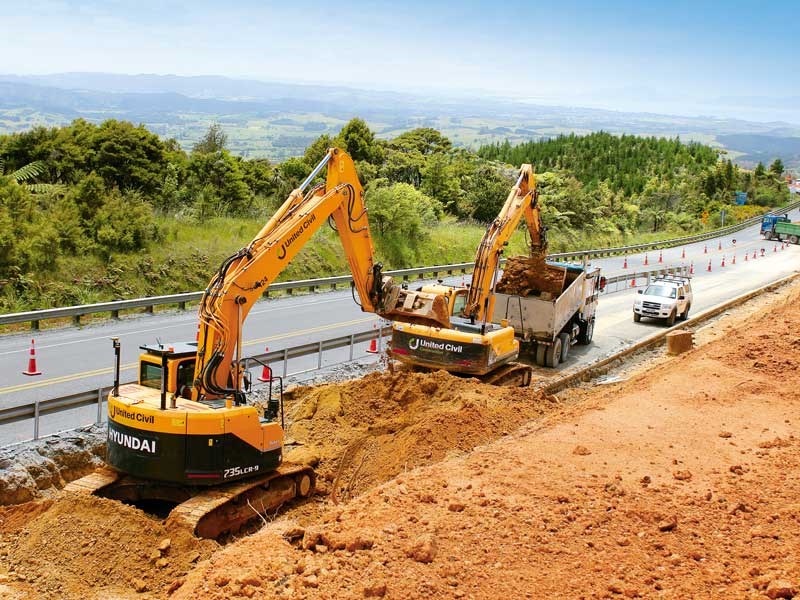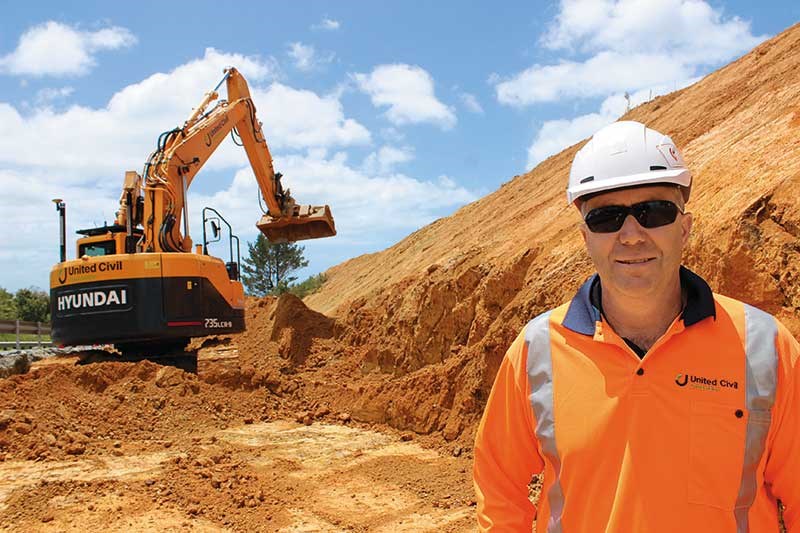 Paul Mandeno with a new Hyundai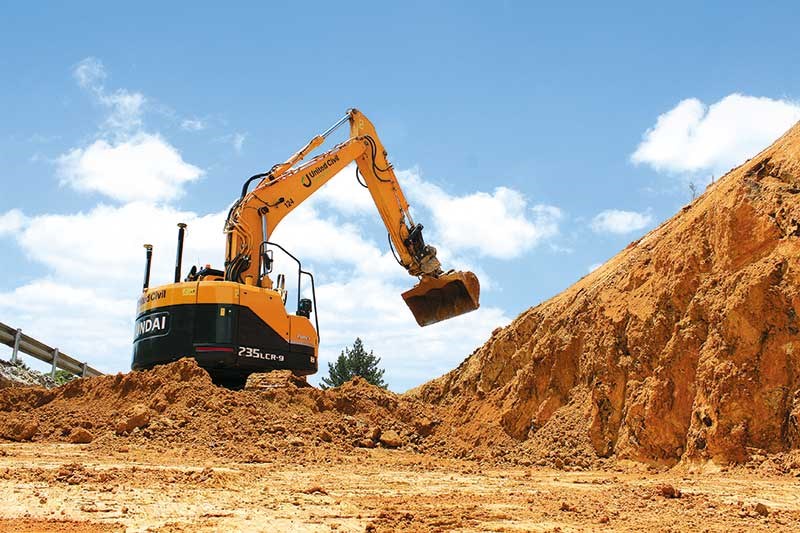 United Civil Construction's growing fleet of Hyundai excavators is serving them well as they take care of large scale road rehab work in the north, as well as a growing portfolio of projects in Auckland.
The top of the Brynderwyn Hills – inland from Mangawhai and about half way between Auckland's northern reaches and Whangarei – makes for a spectacular worksite on a fine day, with stunning views out to sea. Of course, as United Civil Construction co-owner and contracts manager Paul Mandeno reminds me, on a squally day it can be a damn sight more challenging.
One constant up here though is the shape of the worksite; a narrow strip in the clay alongside the ceaselessly climbing traffic along State Highway One. Thirty metres to the right, the ridge tumbles away down a huge valley, with similar terrain across the other side.
Mandeno and his team are completing a portion of the Brynderwyn Safe System Project, which when completed will have eased several tighter corners and flattened off several steeper gradients across the hills. Median wires will also be installed between the dual north- and south-bound lanes.
Despite the challenges the location presents, Mandeno tells me United Civil has worked harder and more remote sites than this.
"We're a Whangarei-based company so traditionally the bulk of our work has been in the Northland region, although that is changing now that we're busy in Auckland as well.
"We actually sealed the last 20km of the road to Cape Reinga and rebuilt the track down to the lighthouse a few years back, so we've literally worked right to the top. This job has its issues, but working at the Cape was a real logistical exercise. You're a long way from anywhere up there."
United Civil grew out of logistics firm United Carriers, which had limeworks and quarrying offshoots in addition to the small civils entity. In 2006, Mandeno and fellow shareholder/owner Andrew Campbell bought the business. Today they have 130 staff and a widening portfolio of work.
"The nature of the work we engage in changes over the years; it really depends on what road rehab work is out to tender and what else is going on in the region. A couple of recently completed jobs include a big storm water upgrade project at Maungaturoto and an intersection widening project in Whangarei.
"We also have the maintenance contract for Refining NZ at Marsden Point oil refinery and that contract often involves some big structural jobs. But everything else is capital work."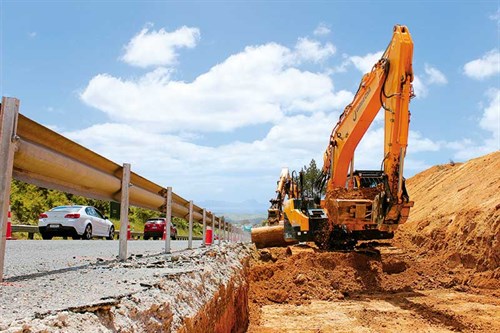 United Civil Construction has been a Porter Equipment customer since 2008, when the company purchased the first of several Hyundai excavators; a 21 tonner which is still on the fleet and has done around 6000 hours.
"Hyundai machines have definitely evolved to be very comfortable machines these days, but even five or six years ago we could see the machines are fit-for-purpose.
"That 21 tonner is off to Auckland this week actually, as we need it down there. In fact three of the last four machines we've purchased through Porter Equipment went straight to Auckland."
Such is the degree of work on in Auckland for the United Civil team that they have established a permanent base in Onehunga. Two six-tonne Hyundai R60CR-9s and a 14-tonne Hyundai R140LC-9 operate from there, while the Hyundai R235LCR-9 taking precise 3DGPS-guided slices out of the Brynderwyns today was purchased specifically for the Safe System project.
"On a big job like this you need bigger gear, which is why we bought the R235LCR-9. If we're doing a job in town where we're widening an intersection for example, and you have residential constraints, you need equipment that is more compact," says Mandeno.
"It pays to have your bases covered and give yourself that flexibility. All up we have a growing number of Hyundai gear on the fleet between 1.7-tonne and 23.5-tonne, so there's a fair spread of capability there."
Most of United Civil Construction's Hyundai gear is so new that the Porter Equipment tech team has only given each machine its first service. But Mandeno says he likes the fact that – between Whangarei and Auckland – its machines are adequately covered by the Porter network.
"During the purchase process we also really liked the fact that Porter Equipment could provide us with a couple of back-up machines from the Porter Hire fleet while our ordered machines were prepped. This would have been a much larger cost to us to have to go elsewhere for hire gear."
Mandeno says that it's hard to find an impartial operator, but he gets good feedback from his field teams on the Hyundai gear, and not just in terms of horsepower.
"These machines are essentially the guys' offices; they might spend eight hours a day in them, so they have to be comfortable to sit in and all the features need to work as they should.
"If there's something not right, then it becomes a distraction, or even worse a fatigue issue for the driver. But the Hyundai gear is all very well-spec'd out of the box with good air-con and good ergonomics, so I think the brand offers our guys a good working environment for a fair price."
And with more and more work on in Auckland, United Civil's operators will certainly be putting their Hyundai excavators through their paces this summer, air conditioning and all.
For the latest news and reviews, subscribe to Deals On Wheels magazine here.
Keep up to date in the industry by signing up to Deals on Wheels' free newsletter or liking us on Facebook.