Product feature: Cat D9T bulldozer
---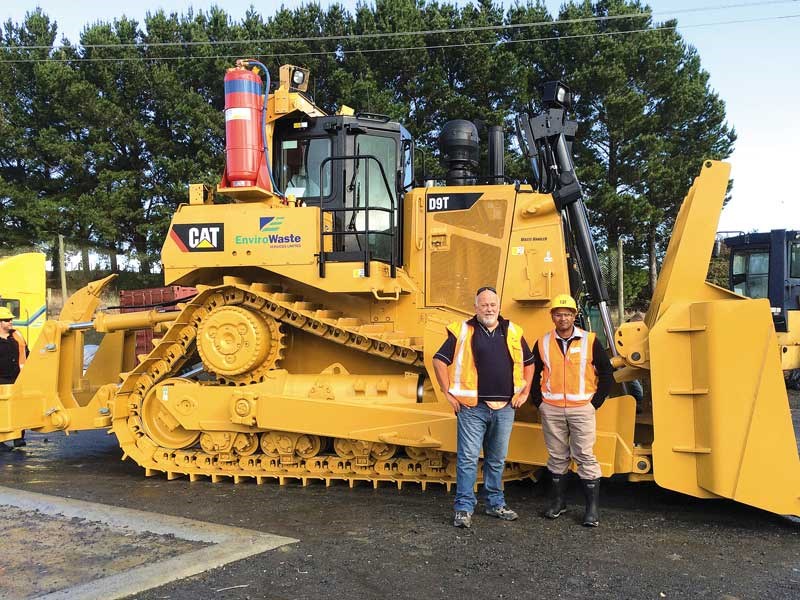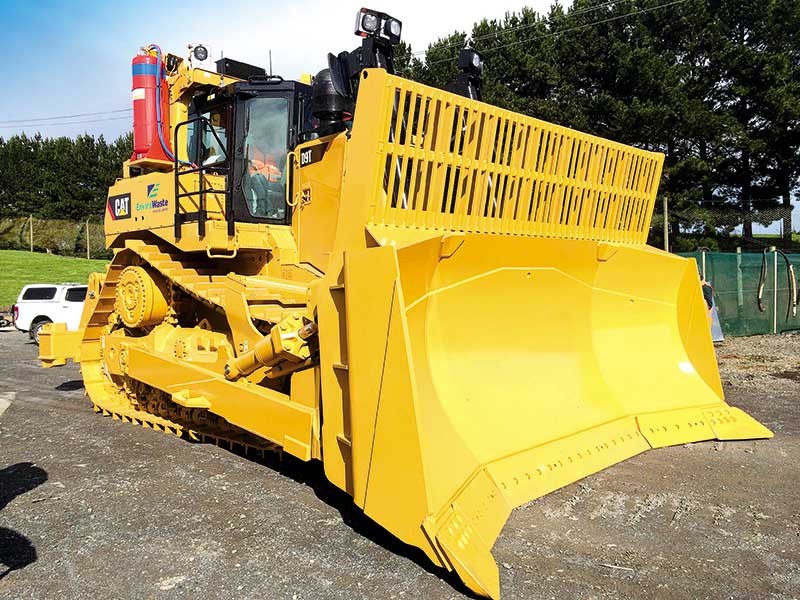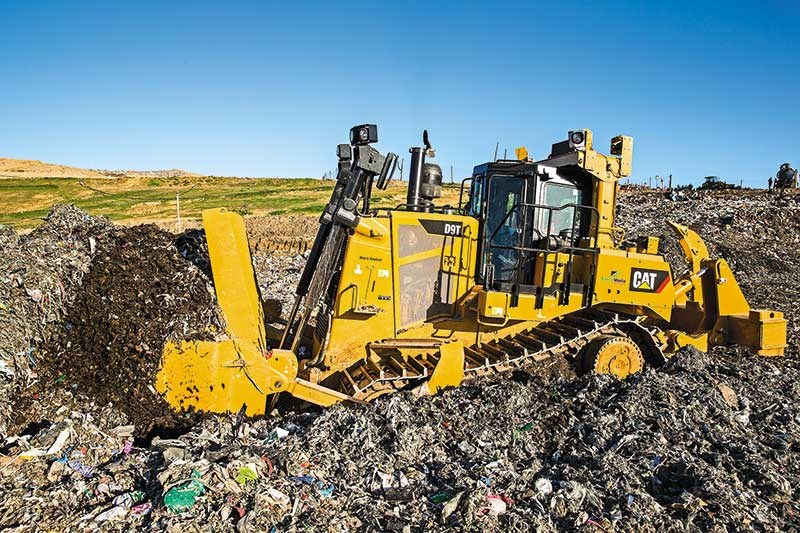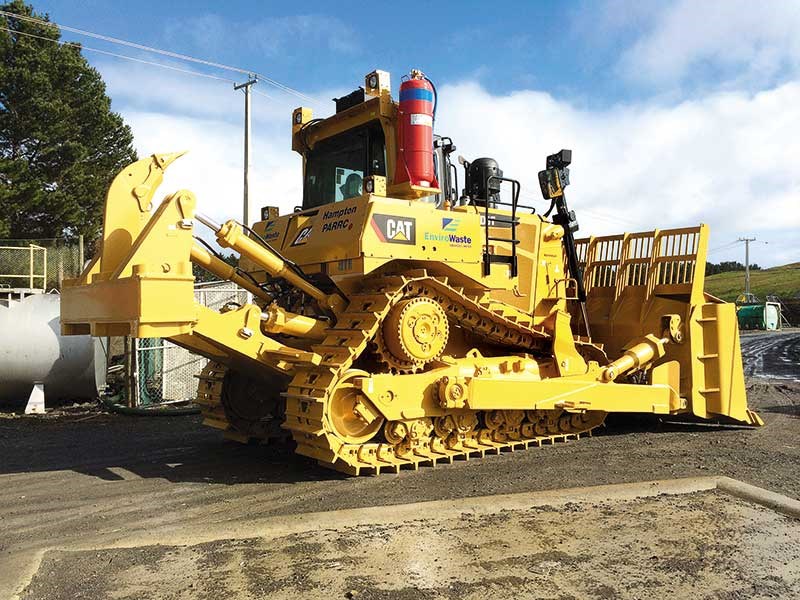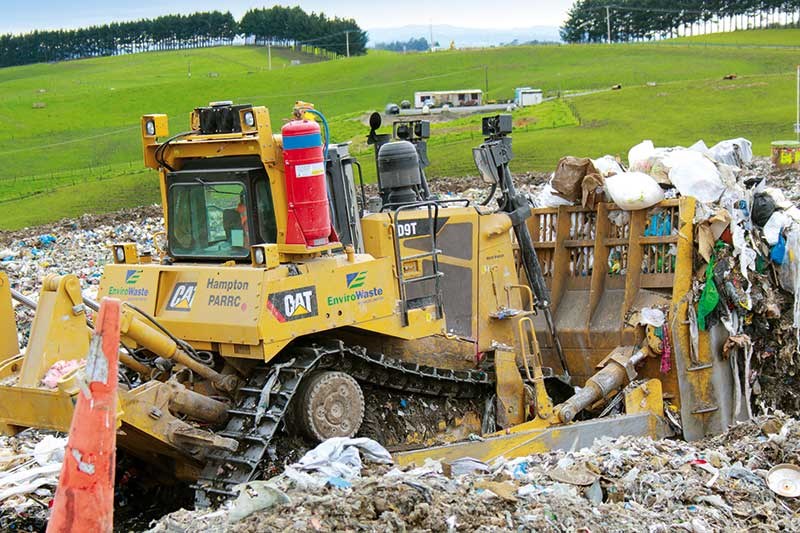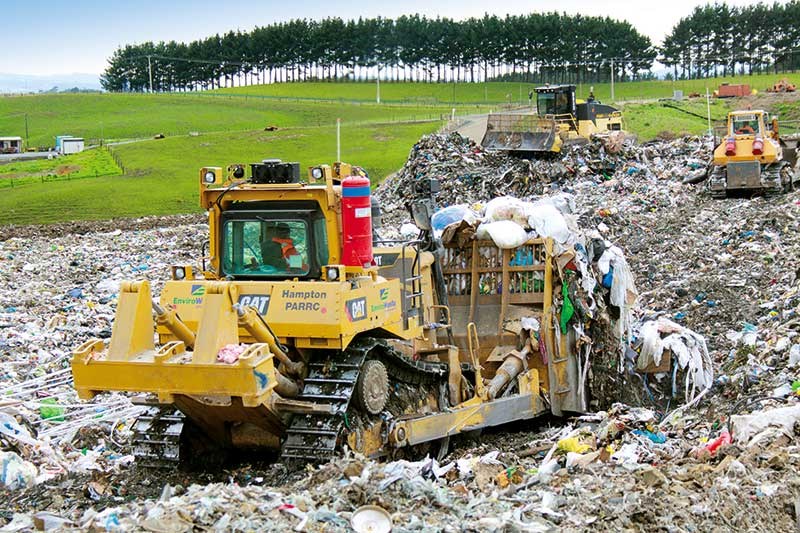 When it comes to shifting a load, the Cat D9T is more than just a bulldozer. This massive beast is equipped to handle all the rigours of the waste industry, shifting household and industry waste by the tonne.
The Cat D9T waste handler is the undisputed jewel in the crown of the EnviroWaste fleet at its Hampton Downs site. Located midway between Auckland and Waikato, the site is one of the most advanced and largest of its kind in Australasia.
Addressing the waste and recycling needs Auckland, Waikato and Coromandel, EnviroWaste operates the landfill to stringent environmental standards. Opened in 2005 and situated on 360 hectares of farmland, the landfill currently operates individually protected cells, over approximately 87 hectares.
The state-of-the-art, modern sanitary landfill relies heavily on utilising appropriate heavy equipment, from the Cat D9T to a variety of loaders, compactors and diggers.
Hampton Downs landfill manager Jim Kent is justifiably proud of his latest piece of kit; the Cat D9T has been king of the fleet since it arrived on site from Goughs earlier this year and since then it has been working close to 250 hours a month.
"The conditions we work in is hard on machinery, so things go wrong here that probably won't go wrong anywhere else," he admits. "That's part of the reason we went with the D9T. It's built tough to handle the demands of this industry."
As one of New Zealand largest and busiest landfills, finding a machine to meet the requirements of this harsh environment was a challenge – but one the D9T has met head on, and exceeded.
When a machine is down, the inflow of waste doesn't stop, so machine uptime is very important and the trash needs to keep on moving.
The Cat D9T waste handling package has been developed and proven in landfills around the globe. Operating in a landfill environment puts the machinery under a unique type of stress and a specialised air management system provides superior cooling in the high debris environment.
The elevated sprocket and fully suspended undercarriage design isolates final drives, axles, and steering components from harsh impacts. In addition to improved production and longer component life, this also results in a smoother, more comfortable ride, making it the most hotly sought after machine on site.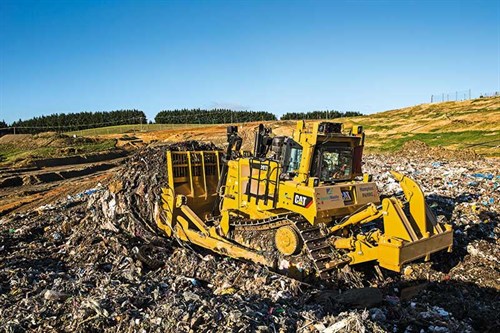 However, representing a significant investment, responsibility for the D9T is reserved for two of the sites most experienced operators. The pair are dedicated to the D9T as it works nonstop at the landfill from 6am to 4.30pm five-and-a-half days a week. Both drivers boast decades of experience and have undergone extensive individual training from Cat experts.
"There's a bit of rivalry over who gets to operate it, because in terms of heavy equipment, it's something of a Rolls Royce," says Jim. "For a waste handling machine it's pretty impressive."
Designed for comfort, convenience and productivity, the ergonomically designed deluxe cab is kitted with charcoal filtration and electro hydraulic controlled diff steer and dozer blade, adding to ease of operation.
"The technology elements makes it pretty straightforward to handle, and having our operators trained by Cat means they can utilise this technology to its maximum efficiency."
Powered by a CAT C18 engine, ACERT technology provides excellent productivity and fuel efficiency.
Cat Product Link is integrated into the D9T, taking the guesswork out of equipment management and ensuring easy access to information like machine location, hours, fuel usage and idle time. Event codes via the online Vision Link user interface help manage and control operating costs.
With elements such as dust and debris to contend with, the D9T is put through its paces on a daily basis. "Everything goes against us on a site like this when it comes to using machinery. They are under big pressure."
However, the D9T is truly a Cat with nine lives. Its durable design makes repair and maintenance easy.
You can rebuild these dozers several times using the same frame with only minor repairs. It's not unusual for a Cat dozer to log more than 100,000 hours. This is part of the appeal in investing in this machine for Jim, who says the after sales service so far is 'tough to fault'.
And with trucks queuing up to dispose waste at the site, reliable equipment is a no-brainer.
The undercarriage is designed for easy clean-out, and the modular design aids serviceability to help reduce maintenance costs. Clamshell guards, seals, front and rear striker bars prevent damage to the machine.
"Our team blow out the radiator every day and pull all the rubbish out of the tracks. The D9T takes far less time than its predecessor to clean out which comes down to the design."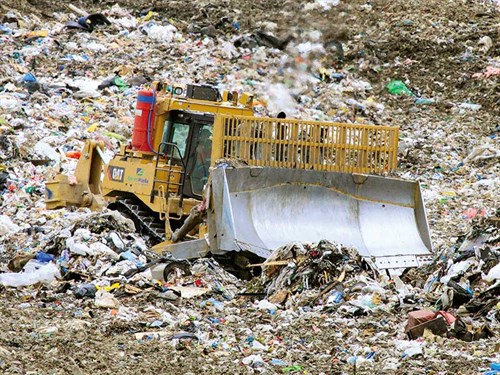 Traditionally the final drive tends to be the most vulnerable area on dozers working in a landfill environment. However the D9T is less prone to this with the main case elevating the final drives well above the ground level work area which protects them from impact loads, abrasion and contaminants, all part and parcel of a landfill environment.
"Cat do all the main service work on the D9T while the Hampton workshop staff do minor repairs at this stage.
"We can't afford to have a machine off work, every minute it is not being used is a minute of productivity lost."
The D9T is serviced on site every 250 hours. It roars straight into action every morning. With trucks lined up waiting to dump rubbish early in the morning, the massive U-blade with guards is capable of shifting between 10 and 12 tonnes at a time.
"I've seen it push two or three loads that size all at once, when it is working downhill. That's one efficient machine!"
Powering through the endless pile of rubbish is a breeze, with a full rated net power of 436 horsepower at 1800rpm. The new radiator core design is wider, deeper, and integrates tanks with the cores. This extremely durable design supports higher heat transfer and provides superior corrosion resistance.
The differential steering system keeps it manoevrable while the landfill U-blade maximises the volume of material moved with each push.
"We've seen a very good improvement in efficiency through the use of the D9T blade alone," says Jim.
"The machine does the job it was built for, has demonstrated improved efficiency and the operators love operating it. I'd say it's a success."
For the latest news and reviews, subscribe to Deals On Wheels magazine here.
Keep up to date in the industry by signing up to Deals on Wheels' free newsletter or liking us on Facebook.