Madill 2850C Log Loader: making the right moves…
---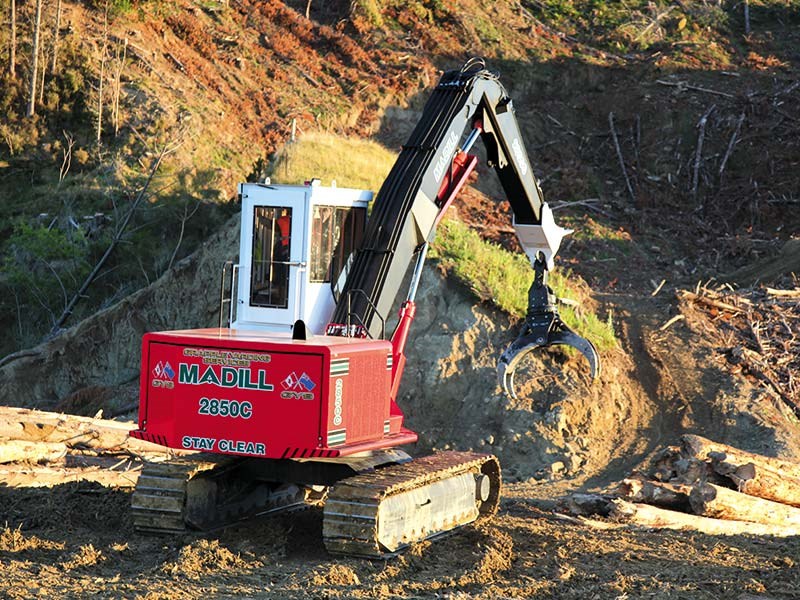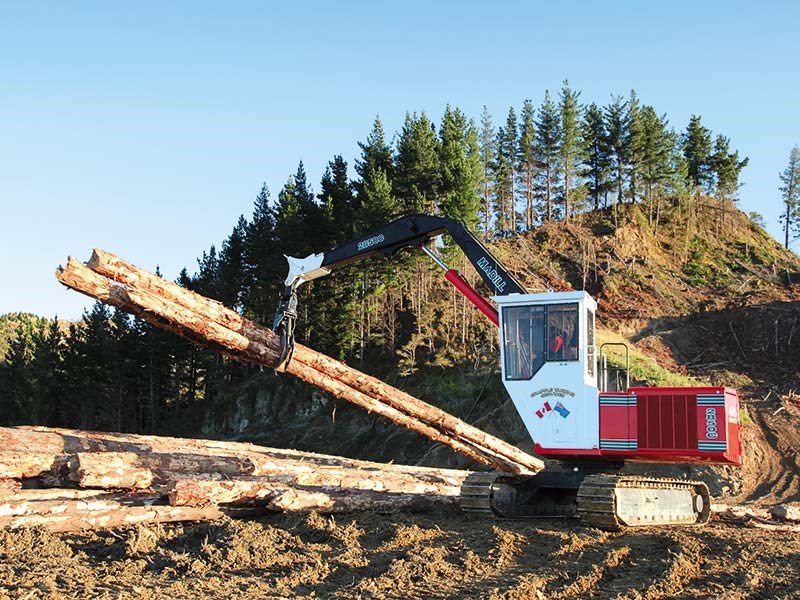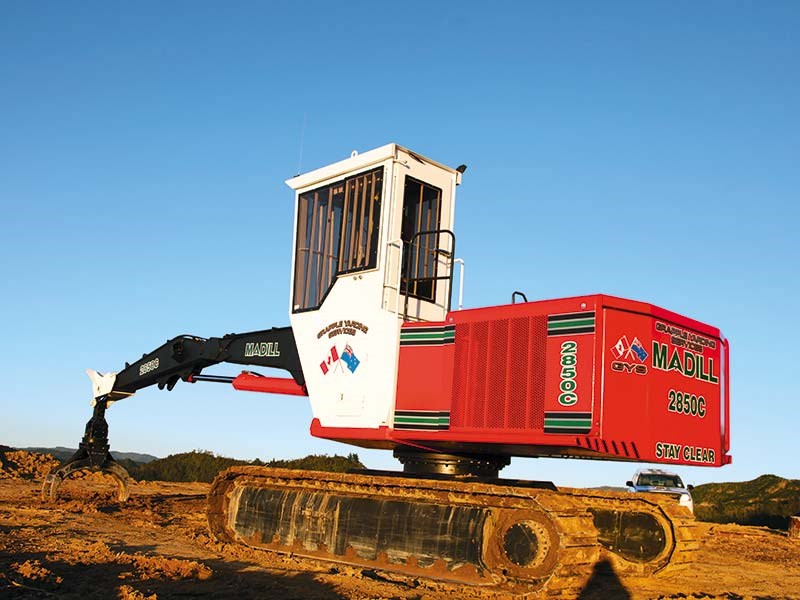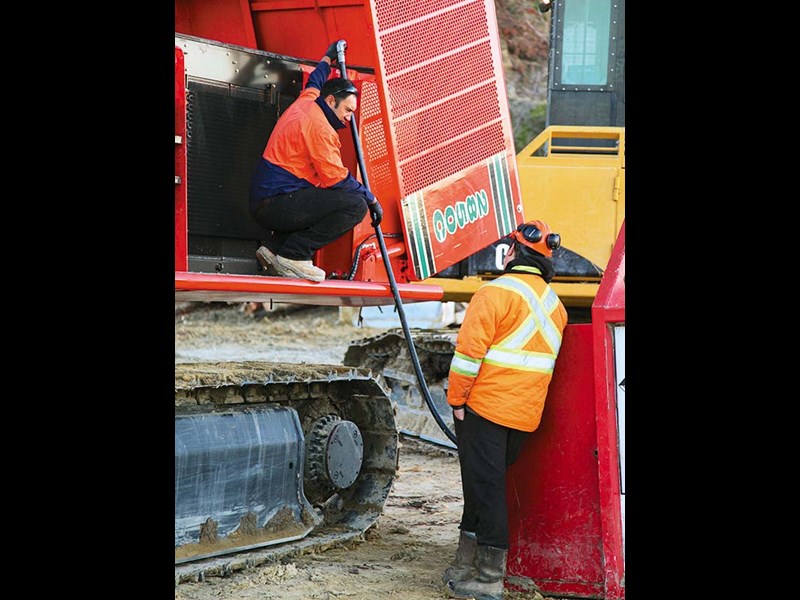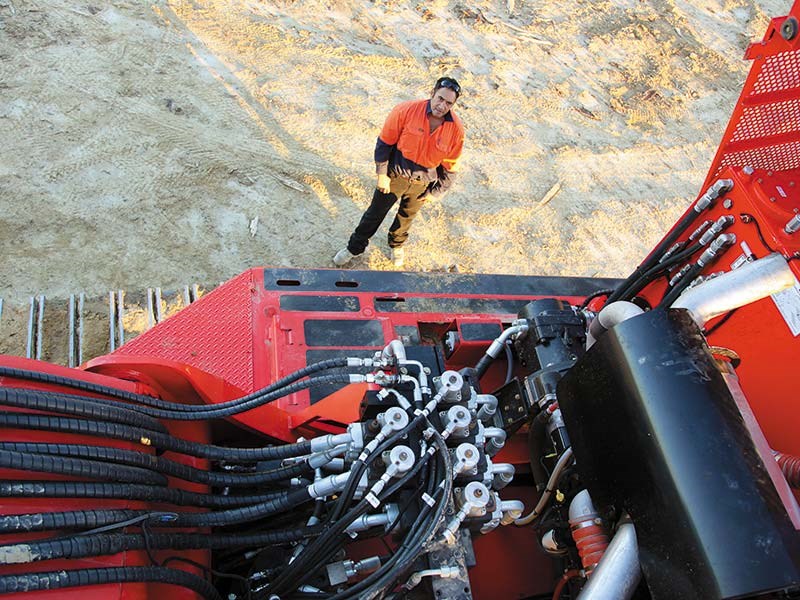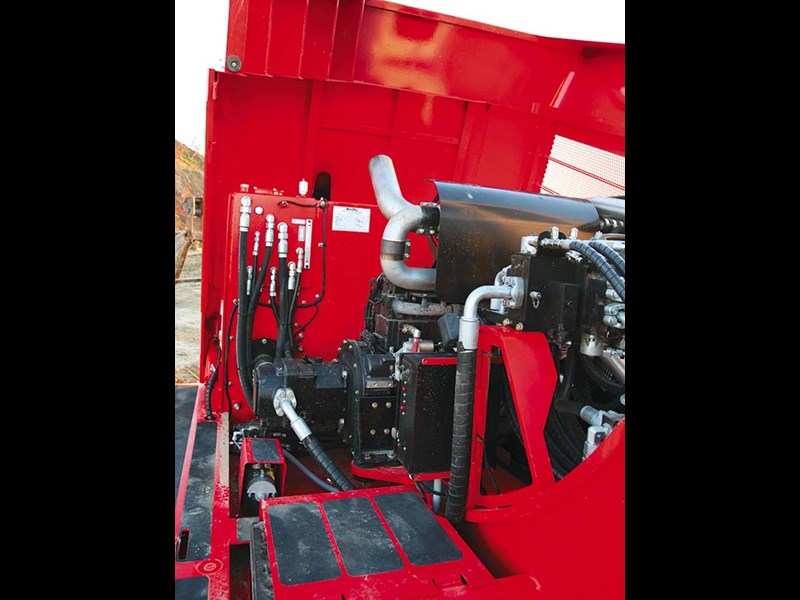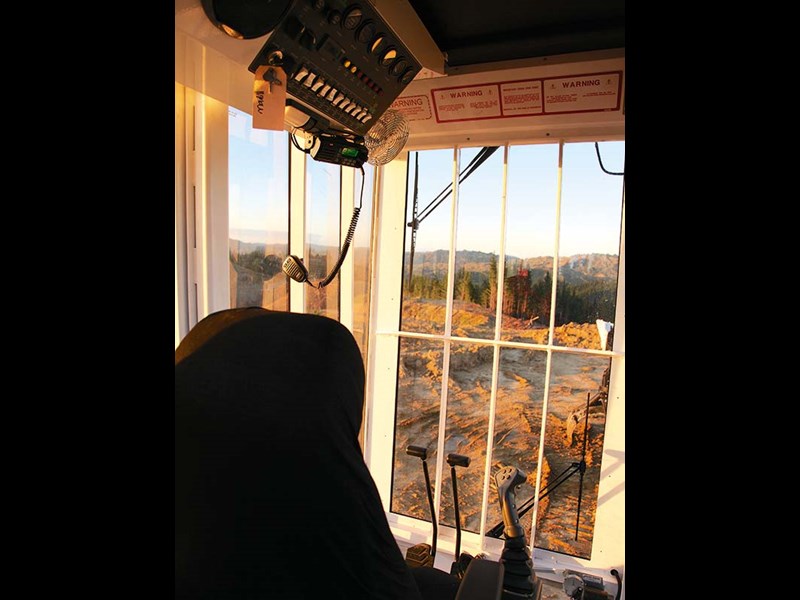 Sunrise hits the skid site at Earnslaw One's forest – high in the hills west of Tolaga Bay – and in the dawn light, Grapple Yarding Services' new Madill 2850C Log Loader is revealed.
It's been in action only a couple of weeks and the machine, with its 4.26-metre-high cab, looks pretty impressive.
Doug Kinney's crew huddles around a Hilux yarning before beginning their day. One of the first tasks is to fuel up the Madill. Its fuel capacity is 800 litres and Kinney says it will last about two-and-a-half days of hard work.
The Madill 2850C is specifically designed for logging – getting into the cutover and bunching – throwing wood over – or on the skid, fleeting and loading trucks. In forestry terms, this is ground basing and the 2850C works in tandem with other machinery such as the bulldozer and GYS's Madill 124 Swing Yarder.
The word from the operator
Deals on Wheels spoke to driver, Api Takarua to see what he thought about the new 2850C. He says, "I am finding it a joy to operate – it's user-friendly and versatile. As well, it's quick, has unbelievable grunt, yet it's only equivalent to a 30-tonne digger. We are getting through more logs every day – I reckon it reduces the previous work time by half. It's very stable – It can really climb and remains steady on the hillside. Now I don't want to operate anything else!
"I've worked on excavators for 20 years and think if you are going to go logging, you've got to go with one of these –they outdo any other machine for the cutover whether its logs, lifting or slewing. You can't beat it!"
Kinney, from Canada, has had 40-plus years of forestry experience and has used Madill machinery ever since he started in the forest.
"I've had Madill's pretty much since I got into logging here for myself in 2002. This is only the second log loader, though. My first Madill 3200 loader was an early model feller buncher, converted to a log loader."
"The first swing yarder was a Madill 124 that I bought in Canada and had refurbished before bringing to New Zealand. I've also purchased two Madill 124 Swing Yarders over the last few years."
He's pleased that in 2014 Porter Group became the exclusive distributors for Madill in New Zealand and Australia. This makes it a more viable option for his business and gives him excellent back up.
"Porter Group personnel came up when the machine was delivered and thoroughly covered all its operations. They answered any questions and anything we wanted changing was done, so we are really happy.
Kinney's previous log loader didn't have the reach he required and that was one of the reasons for buying a new loader. "This has a good reach (40') and the muscle we need to do the job."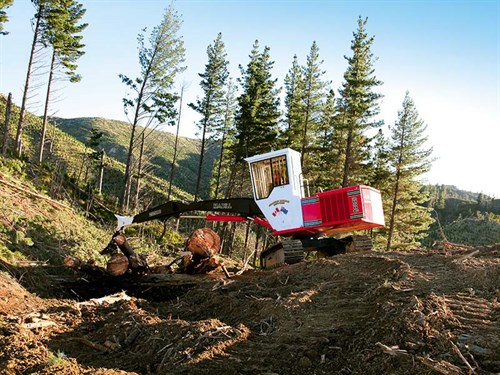 Attached to the Madill 2850C
At this stage, Grapple Yarding Services are using it with just the grapple but there are other attachments they'll probably invest in. "You have the option of putting a hot saw on it. This allows us to cut down trees and throw them around the cutover if the machine is on the flat or on a reasonable slope. There is also the option of a heel: these are good for getting in the cutover and digging their way around."
Kinney has spent almost his whole working life in the forest since he left school to go trail blazing in remote parts of Canada. He learned the ropes of forestry in British Columbia. It was here he met his Kiwi wife, Faye. They lived in the forestry camp until their children came along and then they decided to move to New Zealand.
Once they arrived, he took a break from forestry to do kiwifruit farming, but eventually, his passion for working in the forest lured him back.
In Canada, using a swing yarder with a grapple to yard logs was commonplace, but in New Zealand in 1993-4 it hadn't been introduced successfully to the forestry industry. Knowing Kinney had this experience from his years in the Canadian forestry industry, he was contacted by another logging contractor who was struggling at the time with his new Madill 123 Swing Yarder.
"We put a grapple on the swing yarder and it sped the work up by heaps. They used to bring busloads of guys out to watch us load stuff. It was a real chest blower for me," says Kinney.
Thirteen years ago, Doug and Faye decided to set up Grapple Yarding Services Ltd, and with forestry coming of age in the Gisborne area, Grapple Yarding Services relocated from Kaingaora to Gisborne four years ago.
The verdict
So far, Kinney is very pleased at how the new Madill is working and in summing up he says, "It's a good machine for getting around the skid site. It's really reliable and powerful. With dual slew motors it has no problems swinging wood at whatever angle you are on. The way it's mounted on the carrier and the balance of it allows the operator to pretty much lift anything. It doesn't stall out that easy, it just keeps on lifting."
He thinks word will soon catch on as to the log loader's ability. "Madill's aren't a big item in New Zealand yet, but once people see it in action and realise how low maintenance they are, there'll be a lot more interest. They are a few more dollars to purchase, but at end of day they should give you around 20,000 trouble-free hours."
For the latest reviews, subscribe to our Deals On Wheels magazine here.
Keep up to date in the industry by signing up to Deals on Wheels' free newsletter or liking us on Facebook.