PowerSmart's innovative Pacific solar panel installation project
---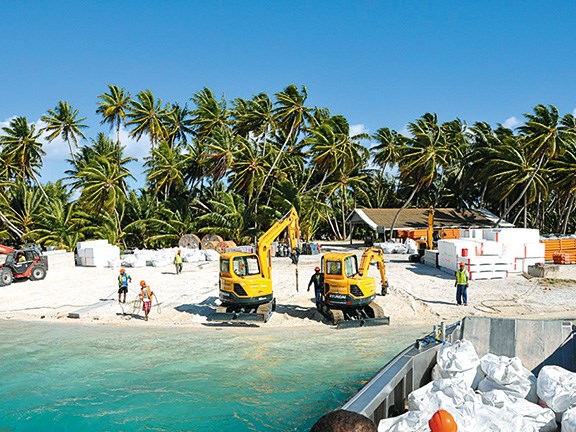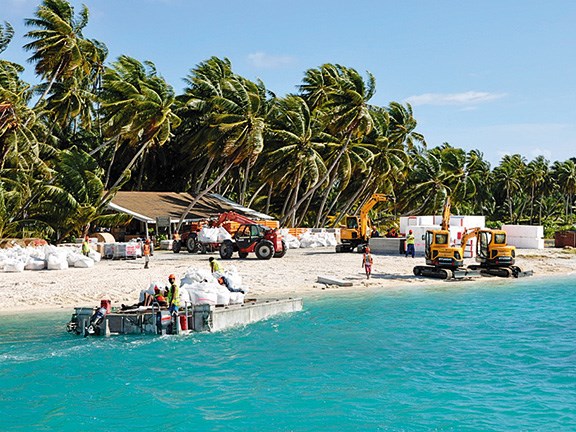 Without port facilities, frieght handling in the islands can be a complex exercise.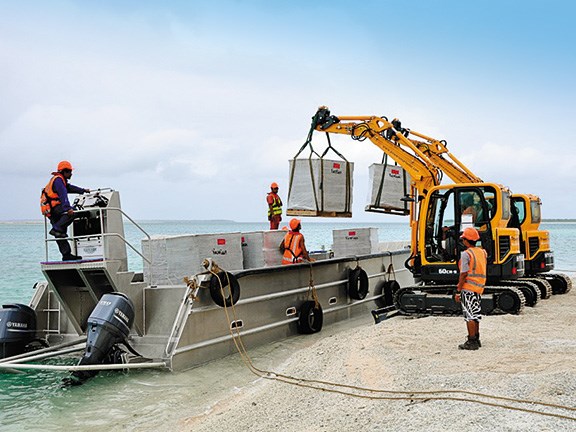 The excavators are required for offload duties initially.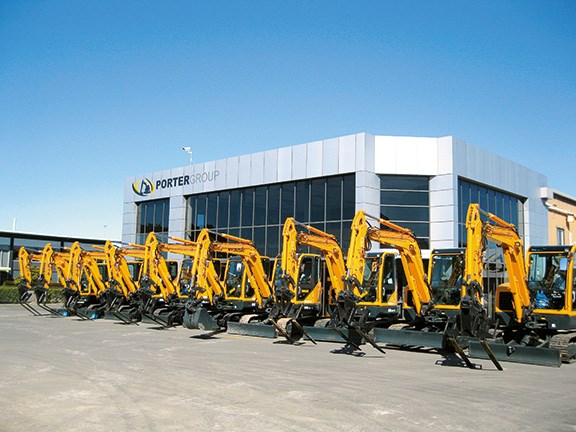 PowerSmart purchased 11 excavators for this project.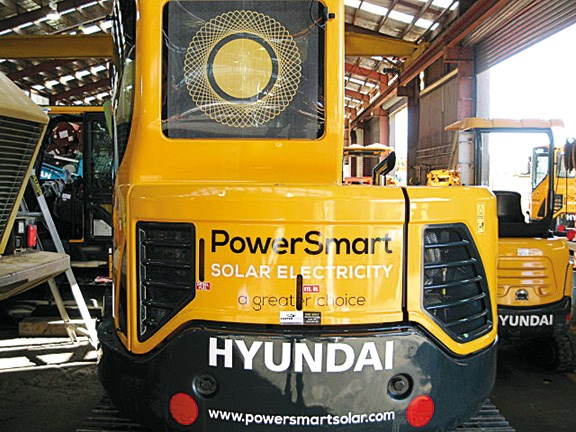 A unique solar power installation project in a remote corner of the Pacific has an innovative Tauranga-based company putting its faith in Hyundai hardware and Porter Equipment back-up a long, long way from home.
A first time customer that ends up purchasing 11 excavators in one go is probably a pretty unusual occurrence. Mind you, the Porter Equipment customer in question – Tauranga-based solar power systems supplier and integrator PowerSmart – has a pretty unusual task in mind for its new fleet of Hyundai machines.
In partnership with engineering and construction contractor, McConnell Dowell, PowerSmart is working across a remote corner of the Pacific, installing solar power systems.
The 12 solar power systems, funded by the New Zealand Aid Programme, will replace electrical generation sources currently run via diesel generators. Located in the northern outer islands of Tuvalu and Northern Cook Islands, they will take until May 2015 to finish installing. Three of the 12 sites also involve the construction of distribution networks.
With the logistical aspects of the project drawn on a vast scale, PowerSmart's director of operations, Dean Parchomchuk, needed to ensure that the equipment the company purchased was fit for purpose, reliable and easy to maintain.
"The machines will be used for freight handling when they first get to the islands. These remote locations don't have working ports as such, so we'll be shipping everything break bulk, transferring to barges and then offloading to shore piece by piece using the excavators.
"Some islands might have a tractor or a Hiab truck to handle freight, but our excavators, each with a fork attachment to sling pallets, will be fulfilling this work for us."
The machines PowerSmart have purchased are all mini excavators; 10 six-tonne Hyundai R60CR-9s and one 1.5-tonne Hyundai R16-9. Parchomchuk says that reliability aside, he needed machines that fitted a certain specification for the project.
"We need to get the machines themselves to the islands in good order, so we wanted reasonably compact machines, but ones that still had plenty of power.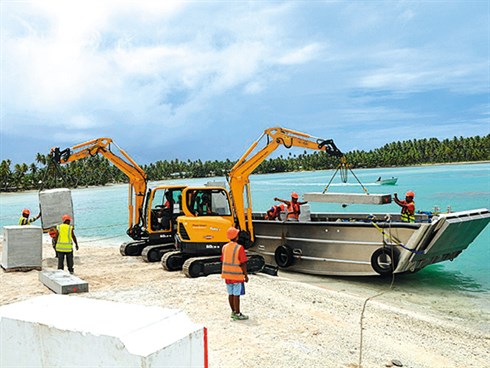 "The six-tonners were chosen because they have the ability to comfortably lift one tonne at reach. Every individual consignment has a one-tonne maximum weight restriction. Solar panels, aluminium framing and pallets of batteries; everything we need is packed down precisely in order so we can offload it quickly once it gets to the islands."
Parchomchuk says that he drew on the experience of McConnell Dowell with regard to plant procurement; the civil works entity having enjoyed a long working relationship with Porter Equipment. Parchomchuk and the PowerSmart team were recommended both Hyundai hardware, as well as the backup support offered by Porter Equipment.
"We had to look at the machines and assess what issues might occur within the first 300 hours of service. Porter Equipment was very good with regard to this; it meant we could essentially establish a service support pack for each machine that should have all the tools and parts necessary to remedy anything onsite.
"These machines are working on some very remote islands and, with a charter flight from Rarotonga costing around $25,000, we simply can't afford breakdowns. The machines need to be completely self-sufficient from the moment they arrive."
Parchomchuk says the excavators will fulfil a dual role for the project, with larger scale earthworks required at the install sites as well.
"In addition to offloading operations, we'll be tasking the machines with more traditional earthworks once we're installing the electrical networks. There'll be land clearing, levelling and trenching work required."
Parchomchuk has already spent a lot of time in the Pacific, including heading up a project on the three atolls that comprise the tiny nation of Tokelau in 2012. There, he and the PowerSmart field team installed solar electricity systems on each atoll; the system can supply enough electricity to exceed current requirements and ensured Tokelau met self-imposed climate change obligations.
The award-winning project has also led to Tokelau being able to rid themselves of diesel generators, with around 90 percent of the nation's power now coming from solar PV panels. A similar outcome is hoped for in the northern outer islands of Tuvalu and Northern Cook Islands.
If you're interested in learning more about the project, progress will be covered on the PowerSmart website (powersmartsolar.co.nz/blog). Three separate teams from the company are joining four teams from McConnell Dowell to complete the installation programme, which is funded through the New Zealand Aid Programme.
For the latest news and reviews, subscribe to Deals On Wheels magazine here.
Keep up to date in the industry by signing up to Deals on Wheels' free newsletter or liking us on Facebook.