Business profile: Yakka Demolition
---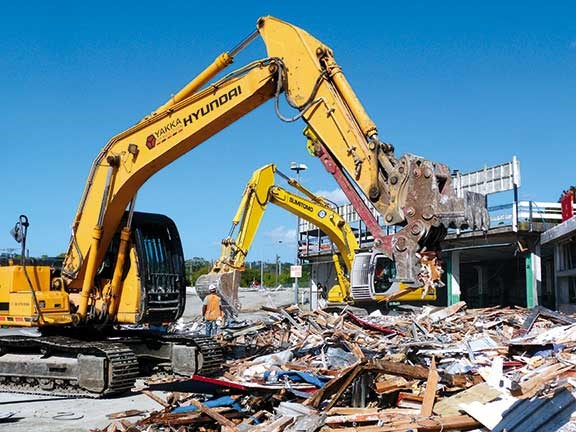 The A-Ward pulveriser marries well with the Hyundai R210LC-7.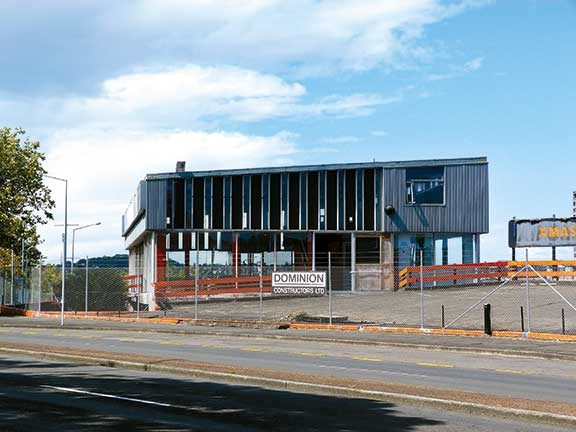 The old New Lynn Motors building stands forlorn in its final hours before demolition.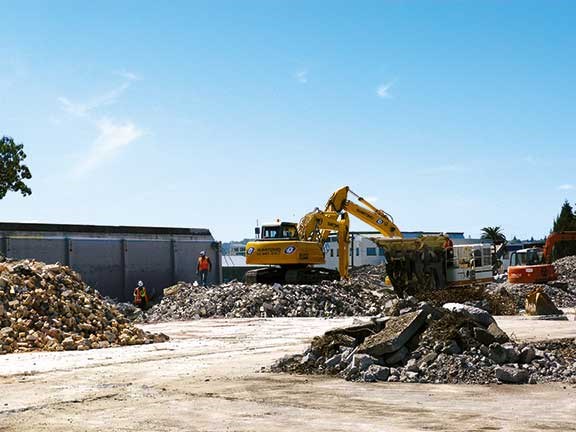 Most of the crushed concrete will be reused in on-site drainage.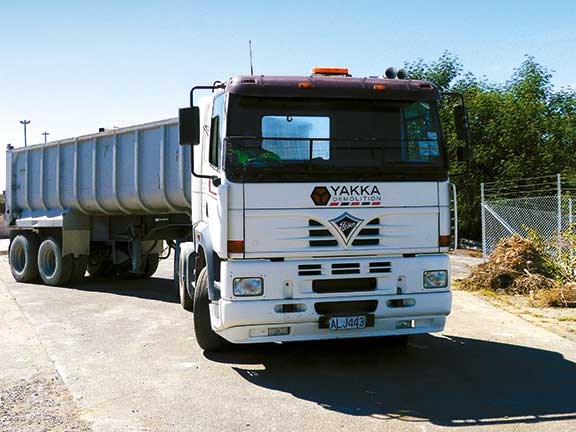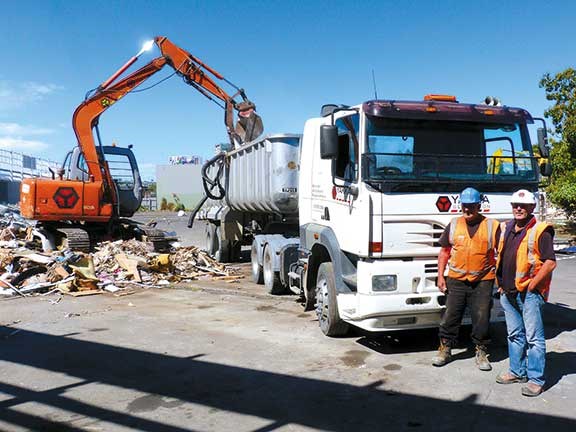 Yakka's machine operator Gordon Howe takes a short break to have a chat with the boss.

For a period of a few weeks during the month of March 2014, an iconic West Auckland landmark disappeared before the eyes of passing motorists. It was demolished by Yakka Demolition.
It stood on the corner of a busy intersection at Great North and Titirangi Roads in the West Auckland suburb of New Lynn for nearly half a century. It was purpose-built back in the 1960s for the New Lynn Motors dealership. While today it would be dubbed 'state of the art' (whatever that's supposed to mean in plain English), back in the '60s it was simply described as being 'flash'.
In its early days it was the focal point for teenage blokes to ogle brand new Mk1 Cortinas or perhaps the odd105E Anglia on display behind the expanse of plate glass windows.
However, in recent years the building that once was a thing of beauty, a landmark for New Lynn to be proud of, has become a bit of a sorry sight.
So when a well-known retailer purchased the land for one of its large green warehouses, Yakka Demolition was called in to make way for the new by getting rid of the old.
Owned by Bruce Levien, Yakka Demolition is a relatively new player in the demolition game, as they've only been operating for about eighteen months.
That's not to say Levien's a stranger to dealing with structures, he's had twenty years' experience at the other end of the bargain — construction.
He cites his credentials in the business of constructing buildings as being of the utmost importance in being able to safely bring them down.
After an extensive stint in Europe and the Middle East working on some pretty impressive construction jobs, Levien returned to New Zealand.
Aside from the slightly different configuration of the New Lynn building, Levien says that to his team it was simply "business as usual" with the component parts being separated out and placed in separate piles, ready to go to landfill or to various recycling plants.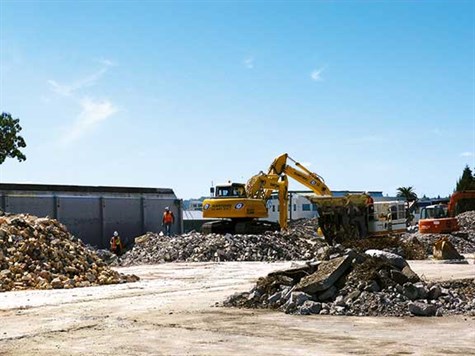 To date, approximately 1500 cubic metres of concrete has been crushed, with another 1000 cubic metres yet to go. The finished product will eventually be used in onsite drainage construction.
Based in West Auckland, Yakka Demolition's general manager, Andy O'Donnell, who is overseeing the New Lynn job says the company is permanently staffed by a team of 15 machine operators, truck drivers, and managerial staff, along with a further 15 part-time employees.
The company owns a vast array of machinery, including a 21-tonne Hyundai, along with a Doosan, a JCB, and Hitachi hydraulic excavators, all of which Levien says are very reliable machines.
Other machines being utilised in the deconstruction are the larger 33-tonne and 45-tonne Sumitomos, which are fitted with weed and rock buckets.
The 210LC7 Hyundai high-chassis machine has also been fitted with a concrete breaker and pulveriser purchased from Award Attachments.
A METSO LT95 concrete jaw crusher is being used on site for the concrete recycling. With a 930mm x 580mm jaw, the unit makes quick work of the pulverised concrete. Fitted with a magnetic belt, steel reinforcing is easily removed from the crushed product, enabling the cleaned aggregate to be safely re-used for the soon-to-be constructed building.
Levien admits to having a penchant for European trucks, hence the DAF LF 55 in his fleet, along with a A3-6T FODEN six-wheeler tractor unit towing a 20-cubic-metre articulated trailer.
Until recently, Levien had preferred semi-trailer's to eight-wheelers, as he previously believed tractor units were more versatile as they can be easily slipped under a transporter trailer as the need arises, giving his company more bang for its buck.
However, given a recent influx of new jobs to the books, the company has purchased an eight wheeler which is fitted with a Ringfeder.
Knowing Levien's preference for owning and operating European trucks, it will come as no surprise that the new bit of plant is the 420 HP Volvo FM12.
Yakka Demolition operates a fleet of Japanese-powered machines that traditionally gain Euro 5 compliance by employing EGR (exhaust gas recirculation), and a fleet of European trucks that gain the same rating by using SCR (selective catalytic reduction), thus having to have AdBlue tanks.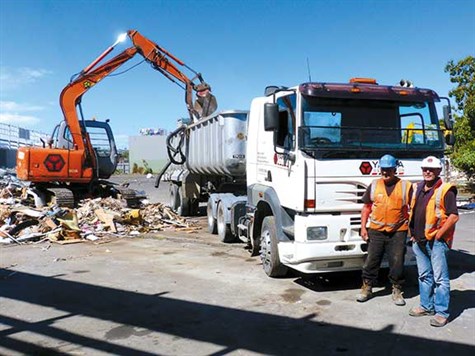 DOW asked Levien if having to fill up with AdBlue was an issue for his company, the answer was short and sweet.
"You soon get used to adding the extra step to your fuelling regime — besides it's well worth it to be running European trucks," he says.
When asked about owning a crushing plant, Levien says it makes better economic sense to only hire an appropriately-sized crusher on an 'as needed' basis.
It would seem the Yakka team is going to be busy over the coming months with demolition jobs on a supermarket in Orewa, a school in Glenfield, and a school in Ponsonby to name a but a few.
The company also has a number of jobs for the Corrections Department and is about to commence a large project in Wellington, so don't be surprised if the firm that's not afraid of a bit of hard yakka is on the lookout for a decent-sized crusher of its own in the very near future.
For more information visit yakkacontracting.co.nz
Watch as an A-WARD pulveriser works side-by-side with a Hyundai R210LC-7 to crush concrete and other debris at the old New Lynn Motors site in this video.
For the latest reviews, subscribe to Deals On Wheels magazine here.
Keep up to date in the industry by signing up to Deals on Wheels' free newsletter or liking us on Facebook.