Porter Press Extra: Contract Landscapes Limited
---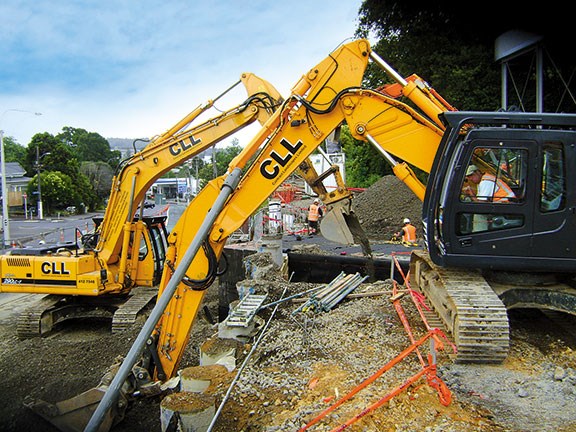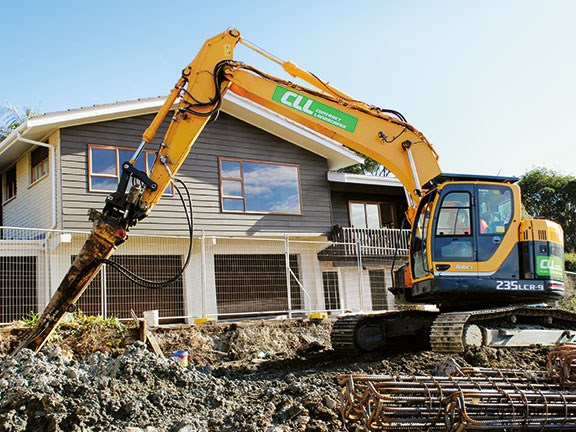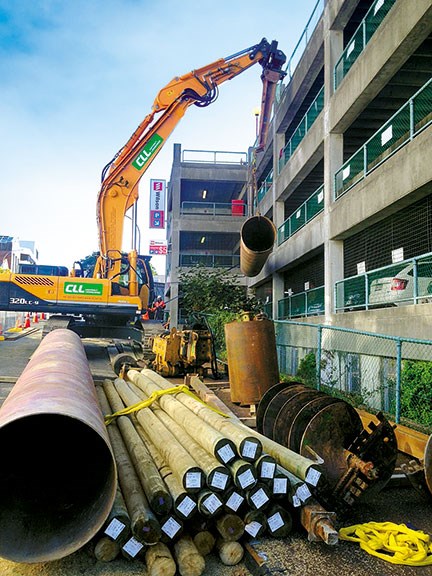 A CLL R320 lifting castings at Auckland's Victoria Park.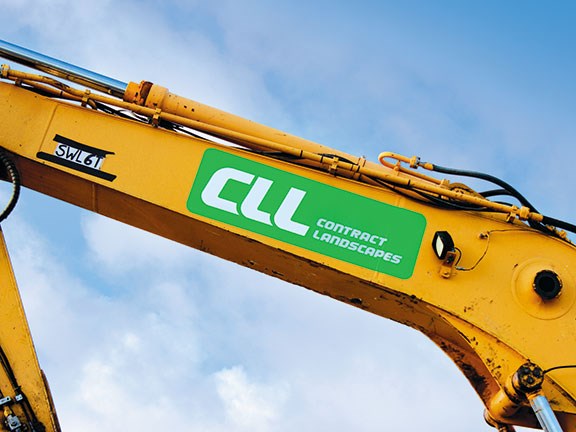 CLL runs approximately 40 excavators in its fleet, with an additional 10 machines on permanent hire.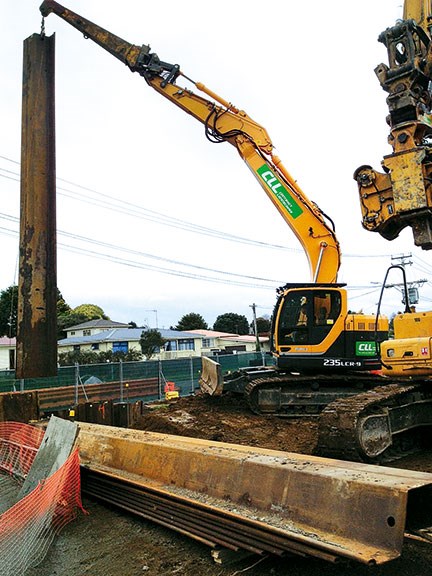 Sheet piling work at Puhinui Road in Manukau.

Truly innovative project consultancy, design, and build work becomes more straightforward over time with sound experience and the backing of good equipment – just ask Contract Landscapes Limited (CLL).
For CLL managing director Terry Donnelly, a reliable and robust excavator is a means to an end in that it's what's attached to the dipper arm that gets the work done.
An innovative company with offices in Auckland and Christchurch, CLL enjoys a solid reputation for bored, driven, and sheet piling, retaining wall construction, slip stabilisation, ground anchor installation, seismic strengthening, site decontamination and drainage, and foundation work.
Such a varied degree of services means CLL's equipment needs to be ready to go whenever and wherever required. This is where Porter Equipment's back-up and Hyundai's excavators come into play.
"We're very comfortable with our Hyundai excavator fleet — they offer us everything we need," says Donnelly.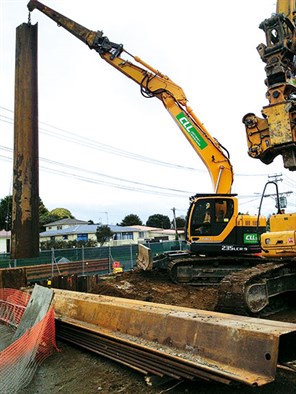 "To be honest, we don't use many of our machines as excavators per se, but rather we utilise them for our specialist attachments. The Hyundai machines feature high-flow auxiliary circuits, which is one of the reasons we use them. And we can tap into the Porter Equipment network at any time in any location around the country, which helps tremendously with our logistics."
With approximately 40 excavators making up its permanent fleet, CLL also runs another 10 or so machines on permanent hire from Porters, meaning gaps in the company's machinery resources can be plugged quickly and efficiently should the need arise.
So with such specific demands on the excavators (and specialised gear attached to them), what modifications does CLL require for new plant joining the fleet?
"A lot of our work demands maximum lift, height-wise," says Donnelly. "This means we always get Porter Equipment to under-sling the boom rams. We also ensure every machine features a high-flow, low-pressure return line to tank for when we're operating hydraulic vibroflots, our Multivibe piling hammers, or hydraulic drop hammers.
"We also utilise a third-party-manufactured full-rotating quick-hitch, which Porters fits for us. We have our own electrician who hardwires up the auxiliaries so they can be controlled from the cab without the need for cumbersome extra control boxes."
With 140 CLL staff across the country (including a wide range of professional and trade personnel such as engineers, project managers, estimators, piling technicians, welders, and drainlayers), Donnelly says he ensures his operators are rotated through various machines using different attachments for different tasks, in order to give the company an impressive depth of talent.
Helping to make CLL's practice of allowing staff to have a wide range of experience across multiple disciplines is the company's uniformity of excavator fleet, with its Hyundai excavators ensuring staff interaction with in-cab controls and machine operating parameters becomes second nature.
"There are cost-saving benefits here, too," says Donnelly. "Porter Equipment servicing and parts back-up is second-to-none, and having various Hyundai machines spread across the country, we know the service we'll get from Porters wherever we are will remain as anticipated.
"We don't have to negotiate deals every time we call Porters either. We can estimate our costs on any job accurately because — where our hardware is concerned — pricing and rates remain consistent."
The consultative work CLL does — both here and offshore — has increased substantially in recent years, with the team analysing existing design proposals and developing designs from scratch.
The scope of specialist project work CLL undertakes is impressive and not limited to established ways of working either — some projects even calling for unique equipment to be blueprinted in order to complete the work.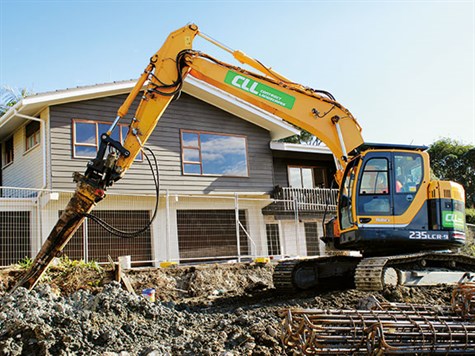 Ever innovative, Donnelly and his team have even recently developed a methodology for remediating ground damage caused by liquefaction, called Horizontal Soil Mixing (HSM). Additional to this and with Italian equipment manufacturers, GEAX and STA and Sireg, CLL has developed and imported specialist equipment for deep soil mixing, CFA, Vibroflot stone columns, piling and Vibro piling. CLL is currently rolling out horizontal soil mixed beams for installation under earthquake damaged properties in the Canterbury region.
While stand-alone machines like those supplied by GEAX ensure CLL stays ahead of the curve, Donnelly says having excavators that do what is expected of them is still vital.
"You can't underestimate consistency of performance," concludes Donnelly. "We take real pride in the innovations we've helped engineer and the difficult project work we've successfully completed. But in order to ensure those successes continue, having the backing of good, reliable machinery like Hyundai's excavators and the support of a company like Porter Equipment is crucial."
For the latest reviews, subscribe to Deals On Wheels magazine here.
Keep up to date in the industry by signing up to Deals on Wheels' free newsletter or liking us on Facebook.