Opinion: be thankful for the forestry industry
---
Patrick Cox reflects on the history of the forestry industry in New Zealand and its future.
As we all know, forestry is the third largest earner for New Zealand — we started planting trees commercially back in the late 1920s. Writing this article at the same time as we remember our ANZACs from almost a hundred years ago is quite poignant. The reason we all speak English and not German is because of the sacrifice made by our forefathers to retain our country's freedom for future generations to enjoy.
That is why we should also pay homage to those that had the foresight to develop a forestry industry for New Zealand — without them we would not have the forestry industry we have today.
A worldwide economic recession was beginning to make its presence felt in New Zealand towards the end of the 1920s. Tree planting was seen as constructive relief work for the increasing number of unemployed. Large numbers of out-of-work men were drafted into forest planting schemes. State forest planting dramatically increased from about four hundred hectares in 1921, to close to twenty-four thousand hectares in 1929.Between 1924 and 1937, a hundred-and-fifty thousand hectares of plantation forest were established.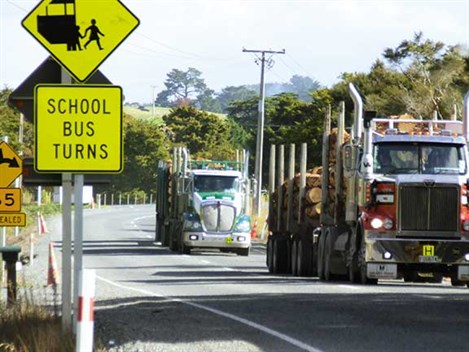 Over half of all the depression years planting took place in the Central North Island. There is now little doubt that had the planting boom of the depression not occurred, the present day timber industry would never have developed. Just spare a thought for those planters living under canvas at 60bar8 on the Napier Taupo Road, cold as hell in winter, enduring wide-open tussock plains with mean southeasterly winds, earning ten bob a week (one dollar in modern money).
These tough buggers planted around eight hundred trees a day. It's interesting that the method of planting has not really changed a lot — one man, one spade, one pack of trees on your back, and off you go.
Having logged this old crop Radiata, these planters did a great job — all neatly in rows with nearly all rows running east/west, very handy when hunting these flat blocks.
We have been planting and harvesting trees ever since and have a thriving forest industry, even if it is full of problems and moaners and groaners about this and that.
One of those issues arising on occasion by the trucking fraternity is whose going to pay for the up-keep and maintenance of our roads? The comment has come back that councils should have been aware that plantations of forest were being planted in their area thirty to forty years ago, and made the appropriate planning within their infrastructure to accommodate the increased pressure on our roading.
A review of national planting targets in 1971 concluded that the annual country-wide planting programme for the coming years should be in the vicinity of 32,500 hectares. In 1973, the Forest Service and privately-owned forestry companies planted 41,000 hectares — the largest area ever planted in a single year. That's a massive amount of wood to come on stream and to plan for. I guess those not associated with the logging industry could not foresee the impact such a huge volume of wood would have on the local infrastructure.
Who the hell plans thirty to forty years in advance? I bet there are not many of us who live in this fast-paced society planning that far ahead. The councils (governments thirty to forty years ago, although still called the same) have certainly had changes. Why should ratepayers, who have no involvement in forestry, have to subsidise an industry for nil return? Should the owners of the forest pay a dividend on trees harvested towards the national roading fund? Hang on, the original developer of the forest sold its interest after ten years to another forest owner, but they too sold out after twenty years, so someone has to pay.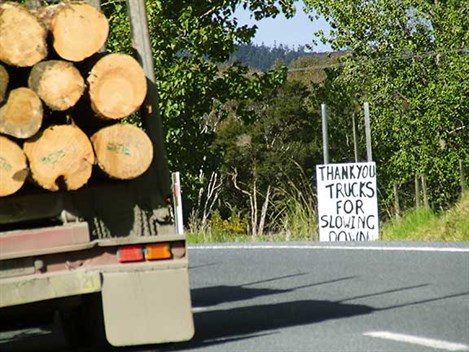 Should the logging truck companies pay a bigger share of road user charges? The wall of wood is certainly going to provide an excellent return on their investment. The Government should also put its hand in its pocket — it, after all, passed the law to allow fifty-tonne juggernauts on our roads.
How much money generated by forestry flows back into the community? Apart from wages paid to loggers and truckers alike, who is making the big bucks? Most of our forests are now owned by overseas investors and managed by local companies — are they paying their share of tax?
The reality is logging truck companies cannot point the blame at local bodies for not being prepared for the roading problems. Respective governments of thirty to forty years ago encouraged planting with vigour, so the buck stops with them when it comes to fixing our roads. It's going to get worse before it gets better — logging truck companies are short of trucks and drivers, and country roads through high-density lifestyle blocks are starting to feel the effects of increased truck flow.
Commuters and school buses using these roads are cause for concern. Maybe now is the right time for railways to step up to the mark. We have a lot of rail line around the country going rusty, but still very capable of being revitalised to move a huge proportion of the wood available. Railheads would be the obvious choice to reduce the damage to our roads, reduce the need for more trucks and drivers, and set up quicker cycle times for the trucks back to the logging crew.
There are options out there. It needs someone with the guts to make changes — someone who's accountable for the maintenance and upkeep of our roads. Central government would be my call, but there is no doubt the volume of trucks on one country road through lifestyle blocks is getting to a dangerous level. In less than fifteen minutes, fifteen loaded logging trucks thundered down the road where this photo was taken — scary numbers, and all thanks to those old-timers who pioneered the forest industry in the 1920s.
For the latest reviews, subscribe to Deals On Wheels magazine here.
Keep up to date in the industry by signing up to Deals on Wheels' free newsletter or liking us on Facebook.