Profile: Waitakere Refuse and Recycling Station
---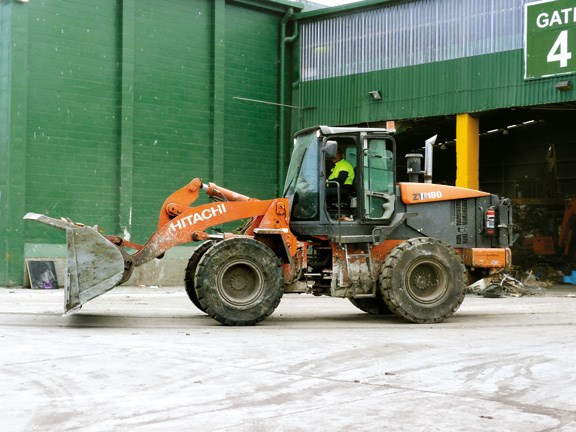 It may be battle-scarred from seven years of hard work, but the Z180 is still a reliable piece of kit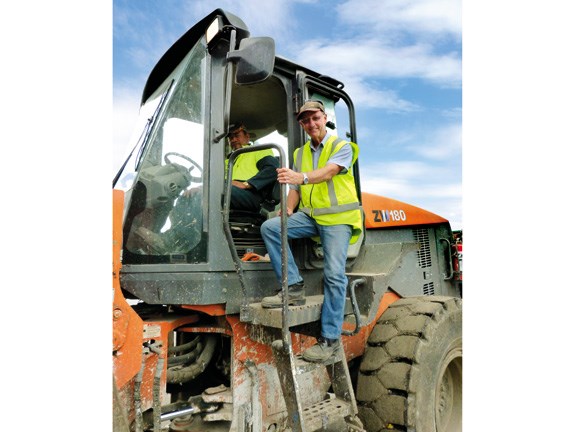 Asipa Leota at the controls while boss Lawrie Blair has his photo taken.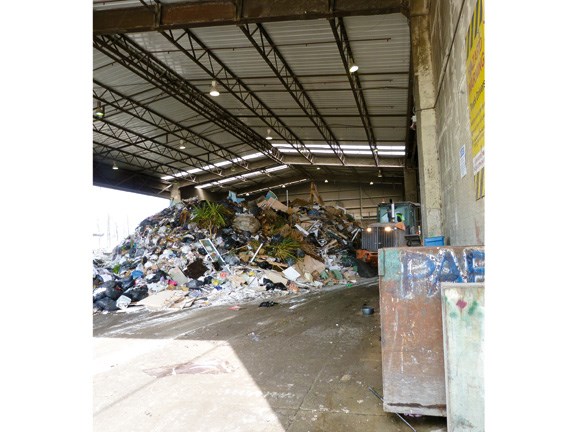 Around 300 tonnes of rubbish is processed at the station every day.

It's not until the rubbish truck forgets to visit your house on rubbish day that you realise what an important role the garbage collector plays in your life. Where does all that stuff end up? Deals on Wheels went along to the Waitakere Refuse and Recycling Station to find out.
Once known as the Baling Station, where all the collected rubbish was compacted into transportable cubes and taken off to a landfill site, the 2014 operation is something quite different.
In 2014, all waste delivered to the recycling station by whatever means goes to a section of the plant which is pertinent to its component parts, ensuring that a refrigerator, for instance, is placed in the appliance area, ready to be sent off for recycling as opposed to a rubbish bag which will go off to a landfill site.
Operations manager Lawrie Blair's been a part of the process for quite a while now, having been at the station for a good part of the time that it has been operating. He did his first stint there way back in 1984.
Supervisor Keith Jones is getting to be an old hand as well. He's been a part of the team for ten years now. When you take into account that he works a six-day week, it's only reasonable to assume he knows his way around the operation pretty well by now.
Jones says there's always something happening. With around 300 tonnes of rubbish in its various forms coming in on a daily basis, one can imagine that it's a pretty busy place to be working.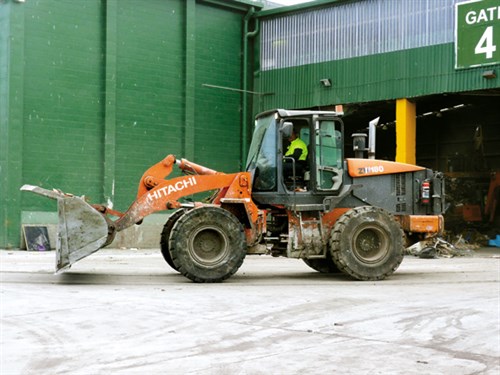 Walking around the plant, it's easy to see it's a harsh environment for the machinery to be operating in. With it being a seven-day-a-week operation, the gear is constantly worked hard.
Jones goes on to say the company has recently ordered two new four-tonne Yale forklifts to replace a 3.5-tonne Mitsubishi and a 4.5-tonne Nissan that have both worked well for the firm over the years they've been in use.
Both new machines, like the old ones they'll be replacing, will be fitted with fork rotators, allowing a bin to be secured in place to allow the forks to be rotated 360 degrees in order to facilitate dumping of the entire contents of the bin.
Also up for replacement in the near future is a 2007 Hitachi ZW180 loader that most of us who visit the recycling station have seen in almost constant operation over the past seven years.
The team is currently in the process of evaluating up to five loaders of different makes and models.
The initial evaluation won't be based strictly on purchase price, as in the early stages of its research the company is keen to focus on attributes such as health and safety, operator comfort, ease of access for daily maintenance and the like.
Features such as good forward and rear vision are all-important prerequisites of the evaluation process, as the machine the team finally decides upon will spend its days working amid moving vehicles and hard-to-negotiate spaces, such as inside buildings supported by a plethora of pillars.
Other features, such as climbing in and out of the operator compartment, noise levels within, fuel economy and, of course, the very important question of how much grunt it has, will all be fed into the matrix before a final decision is made in a few week's time.
Tyres feature high on the list of priorities too. Every machine on site is fitted with solid tyres in preference to the pneumatic variety.
A quick nosey at a just-delivered pile of timber and sharp pieces of steel gives even an outsider an appreciation of how long it would be before something was going to cause the air to escape from a pneumatic tyre.
It's for this reason that refuse station budgets on spending $20,000 or more on a set of four 'cushion solids' loader tyres.
Even by buying the best tyres on the market, they know they're going to be up for another set in around eighteen months or so.
A back-up loader, a 2000 model LD90 Volvo, at the time of our visit was up on blocks awaiting new rear tyres.
Jones says the Volvo is ideally suited to work at the recycling station, as it is equipped with diff locks which make it ideal for working on the smooth concrete surface, which is often wet, even during fine weather.
The Volvo and the ZW 180 Hitachi are fitted with purpose-built oversize buckets, the point of which is to keep the rubbish from fouling the wheels of the machines during a big push.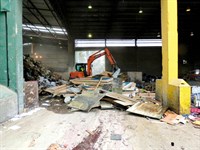 To achieve this, the buckets have had 300mm added to each side of the bucket, Jones says.
Also hard at work on the day of our visit, and up for replacement in the near future, was a 5.5-tonne Doosan digger.
This machine is fitted with a grapple and is used to sort the likes of timber and steel from the piles of general rubbish, ensuring that as much recyclable product as possible is able to be sent to a recycling plant.
While it was parked up during our visit, there was also a pretty impressive-looking 20-tonne SH200 Sumitomo machine fitted with a grapple that looked like it was capable of handling some pretty hefty objects. It's a pity it wasn't operating on the day.
While much of the work is carried out by the Auckland Council-operated recycling station's staff, there are a number of private contractors working on site as well.
Each contractor is responsible for a specific part of the operation, such as collecting the household rubbish, baling PET (soft drink) bottles and HDPE milk bottles, and sending timber off to be turned into wood chip for use as fuel in cement kilns.
Even the glass bottle from the 'cold one' the boys at the plant drank after a hard day doesn't go to waste — there's a contractor on site to make sure that gets recycled too!
For the latest reviews, subscribe to our Deals On Wheels magazine here.
Keep up to date in the industry by signing up to Deals on Wheels' free newsletter or liking us on Facebook.