Porter Press Extra: Ward Group
---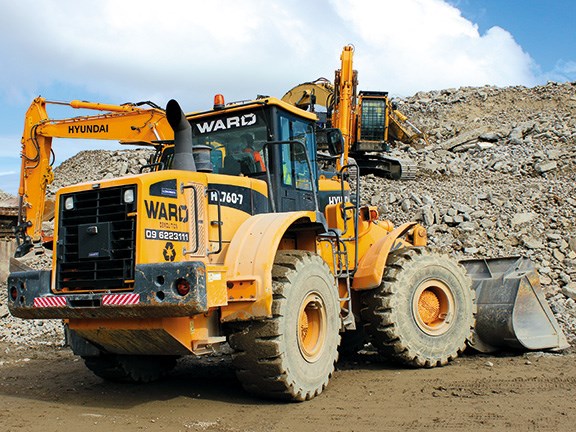 Ward Demolition also runs three Hyundai loaders, including this HL760, an HL770 and an HL780.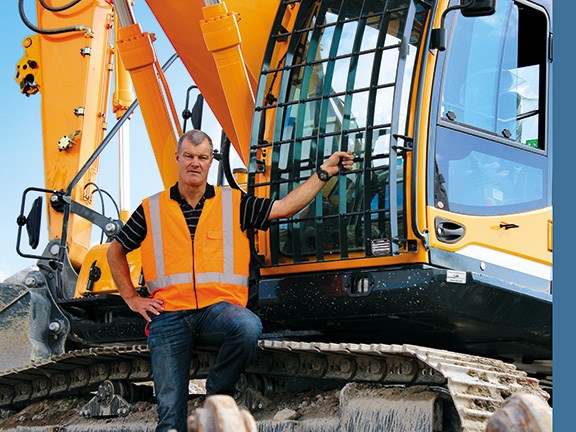 Peter Ward, the man behind the machines.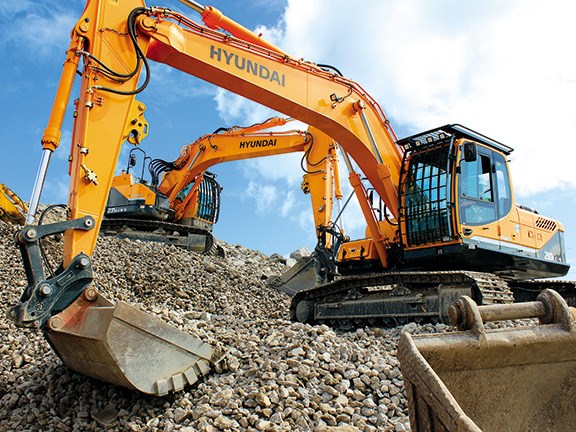 Ward Demolition's R210LC-9 and R235LCR-9 at the company's Onehunga yard in Auckland.

With a large portfolio of projects on the go at any one time, Ward Group's Peter Ward needs to know he has gear that'll stand up to the challenges of demolition work.
The Auckland-based Ward Group has projects of all sizes on the resume — not least the high-profile demolition of Christchurch's Grand Chancellor Hotel following the February 2011 earthquake.
While these days the wider company — incorporating resource recovery and recycling, salvage, and quarry management — has branched out into consultative services throughout New Zealand and the Pacific region, Peter says demolition projects remain at the forefront of what Ward does. And for that he needs the right gear.
"The Hyundai machines I run are sound and reliable — I wouldn't run them if they weren't, it's as simple as that. Get the right machine on the right task and it'll go forever."
Just as impressive is its managing director's handle on exactly what machines he has and where they are. Peter chalks up a variety of gear on the conference room whiteboard — among them an impressive 21 excavators and three wheel loaders, including a couple of brand new R210LC-9 excavators, an R235LCR-9 'zero swing' excavator, and a new top-of-the-line HL780-9 wheel loader.
"Porter Equipment's back-up service is very good. We have a couple of full-time mechanics on staff here, but at the end of the day I don't want to see workshop bays full of gear that needs fixing. I want something that's going to do the time for me without an issue."
Peter says it's often a surprise to people just how much equipment the company runs, but as he points out, it's never in one place at one time.
"We have so many different projects on the go, and a need for specialised equipment, so changing out our fleet and acquiring newer gear is a constant process. We don't do it for the sake of it, we do it because this business isn't easy on gear — it's as simple as that.
"It's pretty easy to spend a million bucks in a year on equipment when you look at individual machine costs, so I want to know that I'm getting a good digger or loader and good back-up as a result."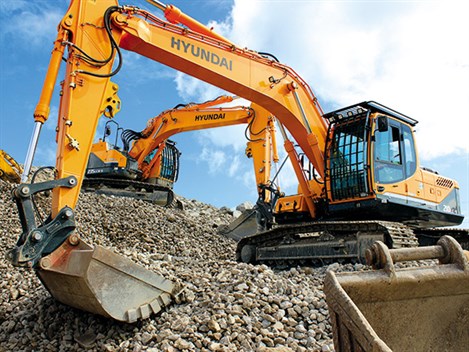 While new machines, like Hyundai's 'Dash 9' excavators come packed with modern convenience features like ergonomic cab layouts, air conditioning, and stereos, Peter acknowledges the operating technologies his newer machines boast result in a healthier bottom line for the company.
"With that increase in complexity also comes better reliability and more fuel-efficient engines. And it doesn't matter how big you are — you can't underestimate your running costs."
The increased specification extends to safety equipment too, so Peter says he does very little modifying to his new equipment these days.
"Out-of-the-box Hyundai gear comes fully kitted-out, which is great. The new gear all features breaker piping, two-way valves, ROPs, FOPs and a quick-hitch as standard. There is mesh guarding around the cab too, which is good. All I really do is fit catwalks to the 210 excavators so that if you hit anything, you're not damaging sheet metal."
Peter says he also likes the ease with which Porter Equipment can plug a gap for him if needed.
"If we're short on a machine for a specific task, we can grab a rental and it's going to be the same as one I own. That uniformity is crucial with my attachments too, because I know any attachment I use on my own digger will fit onto a hired machine and the guys on the tools won't have any issues."
For the latest reviews, subscribe to Deals On Wheels magazine here.
Keep up to date in the industry by signing up to Deals on Wheels' free newsletter or liking us on Facebook.