Product test: Griffin Cases
---
The tablet stands upright thanks to handy legs at the back of the case.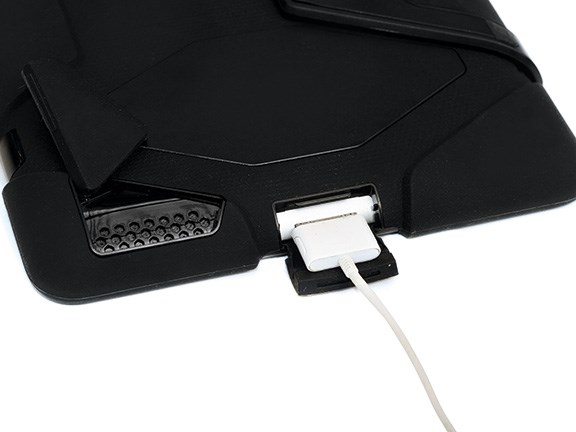 Rubberised openings are easily popped open.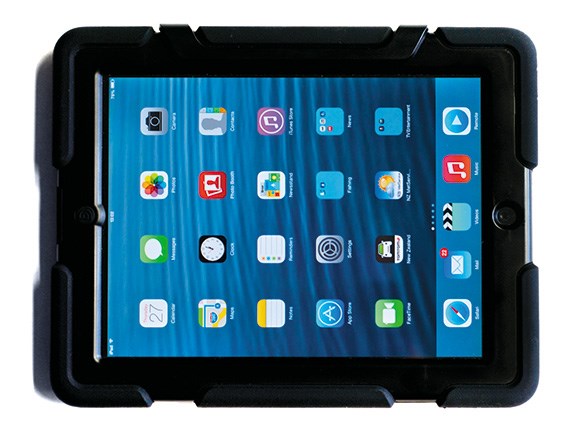 Survivor for the iPad.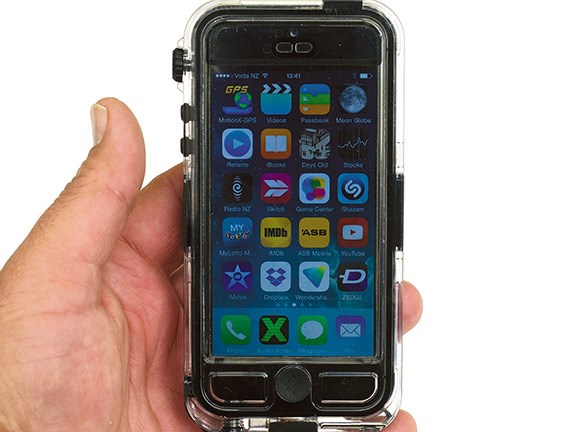 A sturdy Griffin case protects the phone.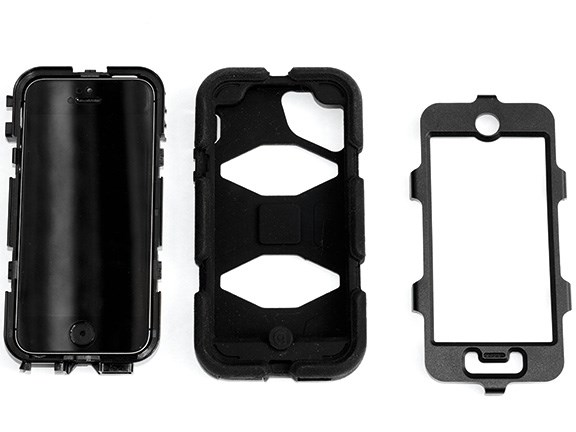 Military-grade standard protection.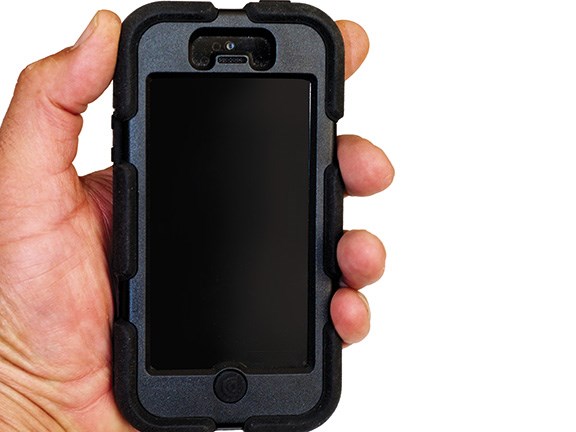 Survivor for the iPhone.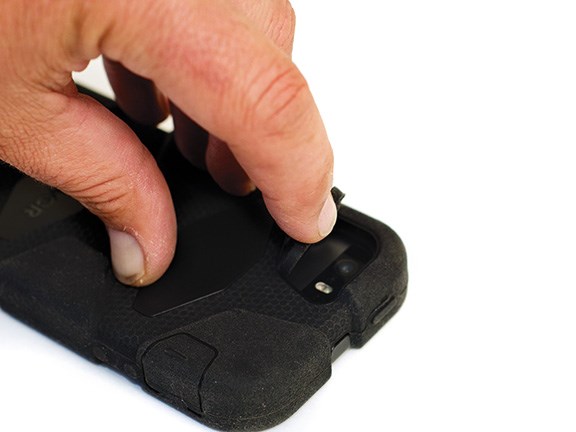 Rear camera cover rotates out of the way during use.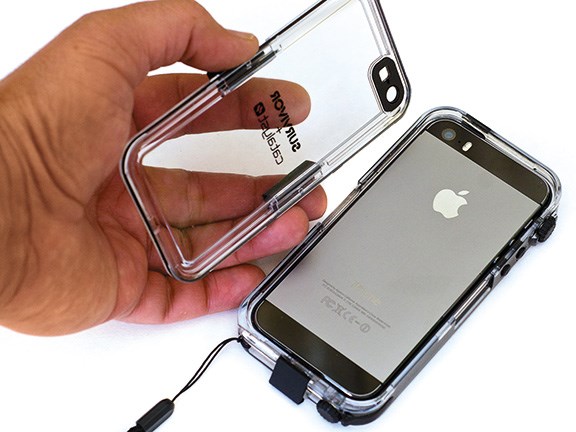 Easy in, keeps water out.

The team at Griffin Technology has sent us four cool-looking, heavy-duty smartphone and iPad cases. We put them to the test and see just how user-friendly these cases are in the real world.
Ridiculously over-engineered or the perfect case? Well, it depends on you, the user. For some people these rubberised cases will seem completely over the top, and rightly so, as they can be large and cumbersome items. Certainly not what you would use in an office on a day-to-day basis, although some do. But if you work in the elements, then the nice sleek leather case isn't going to last long: you need something that's as tough as you are.
Put simply, smart devices cost a lot of bucks and in this internet-crazy world you need to be plugged in 24/7 to make any real money. These military-spec rated cases can help keep you in contact and on the move. After all, that's what we do and all we want, right?
The units and features
Survivor case for iPad 2, iPad 3, and iPad (4th gen)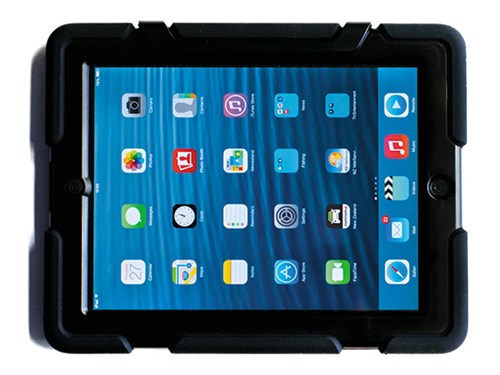 The great thing about an iPad is that you're not expected to put it in your pocket. This means the cases can be nice and rugged and size is not really a consideration, unlike a phone. And nice and rugged this case is. Put simply, this case is cool. You can use it anywhere you go (underwater being the exception).
Dust, rain, or snowproof, this cover has most options, well, covered. It comes with a base stand that can be clipped onto the side of the cover. Using this you can stand the iPad upright for viewing or have it only slightly angled upwards, so it's in a great position for typing. It's not quite as rugged as the case is, but is a great attachment nonetheless. The case adds a bit of bulk to the iPad, but I think it looks better.
The rubberised outer shell is easy to grip, with indents built where your fingers naturally fall when you pick it up. The case works so well that I've never felt a need to remove it, like I have with some other makes.
Survivor vs. Survivor + Catalyst (iPhone 5/5s)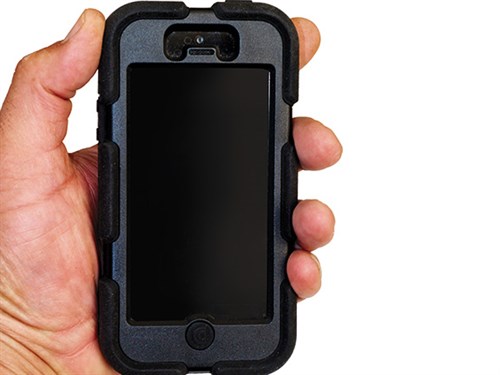 I found the Survivor case a bit fiddley to put on, but with a bit of perseverance I got there — and it was well worth it! I really like this case. It feels good in my hand and doesn't slip around in my car. The ports are covered by rubberised openings that can pop open and be reclosed. If you have no fingernails then this might be a problem, as it was for one of my colleagues. The Survivor also comes with a belt/pack clip that's a good design and works very well.
The home button had a nice click feel to it and didn't require a lot of force, unlike the + Catalyst model, which I found I had to press harder then expected to make work. Both models had a great finger sensitivity feel to them. There was no gap between the protective cover and the phone screen that I could see. Swiping back and forth and opening apps required the same pressure, as if the cover wasn't even there at all. I've tried other protective covers in the past, and this has always been their downfall. They have all had a dead feel to them. It's this beautiful soft touch that makes a lasting connection between the user and the phone. They didn't have it: these models do.
A couple of issues came up with the + Catalyst model. Firstly, I couldn't use the fingerprint reader identification option that comes with the iPhone 5s. I know it must be hard to make it work with a waterproof case, however others have done it and it's a bit of a pain not to have it. Once you are used to using it, you don't want to go back to four-digit pins again.
The other issue is when you use the headphone adapter. The adaptor itself works very well and I've no complaints about that, it's just that it's so easy to lose. I hope they're cheap to replace. The clear case makes it easy to check that the O-rings are all seated correctly when it's closed up tight and to check for any damage to the case. This is important when you take the phone underwater to a depth of three metres. Impressive!
The smooth case does make it a bit slippery, but not too bad. It's certainly easier to remove from your pocket than the rubberised version — I was always pulling the inside of my pocket out with that one.
What about the Samsung S4 case?
My colleague tested the Samsung S4 Survivor case.
He had trouble attaching the front cover to the back cover. On closer inspection, he found one of the locating pins was badly bent out of shape. If this was your case, you'd have rightfully arranged a replacement, but as we had a deadline for this article, we were unable to do this.
The rubberised surround was harder to put on than the iPhone model, but that may be because the S4 is so much bigger than the 5s. Once on it was fine, although there was slight movement on one corner where the cover would click on and off if you moved it. No real problem, just annoying.
Verdict
All of these cases were really good. I would recommend the iPad case without any hesitation. With the phone covers it comes down to what you really want from a case. The Survivor is excellent and I would choose this if I didn't plan to submerge the phone at any time in the future.
The Survivor for the S4 didn't seem to work as well as the model made for the iPhone. The rubberised case had to be in exactly the right position for the volume controls to work. However, once this was discovered and put right, there were no more volume issues. Having a bent mounting pin didn't help, so maybe a non-damaged example would be OK.
The Survivor + Catalyst model looks really cool in clear plastic and is excellent model to choose if you play or work around water and you don't use the headphone cable that often.
Survivor cases are available nationwide from: Dick Smith, Harvey Norman, Noel Leeming, and JB Hi-Fi. iPad Survivor (drop, wind, rain, dust, vibration) RRP $129.99 iPhone5/5s/S4 Survivor (drop, wind, rain, dust, vibration) RRP $69.99 iPhone5/5s + Catalyst (Survivor options plus waterproof) RRP $99.99
For more information visit griffintechnology.com and for the latest reviews, subscribe to our Deals On Wheels magazine here.
Keep up to date in the industry by signing up to Deals on Wheels' free newsletter or liking us on Facebook.