Profile: Xtreme Contracting Ltd
---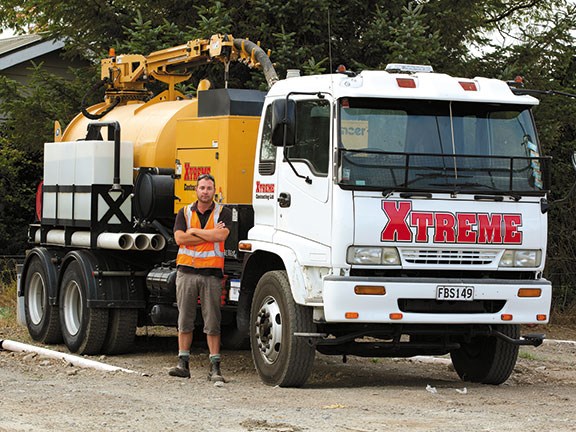 General manager Paul Worthington trusts Isuzu trucks.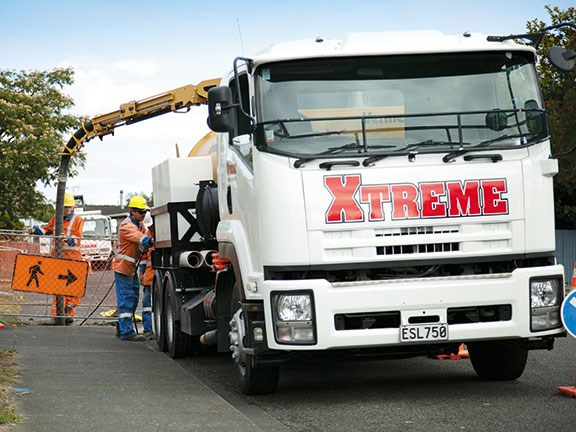 Immaculate 2007 Isuzu FVZ 1400 – looks and performance.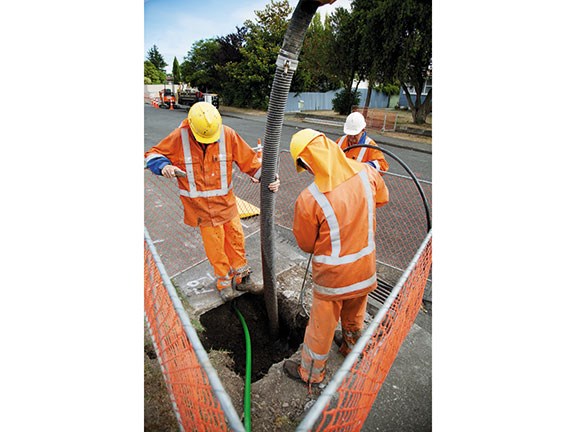 The Isuzu-mounted Vermeer VSK1200HD hydro-excavated this hole in short time.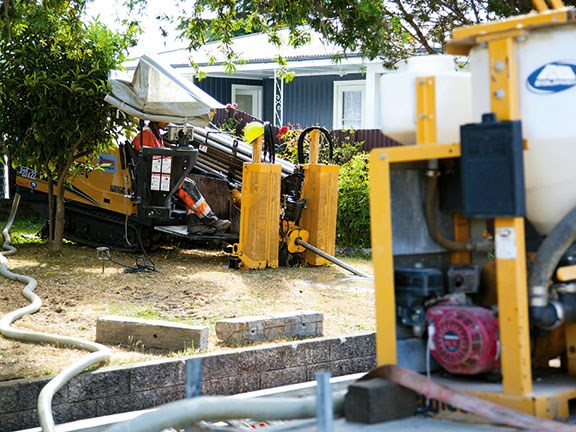 With 22,000lb (89kN) thrust, this Vermeer D20x22 Series II drill's fast.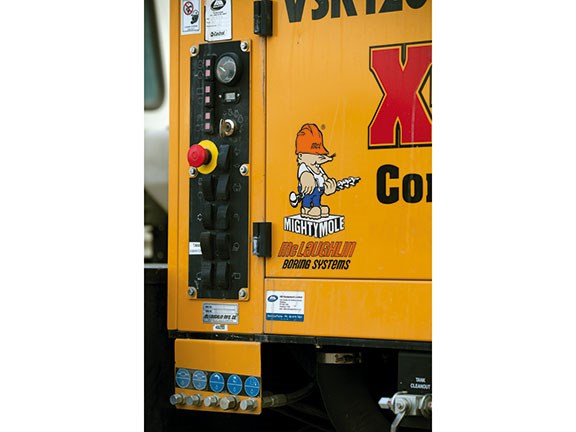 McLaughlin – nearly 100 years experience making drilling industry tools.

Xtreme Contracting Ltd currently spends about half its time on directional drilling and half doing hydro/vacuum excavation, mechanical excavation, telecommunication and electrical network installation, water/sewer/storm water installation, gas network installation, and traffic management.
Extreme seems an apt title for a civil contractor successfully operating in multiple specialist contracting sectors. General manager of Xtreme Contracting Ltd Paul Worthington has been operating the business for nine years since seeing an opportunity to enter the local contracting market. Speaking with Worthington in the Omahu Road office, you quickly get a feel for the pride in workmanship that this company has in its mission to carry out damage-free work.
Worthington attributes much of this to the three hydro-excavators mounted on Isuzu trucks sourced and serviced via Deakin Motors. This specialist gear and the job it does makes for some interesting reading, but first it needs to get on site. And that's where the predominantly-Isuzu fleet steps up to the mark.
Trucks in this type of work need to be able to handle lots of stop-start work, have good, safe visibility in a busy urban environment, ease of access, and most importantly be reliable.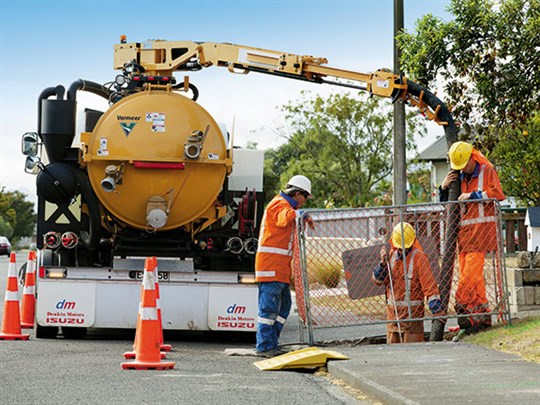 The newest Isuzu in Xtreme's fleet is a five-tonne 2013 NQR500L with a small tipper body that was kept busy dropping off backfill to a very tidy Bobcat BC-E26 excavator. Watching the unit pull off a busy main road across a grass verge to meet the excavator, you could see it was an ideal tool for the job. With a 5.2L diesel engine putting out a very reasonable 186hp and 510Nm of torque, it has no trouble getting about.
The stand-out truck in the hydro-excavator trio would have to be the 2007 Isuzu FVZ 1400, which is looking very tidy. Just a few horses shy of 300hp, its 7.8L diesel engine is under no stress either carrying its Vermeer VSK1200 HD hydro unit from job to job.
Looking at both these later model trucks, a key stand-out feature relevant to this type of work appears to be the great visibility. You can see the designers have put some thought into it with the mirrors and also the glazed passenger door panel.
Also on hydro duties are a couple of older Isuzu FVZ 1400 trucks circa 1999 and 2003. Fitted with the 9.8L diesel engine making about 266hp, they make no fuss of getting the job done either. There can't be too many drivers out there who haven't spent a little time behind the wheel of this very common model. The author has good memories of an ex-East Coast contractors unit refitted with a curtainsider tail lift body that became a very reliable Auckland metro unit. Even if the 15-speed Roadranger gearbox made for extra work in city traffic, that truck certainly never let me down.
A real hallmark across most of the Isuzu trucks would have to be a good logical layout of dashboard and controls, which is important in a line of work where anybody might have to jump in and drive any truck in the fleet.
Other Isuzu units in the Xtreme fleet include a 1997 FSR slide deck tipper with 8.2L diesel engine, a little 1996 Elf tipper, and a 1994 FTR forward slide deck transporter.
A couple of Hinos in the fleet do their best to keep the Izuzus honest, with a 1992 FW2F flat deck transporter and a 1992 FW2F ranger tipper sharing the fleet's workload.
When asked about the trucks in his fleet it seems Isuzu is an easy and logical choice for Worthington to make. Commenting on the reliability of the trucks and service from the nearby Deakins' yard, Worthington says he plans to stay with the Isuzu brand as its working well for his busy fleet.
The Vermeer hydro-excavators are impressive to watch in their speed of work, each unit able to extract up to four cubic metres of material before having to unload. The key attribute though is that their use has reduced average strikes on underground services from once every 1.5km to once every 6500km.
Also, the use of hydro-excavation over traditional mechanical digging has reduced the time taken finding buried cables from a day, down to 30 minutes or less, and with a virtual zero-damage technique. Worthington says the units are great for safely working around and under high voltage transformers without damaging cables.
Heading around the corner to Dover Road in Flaxmere, we saw the gear in action. Most of the company's 20 employees were on site in the on-going project to install the new nationwide fibre optic broadband internet cable network.
First impressions were of a very tidy operation, helped by the inhouse site traffic management service. Xtreme Contracting has four level-one STMS trained staff and four traffic control trained staff amongst its crew. Talking safety, Worthington mentioned it was a goal to take their already good workplace safety level another bar higher.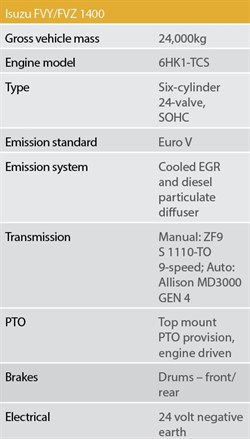 Watching the hydro-excavation take place, it was immediately clear what an efficient and productive technique it is. And this was operating in an area of 'running metal', where there is a high gravel content in the soil. It makes for slightly slower going than normal soil and occasionally a larger stone might jam in the extraction hose. When that did occur a couple of times, the crew seemed to have no problem in quickly clearing the blockage. Certainly much faster than restoring services cut by a traditional excavator bucket.
After watching the crew finish hydro excavating a larger hole for a junction box, site safety manager Charlie Richmond took us around the corner to see a smaller 'pothole' being dug to map services. Richmond explained that they don't take for granted where local underground services might be. In a matter of several minutes a small pothole had been hydro-excavated in the grass verge to confirm the direction of a water main. It is great to see this attention to detail from a contractor taken to avoid disrupting existing household services we all take for granted.
Once the green cable conduit is laid underground, the fibre optic cable itself is blown through with compressed air and connected at the junction boxes.
The combination of Isuzu and Vermeer gear seems to certainly have Hawke's Bay well on the road to the extreme high speeds of the fibre based broadband network.
For the latest reviews, subscribe to our Deals On Wheels magazine here.
Keep up to date in the industry by signing up to Deals on Wheels' free newsletter or liking us on Facebook.