Porter Press Extra: Selwyn Quarries Limited
---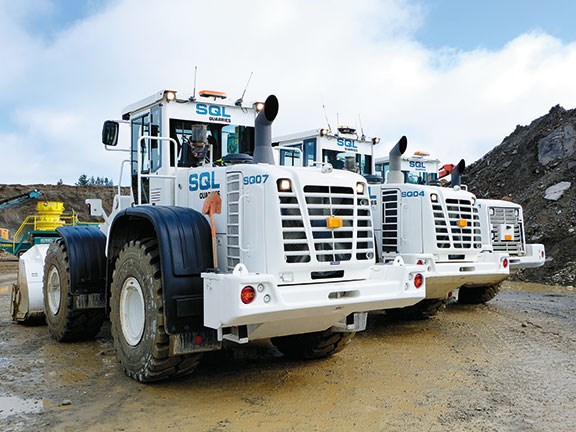 Note the flasher units at the rear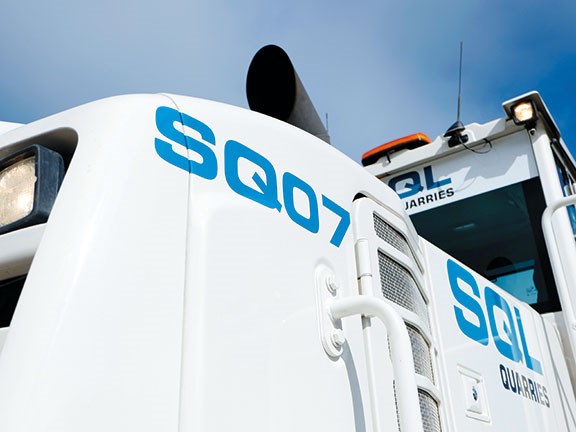 SQL runs three Hyundai loaders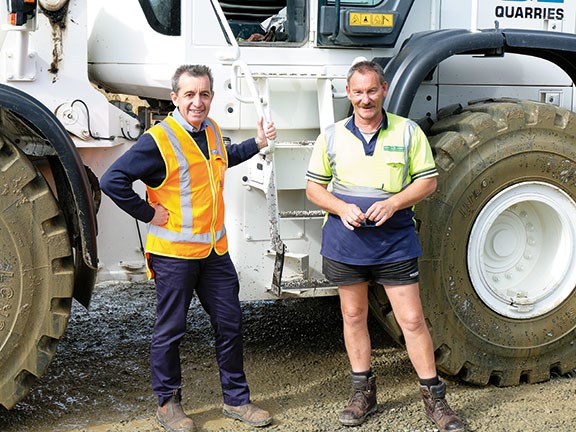 Stewart Callaway (left) and Chris Hardwick of SQL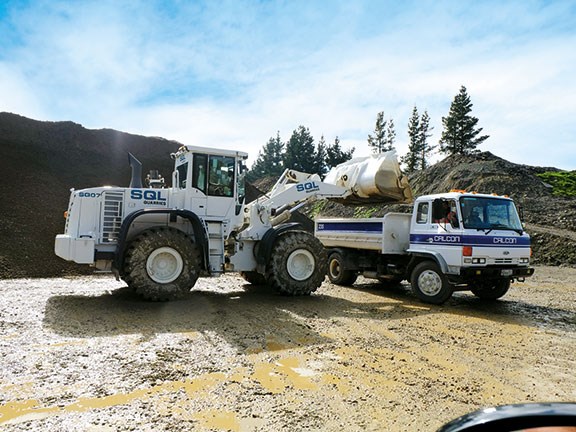 Another load of gravel heads out the gate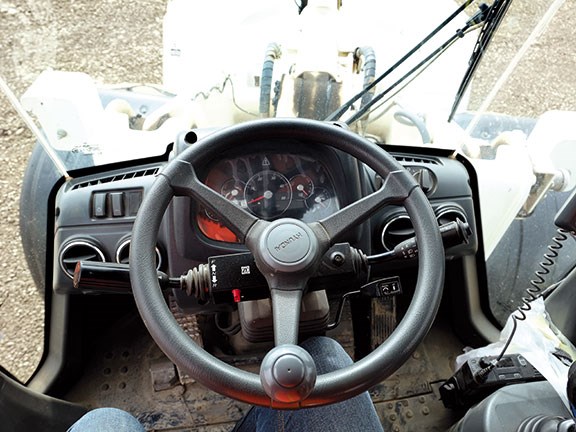 Plenty of room and visibility in here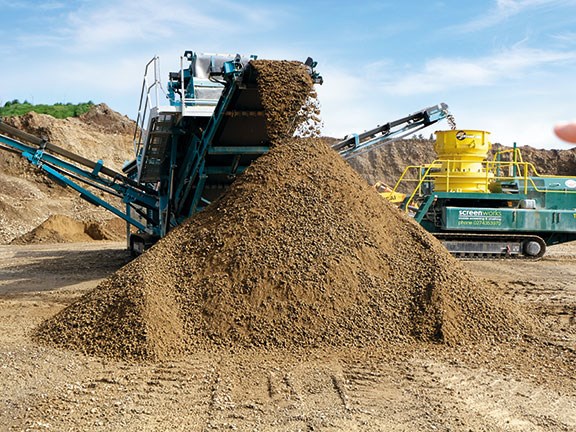 Crushing is undertaken by a third party contractor

Selwyn Quarries Limited might be running a smaller operation than many established sites in the Christchurch area, but with all the right ingredients for success in place — including a fleet of reliable Hyundai wheel loaders — it's punching above its weight.
As clichéd as it sounds, that faithful old maxim regarding the three most important aspects of real estate (location, location, location) is utterly true — even when it comes to holes in the ground, as it turns out.
Just ask Stewart Callaway and Chris Hardwick of Selwyn Quarries Limited (SQL). Compared with other sites in the greater Christchurch area that have been quarried continuously for 50 or 60 years, their operation has only been up and running since November 2010 (they self-deprecatingly refer to themselves as 'Johnny-come-lately's).
But watching the trucks endlessly rolling in and out — not to mention witnessing an all-Hyundai loader fleet that barely rests — you can see they're catching up with the more established sites in a big hurry.
Despite boasting a long history as a way-point for horse-drawn wagons heading south from Lyttelton, the Selwyn Road site was gazetted as a shingle pit as early as the late 19th century. It remained in local government hands for the intervening decades, until Callaway's Calcon Group put a proposal into council to manage the site.
It took what Callaway refers to light-heartedly as "eighteen months of argy-bargy", but eventually SQL was born: the quarry opening its gates in 2010, mere weeks after the first significant Canterbury earthquake.
"The process was pretty complex but it has certainly proved to be worth the effort," suggests Callaway. "The original business case was for around 60,000 tonnes a year — just a small business servicing Calcon with room for maybe 10 to 15 external clients. Well, today we have 115 external clients!"
So tectonics aside, what's the main driver behind SQL's rapid success? That's right — the 'L' word.
"Selwyn District is probably the fastest growing area in New Zealand right now. It's changing shape at an incredible rate and we're right in the middle of it all. In fact, we're equidistant from Prebbleton, Rolleston and Lincoln. They're all about five kilometres from here," Callaway elaborates, motioning to all points on the compass.
"What's more, Hornby is another five kilometres east, and we're going to see even more significant commercial development there, which we'll also be able to service."
The key for SQL is that the quarry sits on a finger of alpine gravel jutting deeper into the expanding western fringes of Christchurch than any other site.
"Millennia ago the Port Hills were volcanic, so from the eastern side of the city we have volcanic mud and clay, and from the Alps in the west we have gravel," explains Callaway. "You go about one kilometre further east from Selwyn Road and the ground turns to clay, but from here back to the mountains it's gravel all the way."
Christchurch is ringed with other fingers of gravel, especially around its northern fringes along the Waimakariri River where big established quarries lie. But SQL's operation benefits from being further south, right where all the development action is.
"The roading network isn't as good over towards the airport," says quarry manager Chris Hardwick. "Truckies have a rather fraught trip getting in and out of the city, because they have to cross state highway one and other main arterials without the benefit of traffic lights, which slows journeys down significantly."
As a result, SQL's operation is rather a busy one, seeing around 200 trucks a day pour through the gate. They're loaded with a variety of product, including Canterbury pit run, Transit spec M420 and M440 for roading, as well as crushed AP65, AP40 and AP20 and other variations on AP40 featuring more silt for finishing work. Many trucks also bring in clean fill.
No wonder then that SQL's bright white fleet of wheel loaders — a Hyundai HL760-7A and two HL760-9s — barely stop moving the entire time I'm on site.
The HL760-7A has been at Selwyn Road since 2010 and is coming up to 7000 hours. In fact, until earlier this year when the two newer machines arrived, Hardwick and the HL760-7A did everything: loading 10,000 tonnes a week solo, as well as managing the dump.
"That machine has covered 35,000km and it's never been out of the gate!" laughs Hardwick. "Our busiest day here so far was a great advertisement for the reliability of the Hyundai. According to the load-out, there was a truck going out the gate every three-and-a-half minutes. That's 3450 tonne for one man, one loader, in one day. Not bad!"
Both Callaway and Hardwick are adamant that the Hyundais' represent a good investment for SQL and in the past three years the loaders have proven very reliable.
"Right across the board they've been good machines," says Hardwick. "In terms of performance, operator comfort, reliability and noise levels, they're really up there."
Aside from the striking paintwork, the machines remain pretty stock after arriving at the quarry. Although there is one aspect of operating on a site in a semi-rural area that has seen Hardwick affect his own mod.
"As soon as the loaders' arrive here we pull the reversing beeper. We have houses butting up to our boundaries, so instead of the audible alarm we've replaced them with flasher units that get mounted to the rear of each machine.
"As soon as 'reverse' is selected, the flasher begins operating, giving the truckies a clear signal. Those are in addition to the standard reversing cameras fitted to the Hyundais' too."
Since joining the HL760-7A at the beginning of the year, SQL's two dash-9s have earned their keep on the pit floor as well, with the older of the two racking up an impressive 2000 hours in around nine months. SQL's well-maintained machines are joined on site by two more HL760-9s owned and operated by Southern Screenworks, which handles the crushing contract at Selwyn Road.
So how does SQL manage to get so many trucks out the gate without endless queues? Clever management on the part of Callaway and Hardwick for a start, but helped endlessly by an in-cab ticketing system that completely eliminates the need for a weighbridge.
The third-party-supplied Loadrite system lets Hardwick record client and carrier details, truck number, job number and the product on a printed-out docket all from inside the Hyundai's cab. This is handed to the driver before they exit and no one has even picked up a pen.
What's more, every 15 minutes the system 'talks' to the SQL office, aiding fast billing when required, along with the ability for Callaway to check in via tablet device and see what products — and how many — are heading out the gate, wherever he might be.
It's clever stuff and, combined with the reliability of the company's Hyundai wheel loaders, makes for an extremely efficient operation.
It only takes me a short time to see what contributes to making this place so successful: well-practised management, overarching ease-of-use for truckies and a reliable fleet of tireless Hyundai gear. Oh, and location, of course: that aspect couldn't be bettered.
For the latest reviews, subscribe to our Deals On Wheels magazine here.
Keep up to date in the industry by signing up to Deals on Wheels' free newsletter or liking us on Facebook.