Porter press extra: A million reasons to smile
---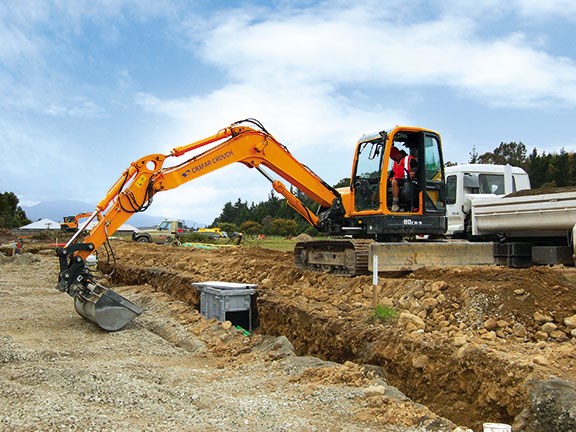 The 6.960mm boom enables the machine to sit safely away from the edge of a trench and still comfortably reach the other side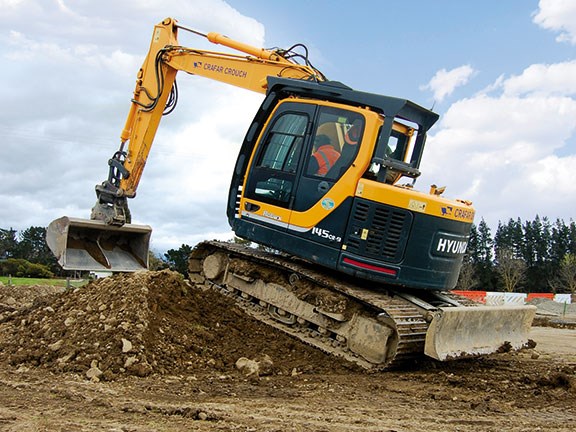 Staying on top of things on a Hyundai R145CR-9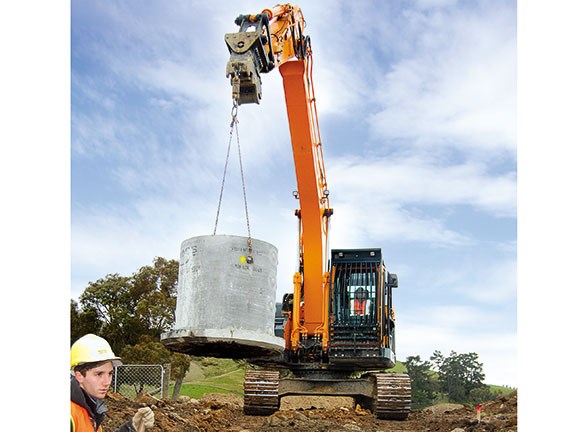 Steady hydraulics make precise work when placing manholes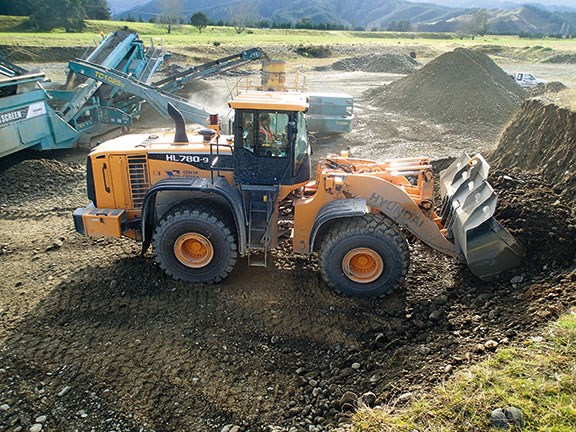 The new HL780-9 is working with a TC1025c mobile crusher at the company's BT quarry near Kaituna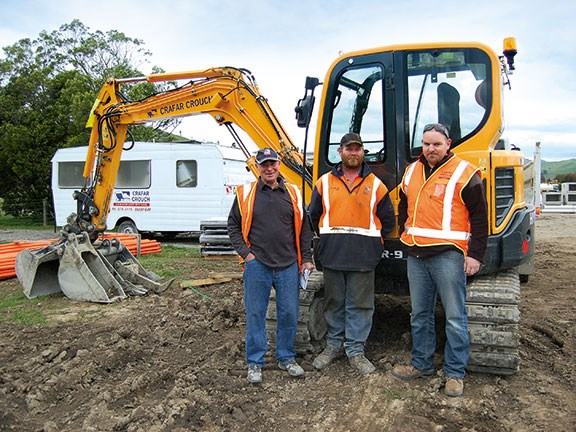 From left: Crafar Crouch director John Crouch, operator Mike Polglaze, operations manager Mike Winkler

When contractors buy new plant, some equipment ticks all the boxes. It offers the user-friendly features and comforts that please the contractor's machine operators, as well as offering the operational results that please the contractor's managers and accountants. Jenny Pretorius reports.
Buying plant is a business decision that must be driven by practical concerns. A new plant unit must be well suited to the jobs for which it is bought and represent the best sustainable value for money a sometimes-limited budget can afford. However, managers increasingly realise that best sustainable value for money includes operator satisfaction, as a machine operator who takes pleasure in his work does a better job.
Crafar Crouch operations manager Mike Winkler says irrespective of the economics that drive buying decisions, Porter Equipment and Hyundai consistently give a good deal, as their gear tick all the boxes.
"Our operators enjoy working with Hyundai gear. Also, an owner who knows his machine saves money, takes pleasure in owning it. Hyundai gear contributes to our business as a time, fuel, spare-part and cost-saving earthmoving solution. We are very happy with the way our Hyundais perform. It is always a good buy," he says.
The company recently added four new Hyundais to its fleet. Two R60CR-9s, a R80CR-9 and a HL780-9 now bring the number of Hyundais in the fleet to nine, worth more than $2 million. The company's total fleet consists of 39 diggers ranging from 1.5 to 45 tonnes, 10 loaders, 20 trucks with capacity ranging from 3m to 18m, three transporters, and two boats.
Crafar Crouch undertakes a comprehensive range of residential and commercial projects throughout the Marlborough region. The work includes civil construction, drainage, site development, drilling, crushing, aggregate supply, new housing subdivisions, vineyard development, septic tanks, wharf and boatshed building, drainage projects, water reticulation, and log ship loading.
Crafar Crouch's major project this year is contracting for Marlborough District Council on Stage 2 of the seven-stage Boulevard on Taylor project, a green fields 43 lot subdivision for the Marlborough District Council. The Boulevard on Taylor project is a 35,000m2 subdivision development along Taylor Pass Road bordering the Wither Hills Farm Park. The development comprises residential, integrated residential, reserves, and schools. Crafar Crouch's work on Stage 2 focuses on service installation of sewer and storm water, water mains, power, and telecom pipes. Pavements and landscaping are also part of the contract. Crafar Crouch also did similar work during the project's Stage 1B development in 2011. Its work on Stage 2 started in April 2013 and twenty full-time employees are working with 10 excavators, seven trucks, and three loaders. Winkler says the company considers the project a feather in its cap and made significant investments in plant to do the work, including buying the new Hyundais and several trench shields.
Once the work is done in late October, 1.5km of storm water pipe, 1.5km of sewer pipe, 1.45km of water pipe, and 1.9km of power and telecom pipes will have been laid, and 5000m3 of soil shifted over eighteen-thousand man hours. "The one thing we absolutely cannot afford is unplanned downtime. We are doing a lot of work to a tight schedule. Good equipment not only saves time and money in the long run, enabling better solutions for our customers' diverse needs, it also makes work a pleasure and helps workers do their best.
"Equipment is a significant resource for us — we replace about one machine per month. It's essential we get good value for money. The Hyundais are pulling their weight. We've had no problems with them, and Porter's service and support have been excellent," Winkler comments.
While the new R60CR-9s and the R80CR-9 are working full time on the Boulevard development, the new HL780-9 is working with a TC1025c mobile crusher at the company's BT quarry near Kaituna. It works alongside the HL780-7A (featured in Deals on Wheels, November 2011) that have now done 6500 hours and, according to Winkler, "…is still going really well and has now been moved to other duties in the quarry." The new HL780-9 has done 2000 hours since it was delivered three months ago. Winkler says its 6.5m bucket and Loadrite scales ensure accurate calibration and data logging and a snappy turnaround time for the crusher. "The HL780-7A is a hard act to follow but the HL780-9 is proving to be more than up to the challenge," he says.
After 30 years in Trevor Crescent, Blenheim, the Crafar Crouch team is getting ready to move to new premises in Whither Road, Blenheim. Another yard a few metres down the street, owned by Crafar Crouch, will park plant and equipment, helping ease congestion in the Trevor Crescent yard.
The move comes not a moment too soon. Having started with 13 workers in 1979, today the company employs upward of 90 people including a full-time health and safety officer. Says Winkler: "In this industry, if you stand still you are actually going backwards. You have to keep moving to get ahead and stay ahead.
"In the 30 years the team has been in business, the world has changed. The company has kept up, notably by streamlining processes and management information systems to be on par with best practices countrywide. We keep up with technological advances. And now it is time for another pro-active move of keeping up with all this change — bigger premises.
"We're known to take on and successfully complete many jobs that other companies are wary to even quote on. We're our customers' partners — we've proved our loyalty to them, and they are loyal to us. But management, process, aned technological advances and address changes notwithstanding, some things remain the same. Integrity will always be one of our core values, and a value we look for and appreciate in our associates," he says.
The man and his machine
Deals on Wheels visited the machines and their drivers at the Boulevard on Taylor site in Blenheim and had a play date and a chat with Mike Polglaze and his R60CR-9.
Polglaze (aka Wikipedia) has been with Crafar Crouch for 10 years and has 16 years' experience as a machine operator.
He received the R60CR-9 three months ago. As he also uses the machine for railways work, it is fitted with rubber tracks to prevent damage to its electrical system. He has clocked up 220 trouble-free hours on it so far. "Any new machine has a fine-tuning period, and Porter Mechanical has given me really great after-sales support. It takes one call from me to Porter Mechanical to get an immediate response. The few teething issues have been solved, it has now settled in well," he says.
Polglaze says the machine has admirable heart and guts for its size. The R60CR-9 weighs in at 5800kg — slightly less than its brothers that are fitted with steel tracks — and has an overall length of 5600mm and width of 2000mm. With an overall cab height of 2550mm, the machine's footprint is small, lending it considerable agility and flexibility of application.
In addition, the R60CR-9's reduced tailswing radius allows Polglaze to work with fewer worries on narrow job sites, such as road building or urban areas. The compact radius design provides efficient operation with limited space.
Its boom offset function is designed for efficient work in congested residential and urban areas. The boom can be offset from 70° to the left up to 50° to the right. Increased swing torque provides better operating capability on a slope.
A Yanmar 4TNV98 engine provides it with 20.5kgf.m maximum torque with 57hp at 2400rpm of rated power. This means the R60CR-9 runs with arguably the most power in its class, getting the job done with maximum grunt.
The structure of the upper frame is designed to absorb high stress and to resist inherent external influences. The cabin structure is designed with slimmer but stronger tubing for more safety and better visibility. The cabin frame meets international standard TOPS, ROPS and FOPS, for maximum protection of the operator. Low-stress and high strength steel is welded to form a strong and stable lower frame. An X-type centre frame and a reinforced box section track frame provide the machine with strength and stability, increasing service life even in the face of tough working conditions.
"It is incredibly strong, and stable. The breakout and lifting capacities make my work so much easier. This machine does a really hard day of work every day in all respects. I move heavy items all the time. One of its features I really appreciate is the safety measures — if the machine calculates there is a risk to moving a certain item, it will not let you do it," Polglaze says.
The R60CR-9 is equipped with arm flow summation system, boom holding system and swing parking brake for smooth and fine control. Other integrated features are hydraulic damper in travel pedals, swing reducer lubrication by hydraulic oil, and leak-free grease chamber of swing bearing.
Control devices are well located for increased operator's comfort and a higher productivity. A safety lever on the left-side console is installed to prevent exiting the cabin with active hydraulic control levers. The spacious cabin is equipped with a suspension seat, and various storage spaces for advanced operator comfort. The cabin is ergonomically designed with low noise levels and high visibility. Special attention was paid to create a clear, open and convenient interior with excellent visibility in all directions.
Powerful air conditioning and radio with MP3-player makes a Hyundai excavator a pleasure to operate. It is a pleasure to maintain, too. A centralised lubrication bank is available for faster, easier service and maintenance. The machine is equipped with a durable plastic air cleaner designed for easy maintenance.
In Polglaze's words: "A machine operator's day can get long and frustrating at times…I really, really appreciate the comforts the cab offers me, the way the cab design and in fact the entire machine's design works for me and with me to make the job safer and easier. It is early days, and I look forward to getting to know the machine better."
For the latest reviews, subscribe to our Deals On Wheels magazine here.
Keep up to date in the industry by signing up to Deals on Wheels' free newsletter or liking us on Facebook.