Forestry: A secure future
---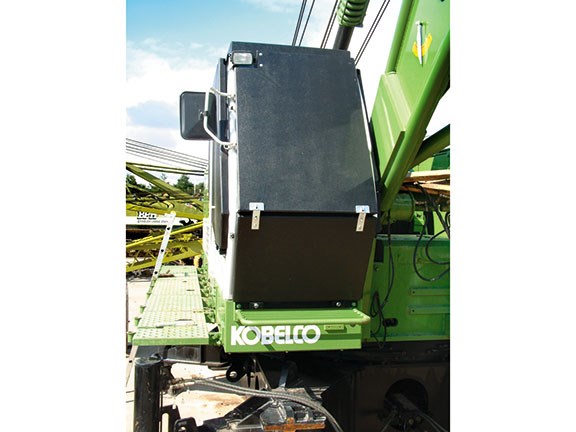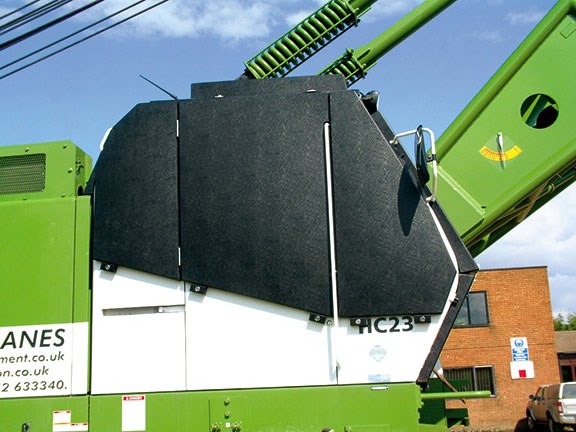 CabCare Vandal Guards are made from 6mm polypropelene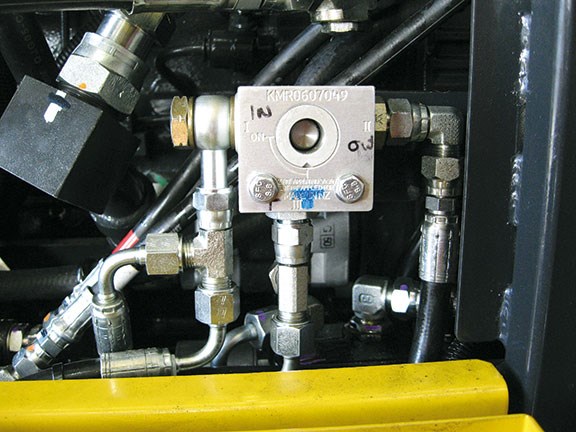 The Kaymac hydraulic immobiliser

So how do you go about protecting your equipment from vandals and those damn diesel thieves?
Every one of you has been hit at one stage or another and through my own experience lost a lot of gear. At one stage I had a man sleep in my old gang bus every night on the job. He slept pretty rough and I recall him telling me that one night a mouse ran over his face. In all the time he was there we never got robbed. How did the crooks know I had someone living on my job? How the hell do they know you are not parked up behind a hill with a big stick for protection, as some of you have done in the past — only to never catch anyone? As most of us know, the night you don't sit stakeout is the night you get robbed.
One contractor I know passed on this advice. When he locked things with one padlock they smashed it off and still got in, so he installed two padlocks on everything and, in his words, that stopped a huge amount.
There are companies out there today offering to put cameras on your site, but I wonder, how effective are they? The crook turns up in dark clothing wearing a hoodie, so no matter how good the infra-red, it is going to be difficult to identify this guy. Then there are road spikes and trip wires for deterrents, and the list goes on.
If you are lucky to catch the crook and get him prosecuted, there is absolutely nothing you can do to stop them coming back one night and vandalising your equipment. Or so I thought until I was introduced to Brian Cruickshank from the Machine Security Company.
The Machine Security Co provides security solutions for earthmoving, logging machines and road trucks. They are distributors of quality, cost effective anti-theft and anti-vandalism products that will prevent the theft of fuel and the vandalism and theft of your heavy machinery and trucks.
In my opinion, and without sounding like an advertorial for the company, there are three products that should be on every contractors list. Firstly, CabCare vandal guards. These are tailor-made cab protection for all types of earthmoving and logging equipment. The CabCare Vandal Guard is a protection system for the cab area of your machine preventing the smashing of windows, entry into the cab and further vandalism of the operator station.
Designed and manufactured in the UK, using a single piece of high quality 6mm polypropylene, the Cab Guard is probably the most robust form of protection for your machine's cab as you can get. They are lightweight but exceptionally strong, safe and durable. The Vandal Guard takes just minutes each day to fit to the cab and stows in the storage basket while the machine is in use or being transported.
All panels are moulded into one piece for maximum strength and are unaffected by the most extreme weather conditions. Bracketry is polyester powder coated giving the best protection against rust.
Then you have the TP Anti-Siphon Device, which is made from a single piece of aluminum and fitted into the top of your tank. This would have to be second on your list. Some of you might say, they will just smash it in, but you would have to give it a very good go to gain access, as it looks very robust.
Just recently, some drunken idiots helped themselves to a loader, taking it for a joy ride, and as I recall, there was a Yanmar digger stolen in Christchurch not so long ago as well.
So that brings me to the third device on your shopping list: the Kaymac hydraulic immobiliser. I reckon this one of the best theft prevention products available on the market today. All logging machines are left unattended and unprotected in the bush and other remote areas leaving them vulnerable. Installing a Kaymac immobiliser makes sense to ensure your machine is secure in the best way possible.
The Kaymac immobiliser is a simple valve that's installed between the oil tank and the pilot hydraulics. Once activated by turning the unique key, oil flow is diverted back to the tank disabling the main hydraulic functions of the machine, transmission, tracks, boom actions, etc.
The Kaymac is totally hydraulic and not affected by power shortages, vibrations, moisture, dust or dirt and cannot be bypassed or hotwired. It stops the machine from being moved, preventing theft, joy riding, or removal of expensive attachments. The device is simple and safe, with no on-going cost after purchase. It is also permanent until you decide to transfer it to another machine. It does not interfere with on-board computers, fits all makes, models and different size machines.
These products make you think of some of the high costs logging contractors have spent with engineers with big heavy steel doors, automated self-locking devices mounted in your cab. Some of these heavy cumbersome options add extra weight to an already over-loaded machine and certainly makes you stop and think of better alternatives. With logging costs so finely tuned, any saving made in securing equipment from theft and vandalism would have to be well worth it.
There is a problem in the world today. Every time someone designs an honest attempt to prevent crime, there are mongrels that are developing ways to beat it. One feeds off the other. In New Zealand I am told there are two-million-dollars worth of products stolen from businesses every day, hard to believe but true.
For more information contact 0800 963 369.
For the latest reviews, subscribe to our Deals On Wheels magazine here.
Keep up to date in the industry by signing up to Deals on Wheels' free newsletter or liking us on Facebook.