Profile: Waste innovators
---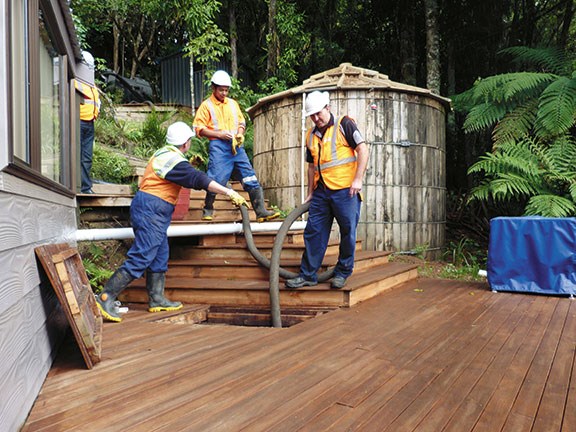 The team get down to business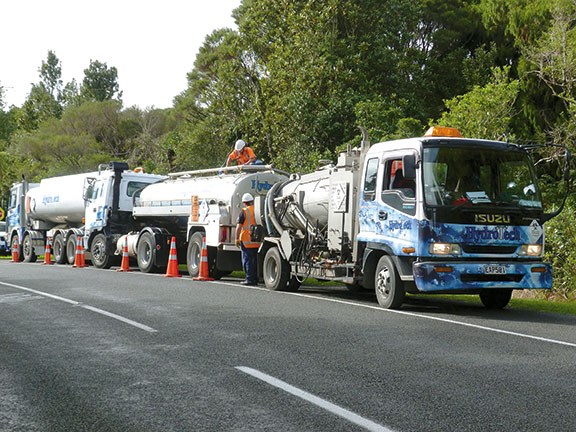 A satellite truck making a delivery to an awaiting tanker

Although it's not something the majority of us care to talk about in polite company, sewage and sanitation management are subjects that if not cared for properly can become a problem and cause communities much distress, discomfort and ill health.
The majority of Aucklanders reside in suburbs serviced by a sewage system connected to a network of pipelines, which in turn is connected to a sewage treatment plant. But there are a number of the outer suburbs and rural areas that rely solely on a septic tank system to dispose of their waste products.
Property owners in these areas pay a levy as part of their annual rates bill to pay for a tri-annual pump out of their septic tank.
In November, 2012, HydroTech won the Auckland Council's West Auckland septic tank contract. HydroTech was successful as it uses the best technology available, as well as highly-trained technicians.
The company was formed by two brothers about 20 years ago, as a relatively-small West Auckland-based firm and currently employs around 185 staff New Zealand wide.
The company is justifiably proud to have been selected by Auckland Council as the approved supplier of the septic tank pump-out service.
While there might be a perception of the old adage, 'it's a dirty, job but someone has to do it', associated with the job, in reality, that isn't necessarily so.
All employees are kitted out completely in appropriate protective work wear and, by closely observing the operation in action at several pump-outs in the West Auckland suburb of Waiatarua, it was clear that not a drop of waste was spilled.
Septic tank pump-outs occur on a three-year cycle in West Auckland and it is the contractor's job to facilitate the operation, which is carried out with military-like precision.
Nick Andrews, HydroTech's project manager for the West Auckland operation, explains how it all works…
Several weeks prior to the planned pump-out, residents receive a letter from Auckland Council advising them HydroTech will be in their area carrying out the operation. Residents are also given a time frame in which expect the visit and advised to make sure their septic tank is accessible during this time.
Andrews goes on to say that, although most property owners have a responsible attitude and are extremely cooperative, there are a minority of households where the team have to "go on a mining expedition" to find the location of the tank and then dig up the lawn to access the lid.
While he says most septic tanks are well maintained by their owners, he has seen a few that leave much to be desired, the worst of which was simply a wheelie bin dug into the ground and coupled to the toilet by some very dodgy pipe work.
Having pumped out the septic tank, the HydroTech team carries out a full inspection of the septic tank and waste water system, the results of which are recorded and any faults are noted.
This information is supplied to Auckland Council and the property owner is given a copy for their records, which includes the date of the pump-out and the work order number, along with the technician's findings.
Many houses, especially in the Waitakere Ranges, are nestled deep in the hillside, often up long and tortuous driveways, so HydroTech makes use of perfectly-sized 3000- to 4000-litre capacity 'satellite' trucks.
The trucks used in this part of the operation are typically 210hp short-wheelbase Isuzus sourced from Japan as complete units, a cost-effective way of introducing purpose-built vehicles into the fleet.
The contents of a normal-size septic tank equals approximately 2700 litres, therefore it is only possible to get one to one-and-a-half septic tank loads into one truck. This necessitates subsequent visits up driveways which service more than one house. Each 'satellite' truckload is in turn transferred to a larger 12,000-litre capacity tanker which is usually parked in a lay-by or suitably-sized area a short distance away.
The tanker in turn, takes its load of waste product to a treatment facility at Rosedale in Albany, where it goes through a purification process to turn the solution back to water, which, after ninety days, is near fit for human consumption.
The tractor units employed to carry out this part of the function are Scania 115M models or similar, although other tractor units in the fleet are Isuzu Giga Max models, which tow trailer-tankers which were originally milk or petrol tankers.
Aside from the Auckland Council contract and other general pump-out operations, HydroTech has become New Zealand's largest drainage maintenance operator, expanding services from suction, hydro-blasting, high pressure hydro-excavation, drain CCTV, to include a drainage and water reticulation team.
Hydro Tech has offices in both North and South Islands.
For the latest reviews, subscribe to our Deals On Wheels magazine here.
Keep up to date in the industry by signing up to Deals on Wheels' free newsletter or liking us on Facebook.