Business Profile: Reid & Twiname
---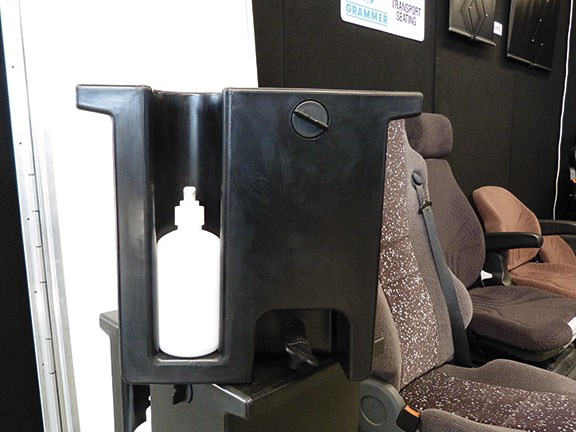 Exclusive to Reid & Twiname, this 15-litre water-capacity Handiwash unit has many different potential applications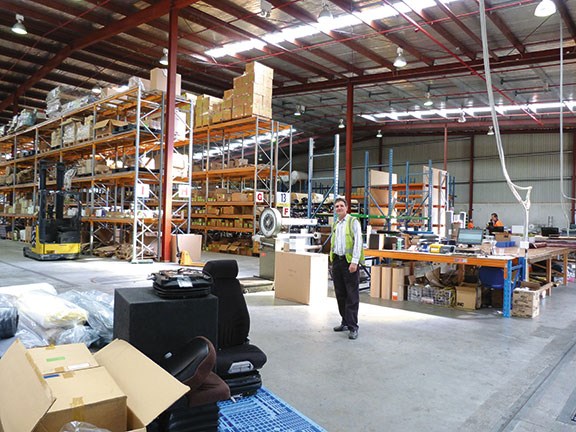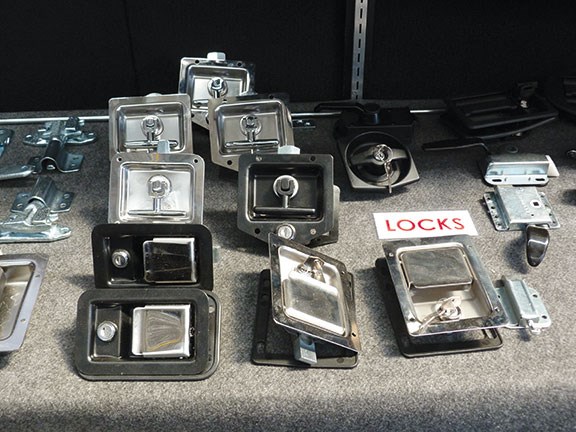 This assortment of locker latches forms a small part of the Reid & Twiname inventory

It's a pretty safe bet that nobody reading this magazine would have had their name on the original customer list of this iconic supplier of motor body hardware.
In fact the odds are that there aren't too many people alive in 2013 old enough to remember the day the Reid & Twiname Company opened the doors at its central city Auckland premises way back in 1923.
The original owners would be proud to know that the company they started all those years ago has endured over ninety years of trading.
They'd also be justifiably proud to see the modern glass-fronted head office now standing on Arthur Brown Place in the Auckland suburb of Mt Wellington, and to know the company also has a South Island branch on Watts Road in Sockburn, Christchurch.
Reid & Twiname is owned and staffed by a team of people who have been with the company for a very long time: people like managing director Grant Stewart, who told Deals On Wheels that he started out with the company as a warehouse junior and "general dogsbody" back in 1982.
Customer services rep Noel Howe gave up an hour or so of his time to take us through the warehouse to talk about the company's vast product range. Howe has been with the firm for 21 years and says that new products are regularly coming on-stream – the inventory having now expanded to some 2500 product lines.
The wide-ranging inventory – which extends from marine and shade canvas, PVC for tarpaulins, motor body hardware, truck, bus and forklift seats, as well as marine and automotive carpets and vinyl – has to be seen to be believed.
The company also stocks auto glass seals, trimmings and webbings, and even supplies the horticultural sector with windbreak and shade cloth. Additionally they boast an extensive range of truck toolboxes.
One item of particular interest was a cunning plastic 15-litre water tank with a pump-action soap or sanitiser dispenser attached to its side. The unit is designed to be attached to a vehicle or machine to enable drivers and operators to not only sanitise their hands, but to be able to rinse them as well.
Facts and figures:
Aside from Grant Stewart and Noel Howe, both of whom we've already mentioned, Reid & Twiname is staffed by a number of people who have been with the company for many years. People like Gary O'Loan the inventory controller, with 41 years under his belt, and the company's customer services manager Albert Schaaf, who has seen 18 years' service with R&T.
Christchurch branch manager Grant Barlow has also been with the firm a long time too – his depth of knowledge of R&T's various product lines comes from having been with the company for 13 years.
When Reid & Twiname opened its doors in 1923 it originally supplied parts and hardware to the horse and coach industry, but eventually grew to supply the burgeoning motor vehicle industry. Then in the 1970s it expanded into canvas and outdoor products.
The present major shareholder purchased R&T in 1990 and grew the business alongside other interests for ten years, before merging all operations in 2000. At this point in time it expanded further, this time into the marine and outdoor textile markets.
The company currently is operated by 19 staff in Auckland and five in Christchurch.
For the latest reviews, subscribe to our Deals On Wheels magazine here.
Keep up to date in the industry by signing up to Deals on Wheels' free newsletter or liking us on Facebook.