Forestry: Be nice
---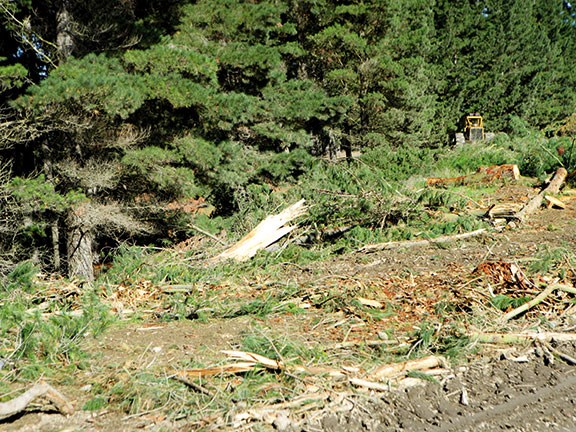 The forest industry has the potential to increase the available volume of wood harvested from 25-million cubic metres to 35-million cubic metres per year by 2023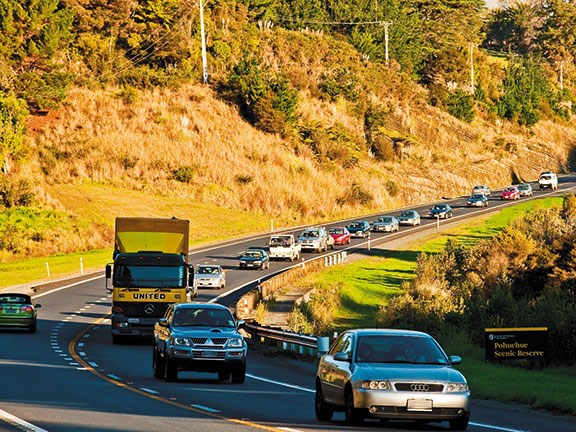 The Green Party made a strong stand against the new proposed highway from Puhoi to Wellsford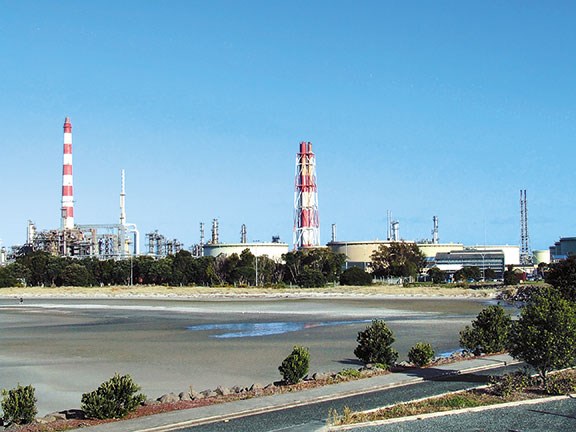 Diesel produced at Marsden Point Refinery keeps logging and other industries ticking over every day

Once again, a member of the Green Party recently made a strong stand against the new proposed highway from Puhoi to Wellsford.
The absolute garbage coming from her lips just leaves you feeling a deep anger for ill-informed people. From an economic and forestry point of view, it cannot happen quickly enough. Northland has the third largest plantation forest in New Zealand with 11% or 189,500ha. These figures demand we have bigger and better roads. The government has lifted the restriction on trucking companies allowing them to carry bigger payloads — you cannot do this on grade two roads.
How is it these one-eyed blind opponents are always so concerned about Auckland. The Green party member even says, "the new highway would hasten the northern urban sprawl". Who cares what they think down south? Northland needs that road and if you ever ask the question of a Northlander who's heading south, what annoys them most is the fact they have to travel through Auckland. There's another alternative — build a motorway on top of the existing one from Puhoi to Papakura so the rest of New Zealand doesn't have to travel through that mess.
Diesel produced at Marsden Point Refinery keeps the logging and many other industries ticking over every day, so bear in mind, should the existing road and Northland Port suffer from a natural disaster the refinery probably wouldn't last more than a week — the rest of you are out of diesel. So remember this, all you opponents to the new Puhoi Motorway — Northland holds the balance of power. Be nice or we might cut your diesel off!
Here are a few facts and figures as to why Northland and the forest industry need the new highway.
The forest industry contributes three percent of New Zealand's GDP and generates export earnings of $4.7b per year.
The forest industry has the potential to increase the available volume of wood harvested from 25-million cubic metres to 35-million cubic metres per year by 2023. It just so happens the final stage of the Puhoi to Wellsford highway should be completed by 2022.
The total amount of plantation forest in New Zealand is 1.7-million hectares of exotic, highly-productive, sustainably-managed forest, taking up just six percent of the land — we still have 6.5-million hectares of natural forest covering 24 percent of the land.
The number of forestry and logging personal engaged in forestry employment at February 2010 totalled 6500 people. Ninety-two percent of our plantation forest is privately owned — the balance is made up of state, local, central Government and publicly-listed companies.
The Port of Whangarei exported 14.7 percent of all log exports, second only to Tauranga with 37.4 percent. As you can see by the amount of potential Northland has to contribute to the New Zealand economy from forestry, the Government has no choice but to support the development of our infrastructure. We are not the poor cousins the rest of New Zealand thinks we are.
Wood is the world's most renewable raw material and is the only construction material to absorb CO2 from the atmosphere when produced, without emitting more. During its production, one tonne of concrete released 159kg of CO2, one tonne of steel released 1.24 tonnes of CO2, one tonne of aluminium released 9.3 tonnes of CO2 into the atmosphere. Wood however, has absorbed a net 1.7 tonnes of CO2 from the atmosphere, over and above the energy expended in growing, harvesting and processing.
The more timber you use in a house, the more CO2 you remove from the atmosphere. It takes about 20 trees to build an average house frame, a steel house frame has added 4.5 tonnes of CO2 to the atmosphere. The option of a wooden house will remove 9.5 tonnes of CO2 from the atmosphere. Choosing timber options for an average house can take 20 tonnes (net) of CO2 out of the atmosphere, saving the equivalent of 150 trips from Auckland to Wellington, or 7.1 years of car use. Maybe all the Greens should be made to live in wooden houses in Northland and drive a horse and cart.
China is now our top export destination with Australia and Japan coming in second and third. New Zealand's timber products are exported to over 15 countries. About 70 percent of forest production was exported, either as logs or processed products. Export logs accounted for 39 percent of the value of exports and 49 percent of the total harvest volume. Radiata pine is now our prime species of tree and on average crop rotation is 28 years — there will be a few loggers who have been in the industry long enough to possibly log again the block they first starting working in. They certainly will not get a chance at the third rotation.
New Zealand contributes such a small amount of wood to the world when you consider the world's total forest area in 2010 was just over four billion hectares, corresponding to 31 percent of the total land area. The five most forest-rich countries are Russia, Brazil, Canada, the United States and China. Together they account for more than half of the total global forest area.
I note we lost another logger in April and if my math is correct, that's six deaths this year. Not a good start when we are under the spotlight, and if New Zealand is going to lift its volume of wood production it will mean we are adding a bigger workforce needing to work safely — a big ask and the industry will have safety high on its agenda. In reality, because of the nature of the forest industry, it will never be completely accident free. As long as we have cars on the road, people are going to die. The upgrade of the Puhoi to Wellsford Highway will help to save the lives of all that use it. Surely the Greens cannot argue about that!
For the latest reviews, subscribe to our Deals On Wheels magazine here.
Keep up to date in the industry by signing up to Deals on Wheels' free newsletter or liking us on Facebook.