Dwyer-Lewis Earthworks Ltd
---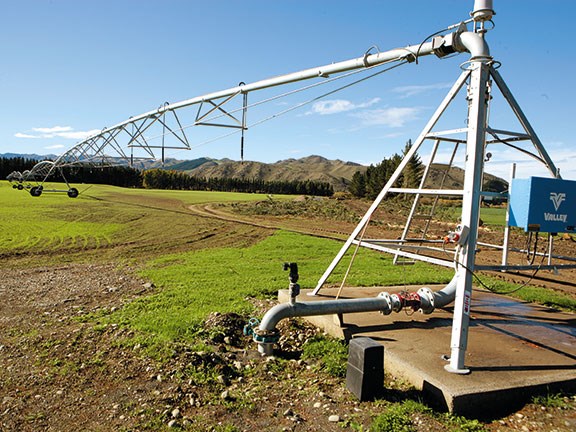 These pivot irrigators can be over a kilometre long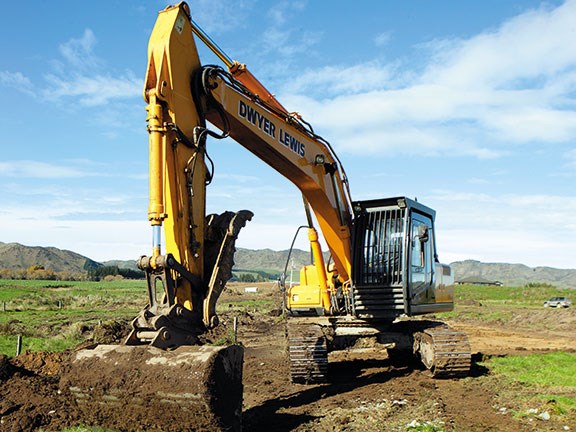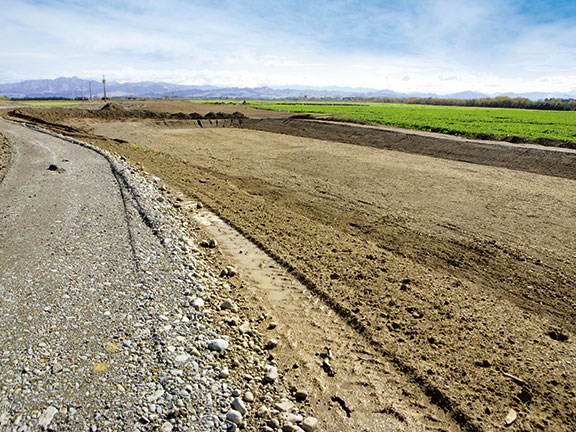 An effluent pond nears completion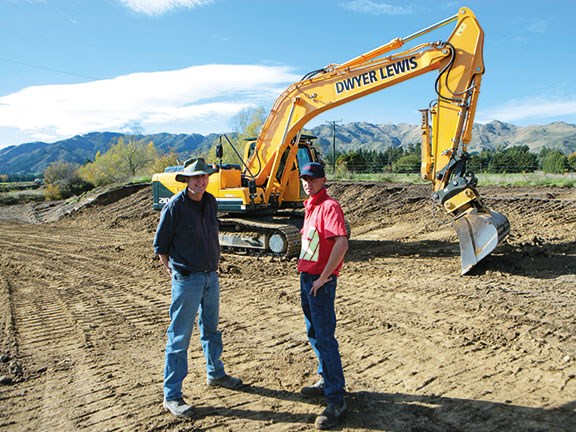 Murray Brice (left) and Shane Dwyer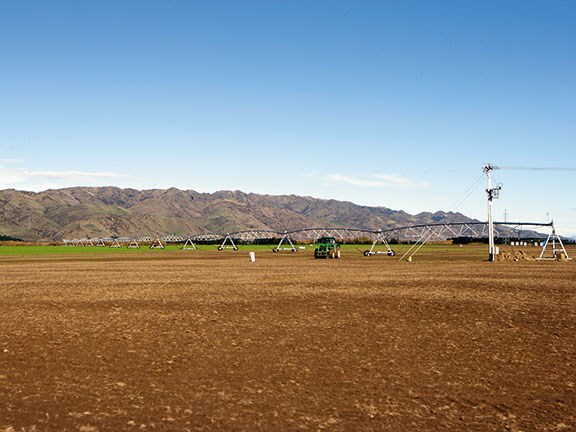 Everything needs to be moved from the path of these massive irrigators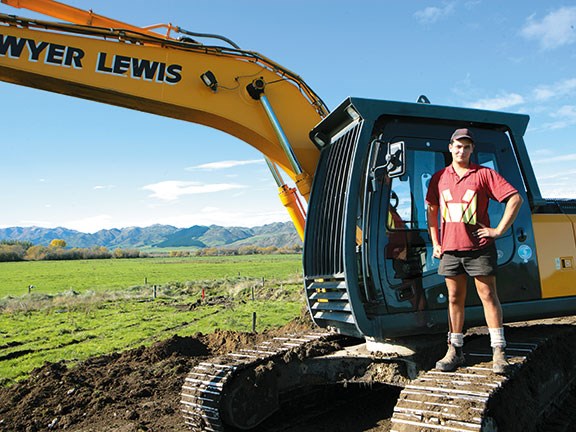 Shane Taylor with one of the soon-to-be-traded Hyundai R210LC-7s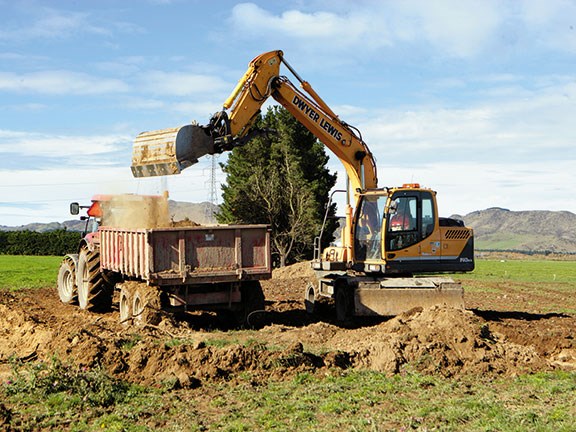 A new house site gets underway

Located around 90km north of Christchurch and 35km inland, the Culverden Basin is the largest of three inland basins in North Canterbury, and is the area contracting company Dwyer-Lewis Earthworks Ltd calls home.
The basin is approximately 55km long by 20km wide and surrounded by steep rugged ranges of up to 900 metres in height. Historically the land has suffered from low annual rainfall and frequent summer droughts, limiting its use to mainly sheep and cattle grazing. However, thanks to the development of a large irrigation scheme in the 1970s capturing water from high in the hills, a big portion of the basin has been able to be transformed into dairy farms.
Initially the type of irrigation used was a border-dyke method, allowing farmers to let water flow into paddocks with a gate system. However, as can be imagined, it was not an entirely efficient method and there were some areas water could not reach.
Fast-forward a number of years and the majority of landowners have moved to using large centre-pivot irrigators. Those of you finding yourselves often in rural areas may be familiar with these massive pieces of machinery, at times measuring over a kilometre in length. In many countries, they are the preferred method of irrigation due to their efficient application of water and low on-going labour costs.
With a lot of landowners switching to centre-pivot irrigating in the mid-2000s, owner operator Shane Dwyer and his father-in-law Bruce 'Blue' Lewis spotted an emerging market and teamed up to form Dwyer-Lewis Earthworks Ltd.
Since then, the company has engaged in the large task of clearing a pathway and services provision accompanying the installation of these irrigators, which include the tree and building removal, earthworks, power, and water supply, over huge swathes of land. With the scale of these jobs, work must be completed as fast as possible so livestock can start grazing in increased numbers and producing more income for their owners.
Dwyer says a number of people asked him a few years back, what his business was going to do when all the irrigation systems had been installed. He says the doomsayers didn't realise the irrigation systems need constant maintenance, especially in the areas where the wheels track along their pathways.
Going along with the irrigation installation work is the large number of dairy conversions taking place throughout the basin, and the infrastructure such as roads, buildings and effluent ponds going along with it.
Now in 2013, the business has a team of twelve people and uses Hyundai excavators in its arsenal of machinery. When starting off in 2004, Dwyer says they initially decided to purchase a second-hand machine, however quickly made the call to purchase new instead.
"Things were pretty scary back then, especially when buying new straight from the start. We worked some horrendous hours to make sure there was money to pay the finance company and build the business," he says.
Now, nine years later, it looks like the decision to buy new was the correct one. The original Hyundai was traded on a R210LC-9, eighteen months ago after clicking up 11,500 hours. The company still runs a R140WD-7 wheel excavator as a reliable standby machine to help relieve the pressure on the front line machines, despite having over 11,000 hours on the dial.
A tour around the basin with Dwyer shows the scope of work they are capable of carrying out. Lengthy road works over sometimes swampy ground seems to be a common job, especially with dairy conversions needing to regularly get stock to different areas of a farm.
Another job sees a new house site being prepared to take a floating concrete floor. Dwyer's favourite wheeled Hyundai R140WD-9 excavator coupled with a 150hp tractor and double-axle tipping trailer are undertaking this task. We are told the company has three tractor-trailer set ups, these being the most efficient machines to move spoil on a lot of the wetter sites. Dwyer also says wheeled excavators are underrated by a lot of operators, being ideal machines to carry out small jobs efficiently.
"We can do three small jobs in a day — a fraction of the time it takes a tracked machine, as there is no loading and unloading onto a transporter," he says.
One benefit of working in the Culverden Basin is the availability of river gravel not far below the surface in a lot of areas. Generally this can be used to help build a farm road network and is topped off with quality brown rock from a quarry Dwyer-Lewis has exclusive use of. The brown rock is a necessary natural cushion as it does not damage the hooves of cattle. Cleverly, customers can only purchase brown rock product if they use the Dwyer-Lewis trucks and equipment, which helps control the flow of work.
More clever thinking was implemented when the issue of obtaining and keeping a grader operator came about, especially when many good operators tend to head offshore. Dwyer tracked down an ex-employee in Australia and offered him the role of being an owner-operator for the company. This tactic seemed to work well and meant the company has been able to secure a skilled long-term operator.
Deals on Wheels' visit to Culverden may have been a few weeks premature, as Dwyer-Lewis is waiting for delivery of two new Hyundai R210LC-9 excavators, destined to replace a couple of R210LC-7s. Having a look over what it's currently using, one would ask the question, 'Why?' As Shane Dwyer explains, the hours are starting to creep up, but the machines are still ideal for someone purchasing second-hand.
Having a quick look over the two soon-to-be-traded machines, one would say whoever the next owners are, they'll have some good kit. Both machines are in excellent order, and one machine especially has to be one of the nicest (if not the nicest) second-hand R210LC-7 around. Its condition is exceptional, which is a credit to operator Shane Taylor.
On another site, operator Murray Brice is using a R210LC-9 to realign a farm road. In an urban area it wouldn't be unusual to see a number of machines working on a site of this size, but an efficient operator like Brice has it well under control. Looking over his machine, it is hard to believe it is 18 months old and has clocked over 2500 hours, such is the high standard if its upkeep.
Brice tells us he has had a good run with his machine, and finds it difficult to recall a time when he had a Hyundai machine break down. He says his current model is good to operate and can achieve top results, thanks to a good hydraulic system.
"This machine seems no different to some more expensive brands. I think they (Hyundai) have got the hydraulics pretty much right," he says.
Looking at the quality of the finish Brice achieves, it is easy to see his comments are worthy of taking on board.
Passing through Culverden on the way to the touristy Hanmer Springs, one would think this cute little hamlet may not have a lot to offer, but think again. Just off the main street and throughout this large natural basin is a collection of clients that have tapped into the skilled workforce and machinery of Dwyer-Lewis Earthworks Ltd.
For more information contact Shane Dwyer on 0274 661 025 or shanefiona@xtra.co.nz.
For the latest reviews, subscribe to our Deals On Wheels magazine here.
Keep up to date in the industry by signing up to Deals on Wheels' free newsletter or liking us on Facebook.