Genie lifts the lid
---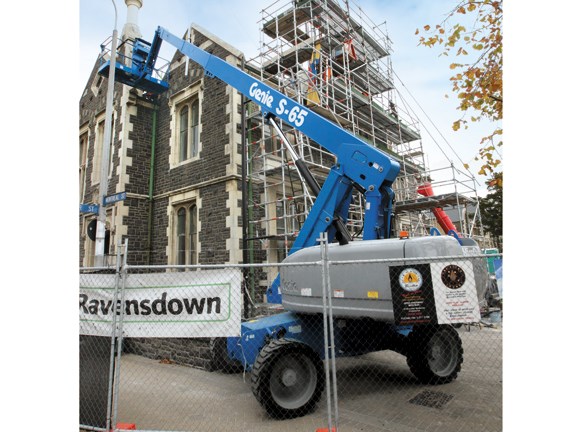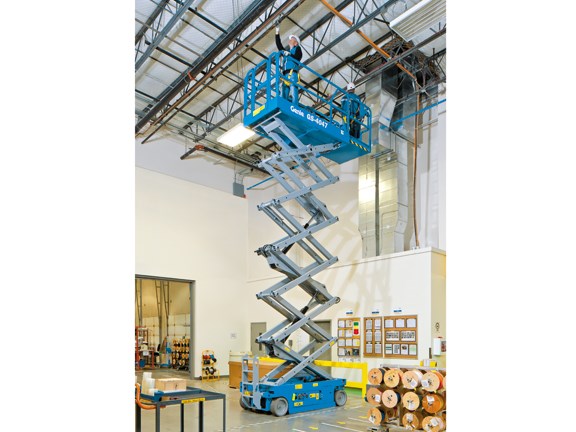 Over the last 40 years, Genie has earned an enviable reputation for the safety and reliability of its equipment, and remains at the forefront within the industry for its production quality and innovative design. 
Genie manufactures some of the most advanced, highly-valued access equipment in the industry with its distinctive blue lifts setting standards for others to follow.
Youngman Richardson & Co. Ltd distributes a full range of Genie access equipment products in New Zealand, including scissor lifts with working heights up to 18m, articulated and trailer-mounted Z-booms which can reach up to 43m, as well as a wide choice of telescopic stick booms capable of elevations in excess of 40m. Many of these models are suitable for interior and exterior work.
Genie lifts are popular with rental companies and contractors, in particular the Genie GS2669RTO, GS3369RTO and GS4069RTO. Released last year, this four-wheel-drive range with oscillation axle provides outstanding rough terrain capability, a slide-out platform extension and working heights of up to 14.9 metres. Genie scissor lifts are engineered and manufactured for the hire industry and construction, and are designed to stand up to the rigours of frequent use in diverse worksite conditions.
Genie rough terrain scissors are tough, construction-orientated, four-wheel-drive machines with positive traction control and are ideal for increasing productivity in demanding outdoor worksites. Because time is money, the competitive lift speed and large platforms maximise handling requirement efficiencies and have the capacity to get to the job site quicker and complete work faster.
Award-winning customer support
The Genie product is strongly supported by Youngman Richardson's award-winning customer service and parts back-up across its two locations in Auckland and Christchurch. The company places great importance on stocking genuine spare parts for all the equipment it supplies and now has over 38,000 line items. The continued growth being experienced by Youngman Richardson & Co Limited has led it to increase the number of service technicians in both areas.
The Youngman Richardson & Co Limited customer support team has a number of experienced, accredited workshop technicians who are fully qualified with CBIP certificates of competency. This means they are considered capable of inspecting elevated work platforms within the current scope of the Department of Labour's approved Code of Practice. Youngman Richardson technicians are also fully trained on all Genie products distributed in New Zealand.
Genie launches new high rise scissor lift
The new Genie GS-4047 self-propelled electric scissor lift is the answer to meeting the demands of tightly-packed indoor spaces. Imported and distributed by Youngman Richardson Co Limited, the Genie GS-4047 is a completely new model, designed to offer a great combination of height and lifting capacity, linked with powerful drive motors to maximise performance. In addition, the strength and rigidity of the Genie GS-4047 will help increase operator confidence when working from a narrow platform at full height, allowing the operator to function for a full eight-hour shift.
With a full drive height, the Genie GS-4047 can lift loads of up to 350kg to a maximum working height of 13.7m. The dual front-wheel drive and zero inside-turning radius, combined with a compact footprint of just 2.44m long and 1.19m wide stowed, the Genie GS-4047 electric scissor lift is ideal for manoeuvring around tight, restrictive work environments.
Another positive feature of the Genie GS-4047 electric scissor lift is the incorporation of the new SmartLink control system, offering the operator the choice of two lift speeds based on the work environment and application. The joystick is used for drive and steer only, making it very simple to use. In addition, SmartLink allows for improved troubleshooting with new grouped fault codes, easier battery charge detection and user-friendly machine adjustments.
Heavy-duty steel swing-out service trays allow for access to all machine components for easy service and maintenance. Ninety percent of the components are common across the entire Genie slab scissors family, so service departments are able to stock fewer parts and technicians can apply existing maintenance knowledge.
For further information contact Youngman Richardson & Co Ltd on 09 443 2436 (North Island) or 03 341 6923 (South Island).
For the latest reviews, subscribe to our Deals On Wheels magazine here.
Keep up to date in the industry by signing up to Deals on Wheels' free newsletter or liking us on Facebook.