Forestry: The bushman
---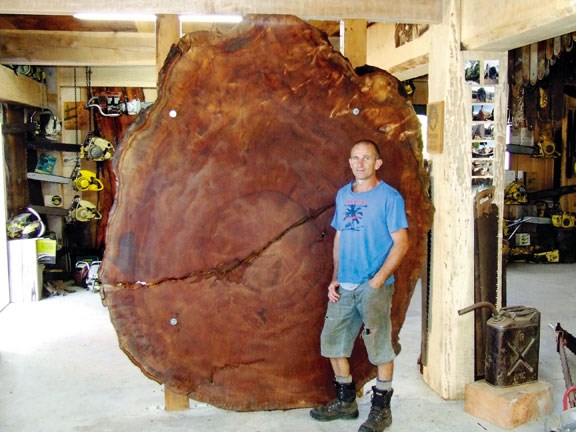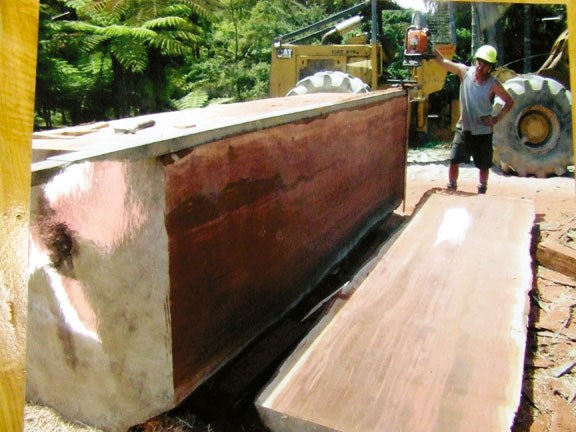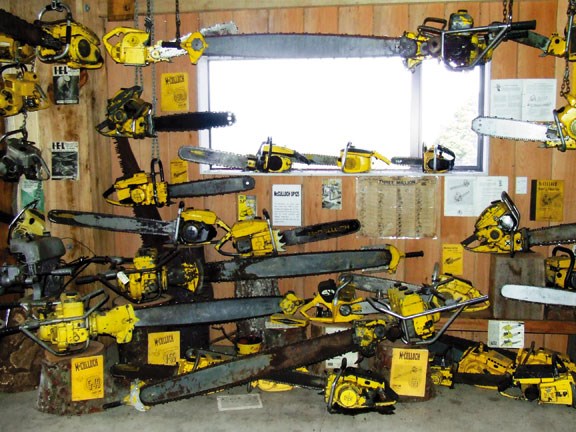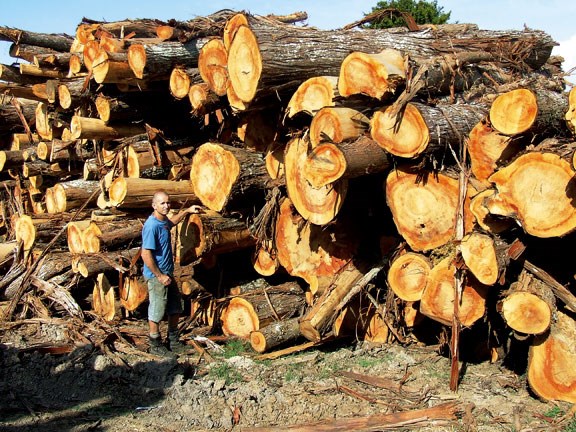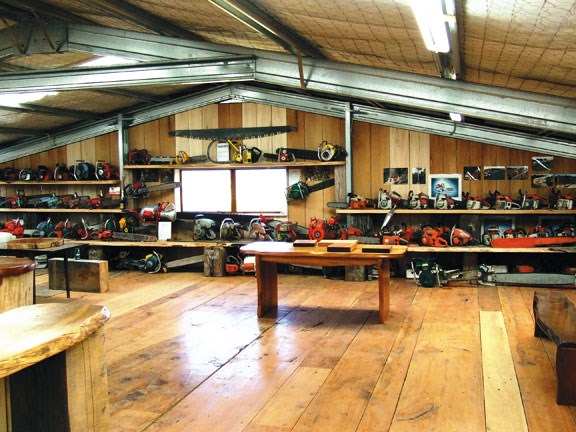 Every now and again you come across a unique person quietly working away behind the scenes developing a life for themselves.
We have all been to the AMP Shows or Field-days and looked at this stand and that stand, not giving much thought to the person or industry that they might be involved in. At the Whangarei AMP Show in December 2012, one stand caught my eye: a line-up of slabbed timber and old chainsaws restored and on display. The McCulloch 125 Super Pro, the 125cc noisy, grunty, heavy, mongrel of a chainsaw was responsible in the late 60s and early 70s for dropping huge volumes of old crop Radiata Pine. With my interest in this stand sharpened, having been behind the handlebars of one of these Bad Macs, I went looking for the owner of these bad boys.
Paul Leonard was busy showing hand crosscut saw techniques to any interested party walking by. Waiting patiently for a chance to talk to Leonard about the 125 McCulloch, to my surprise he fired it up and cut off a couple of rings. Nothing had changed. They were still angry, noisy mongrels. Speaking with Leonard increased my interest for more information about this character – here was a self-taught genuine bushman, a little bit of old school.
Leonard started out on a farm, milking cows for free-keep for the odd cow-cocky. Every now and again he was asked to drop a few trees around the farm and it was about this point that the bushman skills were starting to show. To supplement his income, he studied and acquired a cyanide licence and trapped possums for the pelts. This was a great way to make a few extra dollars until those stupid do-gooders started throwing blood over film stars to protest the wearing of fur coats, effectively putting the trappers out of business. Now we have a possum explosion and we throw 1080 all over our land, but that's for another story.
The bushman in Leonard was continuing to develop when he secured a job felling trees in front of the gravity roller operated by Mike Johnson, a land developer. Gravity rollers were used on steep scrubby land in preparation for planting pine trees. Leonard would work a tree face, putting a back and two side cuts into the tree, and at times half the hillside was left standing this way for the gravity roller to knock over. Not a practice that would be accepted today, but it worked and gave him valuable experience.
Leonard today is a small logging contractor owning and operating his old Hitachi UH081 20 excavator, Cat 518 Satco grapple skidder with an old Bell ultra-logger in the yard. Leonard specialises in native timber extraction for private forest owners, working closely with the newly-created Ministry for Primary Industries (a merger of the Ministry of Agriculture and Forestry, the Ministry of Fisheries, and the New Zealand Food Safety Authority) under the guidelines of its sustainable management act for private indigenous forest. The last two decades of the 20th century have seen major changes in the nature of the indigenous forestry industry in New Zealand. Government policy on the management of state forests for timber production, the passing of the Resource Management Act in 1991and the Forests Amendment Act in 1993, have collectively changed the face of indigenous forest management.
It is forecast that sustainable management of private indigenous forests will support a viable, long-term industry, contributing $269 million to the New Zealand economy.
Sustainable forest management permits are limited to a 10-year term, provide for a maximum round-wood harvest of 250m3 of kauri, podocarps, or shade tolerant broadleaved hardwoods, and a maximum of 500m3 of beech or light-demanding hardwoods, irrespective of the area of forest. Providing that the harvest does not exceed 10 percent of the timber standing on the landholding, sustainable forest management permits may be renewed after 10 years but only where the forest has replaced, through growth, the quantity of timber removed under the previous permit. The timber can be harvested at any time over the 10-year term as a single harvest, or spread over a number of years. Sustainable forest management permits are a more practical option for small forest areas, or where the landowner does not wish to manage the forest for timber on a long-term basis. For each year, harvests are taken from land, subject to registered sustainable forest management plans and permits and an annual logging plan must be submitted to the Indigenous Forestry Unit and approved prior to work commencing.
Leonard has just completed harvesting 600-tonne of totara on a block being developed for housing in the suburbs of Whangarei. A big percentage of the timber is firewood quality but any log showing saw-log potential will not go to waste and will either be slabbed or milled into board timber. This is an excellent example of the system working and this valuable resource is for sale for individuals to purchase.
Leonard, a local born-and-bred Northlander, has always been fascinated by old chainsaws and this is evident by his collection. The construction of the shed to house this mass is a piece of art in itself: solid beams of various species of trees, native and exotics and the staircase made from solid strong chainsaw-milled slabs — no creaking on the stairs here. The presentation and restoration of the chainsaws is incredible. You would certainly have to be passionate about your hobby as one can only imagine how much time has been spent restoring this collection. Leonard is always on the lookout for more saws and he will happily accept more from anyone who would like to donate it to his museum.
The Bushman's Shed is open to view to the public by appointment; entry fee by donation. The Bushman's Shed can also be booked for private functions (what an awesome venue for those end-of-year Christmas breakups for logging crews!). Modern logging crews would have a great opportunity to wander around the displays, taking in the history of logging. After all, these were the stepping stones for the logging crews of today.
You can contact Paul and Kristine Leonard at The Bushman's Shed, phone 09 433 5858 or 0274 726 782.
Feel free to make a comment or ask us a question about this story on the Deals On Wheels
page.
For the latest reviews, subscribe to our Deals On Wheels magazine here.
Keep up to date in the industry by signing up to Deals on Wheels' free newsletter or liking us on Facebook.