Komatsu PC600 & PC450 excavators
---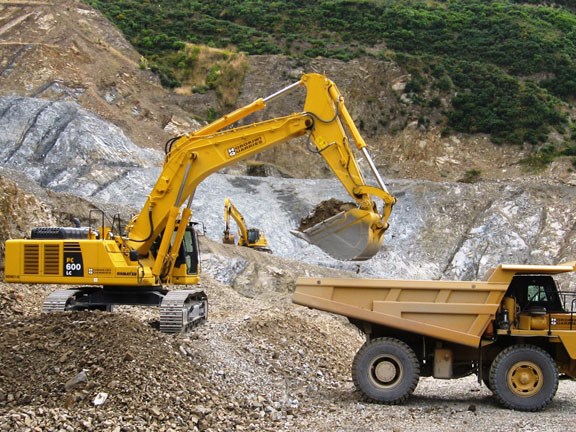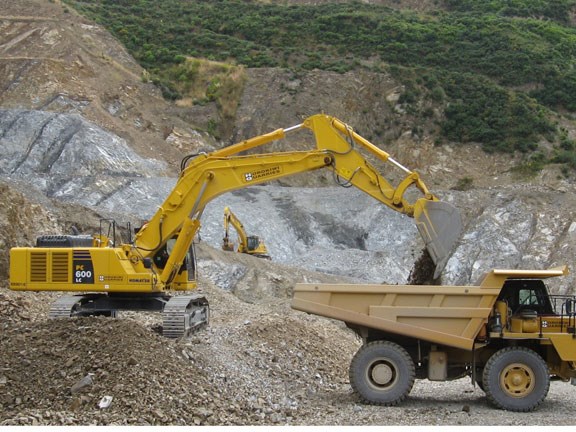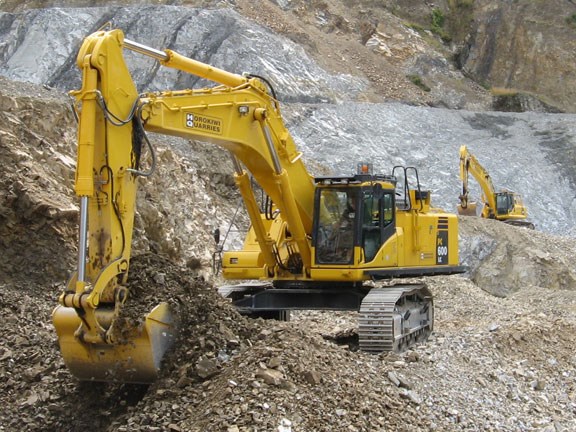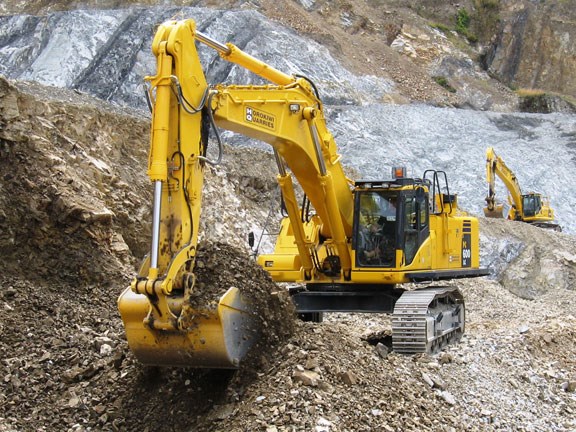 Wellington-based Horokiwi Quarry has recently taken delivery of a Komatsu PC600LC-8SE excavator for use in face loading and handling material at the crusher plant, working alongside a Komatsu PC450LC-8 delivered 12 months earlier
The latest machine, delivered just before Christmas 2008, is fitted with Komatsu KVX teeth, and is performing extremely well, according to quarry manager Ross Baker.
"While it's still early days, we've been very impressed with the performance of the PC600," he said. "It's been absolutely brilliant; the operators really like it, and we've been really pleased with how it's gone with the KVX tooth system."
Both the new machine and the older PC450LC-8 work at the face, handling both blasted and virgin greywacke, loading it into trucks for transport to the crusher plant.
They are also used for rehandling material at the crusher, as well as for quarry development work when required.
Other Komatsu equipment at the quarry includes a WA470-3 loader and a WA480-5 loader.
Baker says there were some issues with the PC450 initially, but they were worked through with Komatsu NZ, and the machine is now performing up to expectations.
"It's all settled down now, fuel economy is good, and we're getting the performance from it that we require," he says.
Both machines are fitted with Komatsu's KOMTRAX remote monitoring system, something Baker said was a very useful tool in machine management.
"We're able to use it to easily identify machine issues, working with Komatsu to resolve any issues. It also works very well as an operator training tool, letting us work with our operators to ensure they are getting the best from the machines.

"It also helps to keep them on their toes," he says.
As well as the KOMTRAX system, both machines are covered by Komatsu NZ maintenance contracts.
"We've got service contracts on all of our Komatsu gear, except for the WA380 loader, and they work well for us," says Baker. "Whatever we buy now, we get a service contract for; we just don't carry the staff to do our own servicing.
"The Komatsu people come and do all the servicing and the oil sampling and – because we have extended warranties on these machines – we'll keep that going for at least the length of the warranty and probably further," he adds.
Horokiwi Quarry, which has been in operation for around 100 years, has been buying Komatsu equipment for the past 15 years.
"I've always liked Komatsu equipment; we've always run a WA470 or WA480-sized wheel loader and we've always had brilliant performance and reliability out of those," says Baker.
"It's the same with any Komatsu gear we've had in the past – including a PC300 excavator a few years back – it's good gear," he says.
The quarry is jointly owned by Fulton Hogan and the Higgins Group, and supplies greywacke-based aggregates for roading and construction applications throughout the Wellington region.
With the aggregate resource that is available from the site, the Horokiwi Quarry is in a good position to supply the region for many more years to come.
See Komatsu excavators for sale online here.

Keep up to date in the industry by signing up to Deals on Wheels' free newsletter or liking us on Facebook.