MR-3 mini excavators
---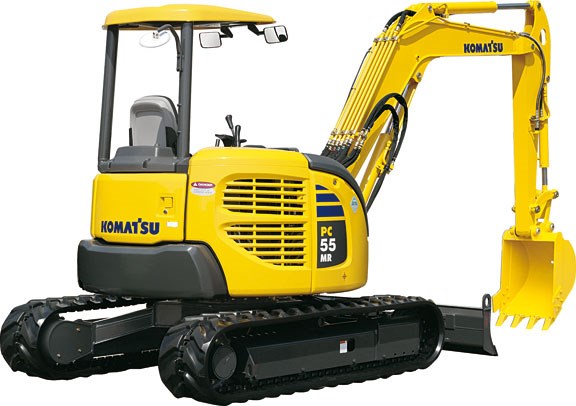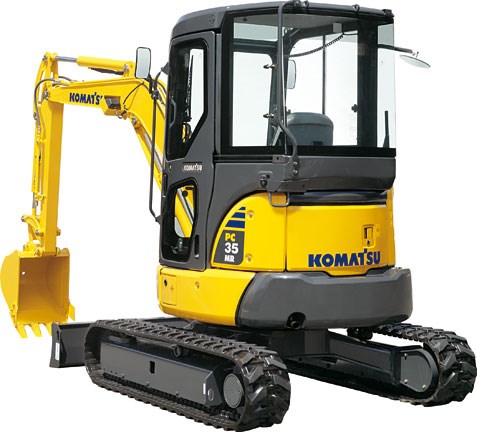 Komatsu has released a complete new range of five mini excavators, the MR-3 range, which replaces its successful MR-2 range
The range has a host of features designed to reduce operating costs, improve production and increase safety.
Improvements and upgrades introduced with the new MR-3 range include class-leading low-emission engines – complying with the forthcoming Tier 4 emissions standards – increased productivity, improved operator comfort and safety, and easier servicing and maintenance.
In addition, all machines in the range are fitted with Komatsu's KOMTRAX remote monitoring system as standard.
The new range consists of five models: the PC18MR-3 (1780kg operating weight), PC30MR-3 (3140kg), PC35MR-3 (3575kg), PC45MR-3 (4755kg) and PC55MR-3 (5160kg).
According to Steve Haines, Komatsu New Zealand's National Sales Manager, the MR-3 range represents a significant advance over the previous MR-2 range.
"Our MR-2 excavators were recognised as being the most comfortable, productive and easy-to-maintain mini excavators on the market," he says.
"With this new range, Komatsu has introduced a number of improvements that add substantially to serviceability, and therefore reliability and lower-cost operation, productivity, and operator safety and comfort."
Key features include:
Higher productivity through 10 percent faster hydraulics, extended dipper arm working range and better dozing performance
A new high-strength "X-track" frame, similar to what is used on Komatsu's larger excavators, giving improved durability and reliability
Easier serviceability through better service access, including a tilt-up operator's compartment, wider-opening engine door and side cover, side-by-side radiator and oil cooler for easier inspection and cleaning, and extended lubrication and engine oil replacement intervals
Improved operator safety and comfort, through such features as having the hosing on the boom sheathed to protect the operator from hot oil in the event of a hose failure, as well as the largest, most comfortable operator cab/cabins of any mini excavator range
"As with all products in our range, all components in our MR-3 range have been designed and manufactured by Komatsu to work together as an integrated whole," says Haines. "This ensures they work efficiently together, providing optimum performance, reliability and durability.
"On the service side, Komatsu pioneered the concept of a tilt-up operator's compartment for easier access to key components, and on the MR-3 series we have developed this further, with improved component positioning, ensuring that access is even quicker and easier.
"This is complemented by having our KOMTRAX remote monitoring system supplied as standard on all these machines – the first time this system has been available on Komatsu utility equipment," Haines says. "This allows us to work closely with machine owners – whether fleet owners, contractors or owner-operators – to ensure that their machines remain in optimum operating condition at all times, with early warning of any potential issues or component failures.
"We are able to alert owners, plant managers or operators to any unusual occurrences, allowing them to carry out preventive maintenance before unscheduled downtime occurs.
"And the other great advantage of KOMTRAX is that it makes these machines virtually theft-proof, as we are able to track the location of all KOMTRAX-fitted equipment – and prevent it being started or used if it is reported stolen," Haines says.
"For owner-operators, for whom a single machine can be responsible for their entire livelihood, we see this as being a major advantage, while for plant hirers and fleet owners, it can be a major weapon against unauthorised use or theft in poorly secured worksites."
Brief specs of the new Komatsu MR-3 series are:
PC18MR-3: Operating weight, 1780kg; engine, Komatsu 3D67E rated at 11.2kW; bucket capacity, 0.044m3; maximum dig depth, 2160 mm; arm breakout, 1010kgf; bucket breakout, 1620kgf.
PC30MR-3: Operating weight, 3140kg; engine, Komatsu 3D88E-6 rated at 21.4kW; bucket capacity, 0.09m3; maximum dig depth, 2760mm; arm breakout, 1800kgf; bucket breakout, 3000kgf.
PC35MR-3: Operating weight, 3575kg; engine, Komatsu 3D88E-6 rated at 21.4kW; bucket capacity, 0.11m3; maximum dig depth, 3110mm; arm breakout, 2100kgf; bucket breakout, 3050kgf.
PC45MR-3: Operating weight, 4755 kg; engine, Komatsu 4D88E-6 rated at 28.5 kW; bucket capacity, 0.14 cu m; maximum dig depth, 3350 mm; arm breakout, 2200 kgf; bucket breakout, 3460 kgf.
PC55MR-3: Operating weight, 5160kg; engine, Komatsu 4D88E-6 rated at 28.5kW; bucket capacity, 0.16m3; maximum dig depth, 3800mm; arm breakout, 2440kgf; bucket breakout, 3980kgf.


Keep up to date in the industry by signing up to Deals on Wheels' free newsletter or liking us on Facebook.